IT has welcomed everyone from Beyoncé to Jack and Victor, Nicola Sturgeon to robot dinosaurs.
But, most importantly, as Kylie Minogue helps the SSE Hydro in Glasgow celebrate its fifth birthday today, more than five million fans have been through the doors of the iconic venue on the banks of the Clyde.
Tonight, Kylie brings her Golden Tour to the arena five years to the day since Rod Stewart opened it.
Behind the scenes, plenty of hard work goes on in bringing top acts to the venue, which can hold up to 13,000, and creating shows that last long in the memory. And many of the team have been working on it since the Hydro was just a blueprint.
"I've been involved from the very start," says live entertainment events team manager Jacqueline Elder. "I remember working until three in the morning building furniture with all the team in here, getting ready for Rod Stewart and really being a part of it.
"When he came on stage it was really special to see everybody come together. I can't believe the fifth birthday has already arrived and the fact that we're turning five and the team are together is something I feel very privileged to be a part of."
The purpose-built venue has held 639 events since opening its doors. And its versatility when it comes to hosting live events has proved to be one of its biggest draws.
"We were excited about building a bespoke venue that would allow us to expand the concert business we already had on site and look into the sporting world and theatre world," says Elder.
Shows by the likes of Beyoncé would never fit into the SEC's Hall 4, but the increased capacity and production capabilities within the Hydro allowed organisers to book her.
The pop superstar's 2014 show wowed fans and ranks as Elder's favourite event to work on.
She says: "She did all of her rehearsals here, she even flew to the Brits and flew back that night in a private jet to come in and rehearse. Being part of that 10-day period of her coming to Glasgow was special."
It's not just the stage and seating within the venue that can be altered for events, but the outside too. The Hydro has made its mark on the Glasgow skyline over the years thanks to its exterior lighting, which can emit virtually any colour. Prince's 2014 show saw the venue resplendent in purple, while Beyoncé turned it pink.
Tasked with booking the events and trying to attract shows that are a little bit different to make full use of the venue's versatility is the role of Julie McKinnon, the live entertainment team's business development manager.
She says: "The Hydro has really put Glasgow on the map.
"It's such a fantastic venue and we're attracting world-renowned stars. It was purpose built for concerts and live entertainment.
"Glaswegians love a night out and we've provided that to them."
One particular night out had comedy fans from around the country flocking to Glasgow.
The live version of Still Game saw around 210,000 attend Jack and Victor's arena antics in their first run alone. The show has now blazed the trail for more theatre productions at the venue.
"It's an area we're really focused on just now and hopefully you'll see in the coming years that we're going to have more theatre here," says Julie.
Nineteen nights of comedian Kevin Bridges take up most of October and double as an extended fifth birthday celebration.
McKinnon adds: "Every event that comes here is completely different to the next and we're continually offering new, better experiences. We try to attract a wide range of events so that there's something for everyone."
Her goal is to get The Rolling Stones to come to the venue, and add their name to the wall backstage that features every event etched in metal, from Wet Wet Wet to WWE, One Direction to Dolly Parton.
"My favourite moment in The Hydro has to be Prince," says McKinnon. "I absolutely loved him so the fact that we got him here two years before we lost him was just amazing.
"It was such a good night, an incredible atmosphere and the crowd went wild. I'll never forget it."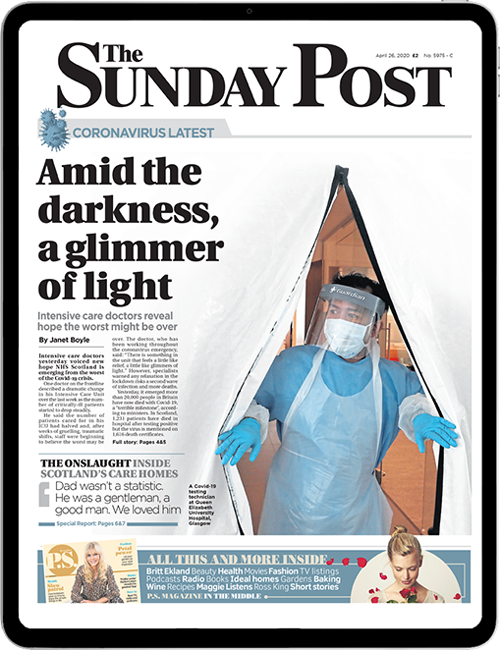 Enjoy the convenience of having The Sunday Post delivered as a digital ePaper straight to your smartphone, tablet or computer.
Subscribe for only £5.49 a month and enjoy all the benefits of the printed paper as a digital replica.
Subscribe