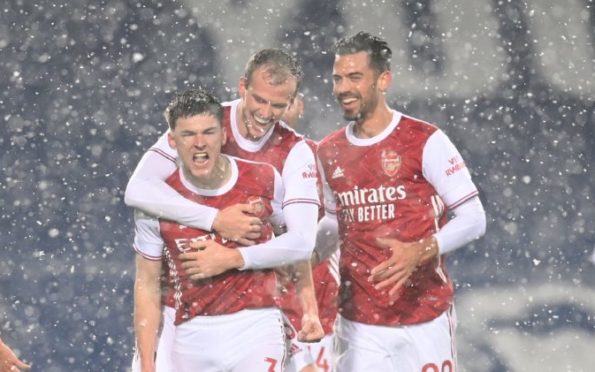 Some stories are so good, you never hear the back of them.
When Kieran Tierney arrived for Arsenal's FA Cup tie against Sheffield United last June, carrying his boots in a Tesco carrier bag, you knew it was one such moment.
Here, in the midst of all the Louis Vuitton and Gucci-accessorised prima donnas, was a humble, 23-year-old – but old-school –footballer, who cared nothing for appearances, only the game itself.
The fact the Scot already had a reputation stretching back to his Celtic days as a prodigious trainer, who delighted in wearing short sleeves and shorts, even in blizzard conditions, neatly completed the narrative.
Tierney was a modern-day Alf Tupper, the hard-as-nails runner from The Victor comic, who would work all night and win championship races by day, having first polished off a fish supper.
Seven months on, Tierney's legend continues to grow.
After scoring a stunning goal in the win against West Brom last weekend – again sporting short sleeves in the snow – he found himself showered with love in the media.
Piers Morgan, the noisy, celebrity Gooner, praised his heart, fight, and desire, and declared he was fast becoming one of his favourite players.
Arsenal Invincibles defender, Martin Keown, echoed the sentiment, and described Tierney as having all the qualities required to be a future captain of the club.
Match Of The Day host, Gary Lineker, was also impressed and stated he was Arsenal's first Scottish goalscorer since Charlie Nicholas back in 1986.
Suave or smarmy? Lineker divides opinion. On this occasion, however, he was 100% wrong.
Paul Dickov found the net for the Gunners during his four years at Highbury after starring for Scotland in the 1989 Under-16 World Cup.
More interesting, and accurate, was the contribution from Troy Deeney.
The Watford striker said he felt Tierney to be a much-better defender than Liverpool's Andy Robertson.
In addition, he said he had been told he was a consummate professional, the guy his team-mates want to be.
Both are huge compliments.
Robertson is not only a Champions League winner, but also Scotland's captain and preferred choice at left-back.
The testimony of the respect in which he is held in his own dressing room is equally significant.
Despite all the social media banter, the fact remains it takes more to impress millionaire Premier League players than a casual disregard for posh wash-bags and the rigours of the British climate.
For stars like Pierre-Emerick Aubameyang, David Luiz and Alexandre Lacazette to view Tierney as the club's best trainer speaks volumes of his application.
It has not always been easy for Tierney.
Injured soon after his £25-million move to North London from Celtic in the summer of 2019, Tierney did not get the opportunity to win over the dressing room.
Instead, he was left with his fellow rehabbers and physios for company.
As time went on, fans and pundits questioned whether Arsenal got value for money with his signing.
Tierney himself admitted it was a hard transition, citing the fact he had lived with his family right up until the move by way of explanation.
The sacking of manager Unai Emery, four months into the young Scot's time at the club, was also an initial source of concern.
Emery was the man who bought him, and it is the universal fear of all players that the new boss – in this case Mikel Arteta – will not fancy them.
Tierney need not have worried.
Formerly Pep Guardiola's assistant, he knew all about the player from Celtic's 3-3 draw with Manchester City in the Champions League back in 2016, and was a fan.
It was not lost on him that he was inheriting a player who had captained Celtic and Scotland before the age of 21.
With Aubameyang the man in possession just now, the Scot's best chance of getting the armband for Arsenal any time soon will be as a temporary stand-in.
In the future, he looks a certain Arsenal skipper – assuming he sticks around long enough, that is.
Eighteen months into a four-year deal, KT could be a very hot prospect by this time next year, especially if he excels in the Euros this summer.
In his early days at the Emirates, the doubters queried if Tierney was big enough for Arsenal.
It is a measure of his remarkable progress that he has turned the proposition on its head, and a new question is required.
Are Arsenal big enough for the man with the Tesco carrier bag?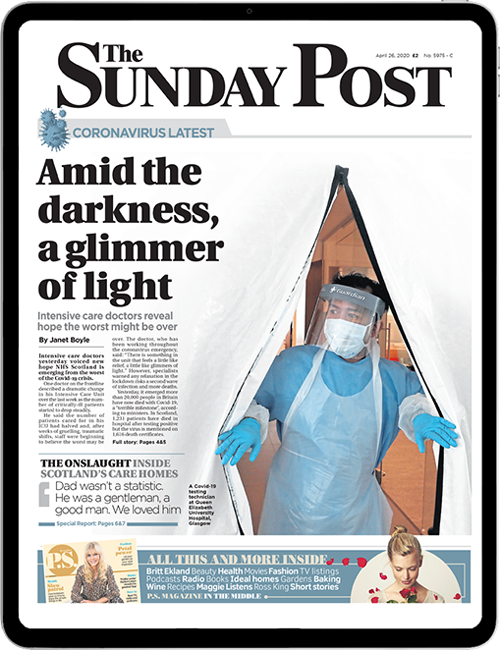 Enjoy the convenience of having The Sunday Post delivered as a digital ePaper straight to your smartphone, tablet or computer.
Subscribe for only £5.49 a month and enjoy all the benefits of the printed paper as a digital replica.
Subscribe