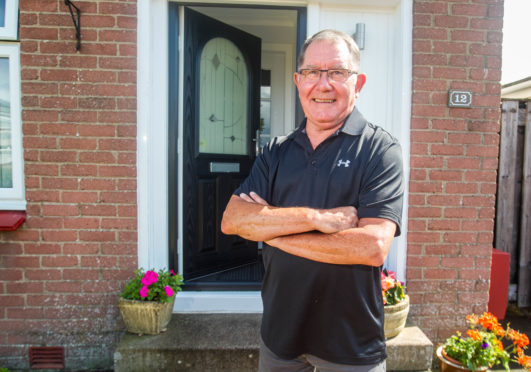 Brian Baxter is praying he can finally shut the door on a home improvement saga that has dragged on for seven years.
In April 2012, the retired transport manager forked out £1,450 to have a new front door fitted by Class Windows and Conservatories at his house in Stirling.
Since then it has been scheduled to be replaced on at least five occasions.
At first, Brian and his wife Elaine were happy with the new door.
However, within months they noticed its white finish was yellowing.
"I had been told the external colour would never discolour or fade due to it being a composite door, so I asked for a replacement," said Brian, 72.
"Since it was installed we have now had the door replaced three times due to it discolouring.
"On one occasion, the thing turned yellow within four months.
"It wasn't a good look at all.
"We were offered all sorts of reasons why this kept happening, including that we live in a smoky area, which is nonsense."
Over the past seven years, the couple have repeatedly turned to Trading Standards in an attempt to get the issue resolved.
In March this year, the front door was due to be replaced for a fourth time – and on this occasion it was to be swapped out with a black version.
"But when the new door arrived it didn't fit the existing frame so the old one had to be put back on while yet another replacement was ordered," said Brian. "So after seven long years we were back to square one again. The whole thing has been unbelievable."
Brian admitted the affair had been stressful for the couple who have both suffered ill health in recent years.
"It has dragged on so long that, since this saga started, Elaine and I have suffered from and recovered from a number of serious illnesses and surgeries."
Brian eventually turned to the Raw Deal team for help.
After we contacted Class Windows, Brian received an email from the door manufacturer, apologising and accepting responsibility for the issue.
John Barry, regional sales manager at the West Midlands-based Epwin Group, wrote: "My understanding of the situation is as follows – a door was supplied several years ago which had a discolouration problem.
"This door slab was replaced but unfortunately the new door was undersized.
"At this point you lost confidence in the white product so Class Windows replaced this with a coloured door.
"Unfortunately, this door slab was manufactured to the same dimensions as the original replacement, hence it was undersized for the door frame."
He continued: "I know you are a Class Windows customer…but I'm afraid we at Sierra Windows are responsible for the issues caused.
"We are in the process of getting a new door and frame manufactured to the correct sizes originally ordered.
"I do understand your frustrations regarding the door but I'm hopeful you will allow Class Windows to replace the existing door and frame to your satisfaction.
"The door will be delivered within the next week."
Neither Mr Barry nor the Epwin Group – or Class Windows – responded to requests from Raw Deal for comment.
However, the good news is that last Monday the Baxters finally had a new front door fitted.
It is in black – and is the right size – and the couple are happy with the results.
Brian added: "I can't thank Raw Deal enough for helping to sort out this epic – let's just hope that this is the end of it."