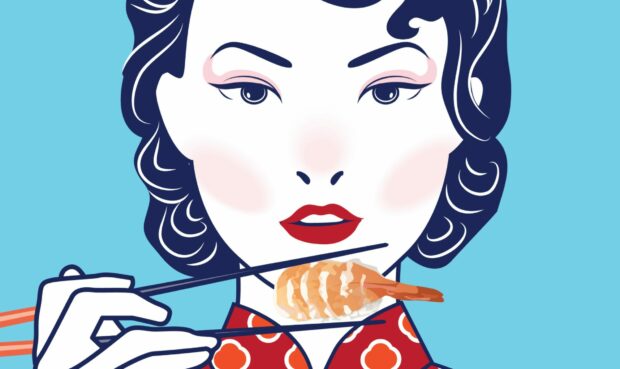 After three decades as a professional cookery writer, it would be easy to assume there's very little Sue Lawrence does not know about food.
When you are a panellist on one of the country's most popular culinary call-in radio shows, however, every day is a school day.
For the past six years, Lawrence has contributed to BBC Radio 4's The Kitchen Cabinet, helping the show's millions of listeners with questions on everything from how to cook potatoes to the best way of incorporating Arbroath Smokies into an omelette.
The series, hosted by restaurant critic Jay Rayner, features the great and good of the food world, including Andi Oliver, Anna Jones and Tim Anderson, and Lawrence says the tips and tricks shared by the panellists during each episode are just as helpful to her as the listeners at home.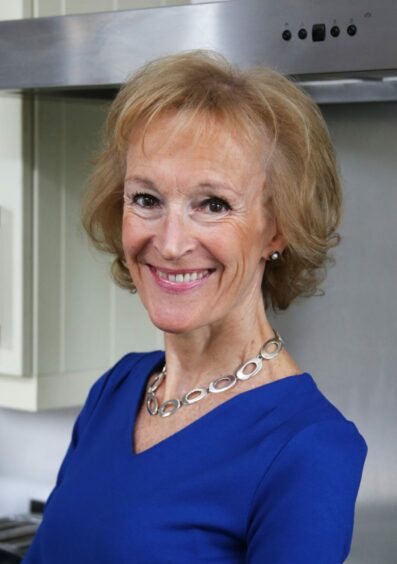 "Having done all my cookbooks and worked for so many years now, you would think there isn't much left to know, but I learn so much myself from the show," explained Lawrence, originally from Dundee, who won MasterChef in 1991.
"The panel is very cleverly comprised. I might be sitting alongside someone who's an expert on, say, the cooking of India, or I might be on with somebody who's the authority on Korean or Japanese cuisine. It really depends who you're on with, but I always learn so much."
Ordinarily recorded in front of a live audience on location around the UK, coronavirus restrictions have necessitated a switch to remote recordings. Whatever the arrangements, panellists must get on their thinking caps to find a quick solution for the week's listener questions. Whether it's adding chocolate to savoury dishes or how to avoid crumbs during breakfast in bed, the panellists share their recipes for success.
She said: "We are only given the questions from the audience 15 minutes before we walk on to the stage. So, your mind whirs madly and, of course, someone else might have thought of your answer – we're almost fighting it out to see who can get the easy one rather than the more obscure!
"Plus, we're often in venues with very poor internet and phone reception, so it's not as if you can just quickly Google something. We really are doing it by the seat of our pants, so it can be quite challenging."
After almost 10 years and more than 200 episodes, The Kitchen Cabinet will now enter people's homes in book form, as more than 100 hours of dinner-table talk has been distilled into a handy hardback almanac. Featuring month-by-month advice from panellists, the part-cookbook, part-nostalgia hit for long-time listeners highlights some of the series' most memorable episodes, and is described as "the perfect companion to help you fill your year with flavour".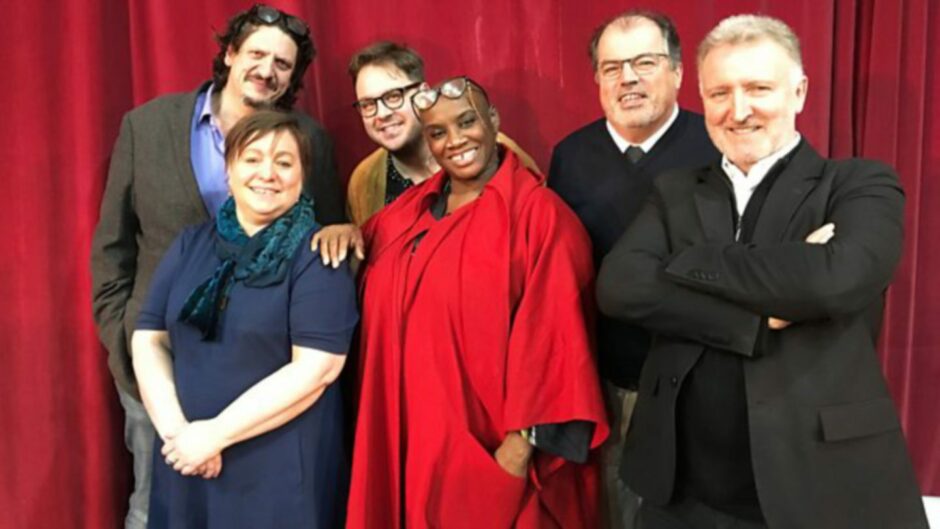 For Lawrence, it has been a chance to wander down memory lane, recounting some of her favourite moments and episodes.
"Quite recently, a listener asked how he could impress his fiancée-to-be before proposing, which was an amazing question," said Lawrence, whose latest cookbook, A Taste Of Scotland's Islands, saw her journey to the likes of Mull, Raasay and Luing.
"We all gave suggestions, and then later had the guy on again after she accepted. They wanted the panel's suggestions of what they could cook for their small lockdown wedding. That just shows that the audience are really with us through thick and thin."
She added: "Another time, I remember taking a whole, massive cooked chicken – which I got from Linda Dick Chickens in the Borders – in a tiny wheelie trolley on a three-hour train journey to film an episode in the north of England. I could see everybody on the train looking around and thinking, 'What is that lovely smell?'
"The trolley was really well insulated, so the chicken was still almost tepid by the time I got it to the show. We do go to a quite astonishing lengths for the live shows."
And speaking of the live recordings, being part of the series has given Lawrence the opportunity to travel the length and breadth of the country which, although fun, can mean logistical challenges.
She explained: "One of the places we went was in the middle of nowhere, vaguely near Bristol – that's all I can remember – in a tiny hamlet.
"It used to be a circus venue, so the green room was a sort-of cupboard-cum-dressing room. All of the panel, before the show, ended up doing hula hoops and juggling and dressing up – we looked completely ridiculous, before we suddenly looked like normal people and walked on to the stage. So, some of the venues can be very interesting.
"But there is a downside to having to travel the whole country. One time, I was travelling from Edinburgh down to Ludlow, and there was an issue with the train so I ended up being stuck in Carlisle. It was panic stations for everyone else – there's only four panellists so if one person is missing it's a lot of work for the others.
"I had to get a bus home and arrived about midnight having not even managed to do the show! So, in a way, the shows are fun and exciting but sometimes the way we're doing them at the moment is a little easier. In saying that, we're going back to the live format as soon as we're allowed."
Being able to share food again with her colleagues, and the live audience, is one aspect of The Kitchen Cabinet Lawrence can't wait to revisit, especially given some of the interesting concoctions she's tasted over the years.
However, for now, bringing the sight, sound, scent and taste of food to the radio – and the series' 1.4million listeners – will have to suffice.
Lawrence continued: "Just the thought of sharing platters is quite exciting, isn't it? The next show I'm on we've actually got to have some Sichuan peppercorns in front of us. We have no idea why – we never do – so it will be a complete surprise on the day.
"Nothing's every easy for the panellists, but it always ends up being a good programme – we hope."
---
I'm like a rabbit in headlights in a Chinese restaurant. I want to try new things but panic. So, what should I order?

– A caller to The Kitchen cabinet
The Kitchen Cabinet book is a month-by-month treat for food lovers packed with recipes, menu guidance, top tips, and quirky anecdotes from the expert panel.
Here are a few of the entries for September.
The Question
I'm like a rabbit in headlights in a Chinese restaurant. I go in determined to be different, then panic and order the same old stuff. What are the panel's go-to dishes?
The answer
Lizzie Mabbott grew up in Hong Kong and says her early memories of Chinese food in the UK were mainly of surprise.
There was chop suey, an entirely made-up dish that was pure Anglo-Chinese (or American-Chinese, depending on the version of the invention myth you read); fried rice, which is a leftover dish rarely served formally in China; and then a whole range of sweet-and-sour meat, often with pineapple. Many of the early restaurants were Cantonese, and Cantonese food became synonymous with Chinese food for a while.
Lizzie's heritage is Cantonese, and her advice is to order a roasted meat – either duck or char sui, which is roasted pork. Get it on the bone for more flavour and a lot more fun.
Tim Hayward agrees that a lot of what the British call Chinese food wouldn't be recognised in China. But he doesn't see it as a thing to be ashamed of. Culinary culture is adapted by its practitioners, changing to suit local tastes and ingredients. But you can enjoy both. His favourite Chinese restaurant is Sichuan, and he enjoys it both for the fantastic flavour combinations and the menu translations. "Strange taste fragrant rabbit" is gorgeous but his absolute go-to is the "fire exploded kidneys", which he describes as the most delicious thing ever. Don't be afraid to choose just because you like the sound of something.
Sichuan is also the route Tim Anderson takes. He suggests trying mapo tofu, which is, as you'd imagine, primarily tofu, with meat used almost as a garnish. It's very, very spicy, with a moreish heat from the Sichuan peppercorns, and it slips down beautifully.
If you aren't sure of your heat tolerance, or you just fancy something stunning, Jeremy Pang says there's no need to pick just one dish. Go for dim sum instead.
Nobody is sure where it comes from, but various stories suggest it sprang from tea houses, which did not traditionally serve food. It's said that one old lady felt a bit sorry for her customers, who were very hungry, so she went into her kitchen, made what she could from her ingredients, and fed them dumplings. And then her neighbours got competitive and made more intricate dumplings for their own customers, and it snowballed from there. If you're in Hong Kong, you'll find the dim sum places full at 5am, with elderly customers having a great time – plus it tends to be half-price.
Top tip #1
Barry Smith has a neat trick with which to wow your dinner guests and work your way through your surplus whisky (apparently it happens).
Whisky is an aggressive beast and tends to set your mouth on fire. But have a handful of wasabi nuts on hand. They're very spicy and will give you a trigeminal burn in your mouth. While it's still on fire, try your whisky. Your brain will have been hit with fire already, so when the whisky goes in, it strips off the fieriness, leaving you with the pure flavour of the drink, not just the burn of the booze.
Science
Dr Zoe Laughlin is working on making the best spoon in the world. She's been experimenting with blindfolded volunteers eating various things from various spoons made from different materials. Shape plays a role too – ideally we would all have spoons made to fit our exact mouth shapes.
But the material does manifestly change the taste of foods. Try eating tomato from a copper spoon – the acid reacts and it is properly unpleasant. Even a stainless-steel spoon – the most common metal for cutlery – affects the flavour of your food. So, if you want the ultimate meal, with the best possible taste, what should you choose? Simple. Just go for gold. Or gold-plated.
Top tip #2
Barry Smith says there is no truth to the idea that white wine will get out red wine stains. It's based on a vague bit of science, which explains why lemon juice works: the acid breaks up the pigmentation that stays and stains. But white wine won't.
One of his favourite memories as a student was watching a fellow student waiter spill a tiny bit of red wine on a very expensively besuited man in a Glaswegian restaurant. "This suit cost me £600, but I'll take £300," said he. Quick as a flash, she answered that she'd get it out, and sloshed a glass of white wine on him. It didn't work (obviously) but he had to spend the rest of the meal gently dripping.
Nightmares
And finally, we asked our audience in Lambeth to tell us about their kitchen gadget nightmares. We can't help but be awed by the man whose friend-of-a-friend (apparently) said he was never, ever making mash again. Turned out he was making gloriously fine ricer-style mash… in a garlic press.
---
The Kitchen Cabinet: A Year Of Recipes, Flavours, Facts And Stories For Food Lovers by Annie Gray is published by BBC Books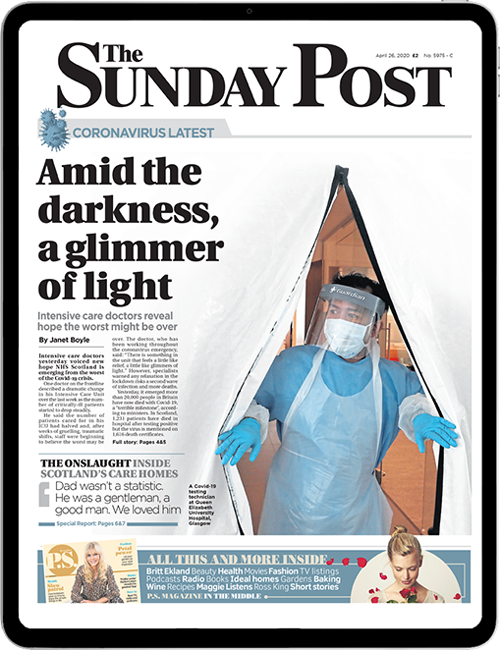 Enjoy the convenience of having The Sunday Post delivered as a digital ePaper straight to your smartphone, tablet or computer.
Subscribe for only £5.49 a month and enjoy all the benefits of the printed paper as a digital replica.
Subscribe