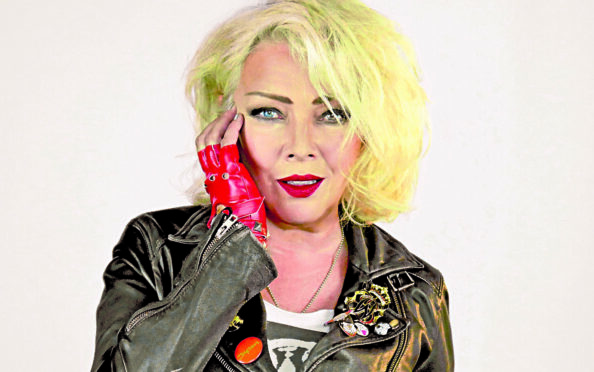 Her songs were anthemic, her posters were pinned on every teenager's wall and her bleached blonde haircut was replicated all over the country.
Kim Wilde was an icon of the '80s, with more chart hits than any other British female solo act during the decade. But she has never felt more confident than she does now, as she approaches her 62nd birthday.
As she embarks on a pandemic-delayed Greatest Hits tour to mark 40 years in the business, the Kids In America singer says it was an unplanned comeback at the turn of the century, after she had walked away from the business after becoming disillusioned, that helped her discover who she truly is as a performer.
"In the early days, the Kim Wilde who was perceived as a sex symbol and whose posters were on people's walls, I found it hard to relate to that person," she admitted. "Now that's not the case. I'm 62 and the person you get on stage is very down-to-earth, and I'll sometimes talk about my gardening or my dogs while I'm up there.
"I'm very fond of getting a pin and bursting bubbles, just to keep it as real as I can. The days of being elevated to that unreal expectation of me, I like to destroy that as much as I can and just get to the music, which is what matters.
"I'm definitely, absolutely, more confident now as a woman and a performer – they go hand in hand. I enjoy being Kim Wilde and putting on the leather costumes and posturing and singing loud songs. The the fun of it all is larger-than-life, but there are very human moments within that on stage, and I never forget I'm just a girl up there singing songs and the only reason I'm there is because of the people standing in front of me."
Being on a stage is what appealed to Wilde about returning to music after having grown tired of the pop industry.
"I got the call to do the '80s tours, and I thought I would do it and it would just be the once and I'd forget about it. But it started the ball rolling all over again, which I had no intention of it doing, but it just sort of happened spontaneously. It was very focused on playing live in a way my career hadn't been focused on in the first part, when it was about making videos and TV appearances and photoshoots and being a celebrity. When I returned it was as a live artist and that was when I started to discover who I could be as Kim Wilde, the performer. Now I feel I've earned my stripes, put the hours in, and I feel I really know what I'm doing these days."
It was a different scenario in 1995, when Wilde released her album, Now And Forever.
"It had more of an R'n'B and dance vibe. It was the music I was listening to and reflected my love of the genre, but no one was terribly interested in me veering from the road I'd trodden up to that point. I thought, 'I've probably outgrown all of this'. It was great when I was young and going on tour with Michael Jackson and David Bowie but it stopped being fun and it felt like I was on a treadmill. I was a bit bored with Kim Wilde and I thought people were bored of me. I decided I was going to leave the party without being the last one at it, so I got out and tried something else.
"I was offered the role of Mrs Walker in Tommy and I thought it was a good halfway house, where I got to sing the amazing songs of The Who but got to step out of the music industry. It was a relief to not be Kim Wilde anymore."
It was while she was working on Tommy that she met her husband, actor Hal Fowler. They married in 1996 and had son Harry two years later and daughter Rose in 2000. Her long-held love of gardening came to prominence and she studied horticulture at college, which resulted in a second career as a garden designer, working on Channel 4's Better Gardens, recording two series of BBC's Garden Invaders, and writing two gardening books.
Since making her return to music, Wilde has released a further five studio albums and revealed she already has a few songs in place for her 15th studio record, which she plans to record in the first part of next year.
During lockdown, she released her biggest career retrospective to date, a five-CD and two-DVD box-set called Pop Don't Stop, while a biography of the same name written by super-fan Marcel Rijs also came out. Those releases, as well as the enforced stoppage that the pandemic created, gave her time to reflect and reminisce.
"It was a time to take stock, and see what was working and what could do with some adjustment," explained Wilde, whose father Marty's bestselling career as a singer and songwriter began in the 1950s. He later became part of his daughter's songwriting team along with Kim's brother, Ricky.
"Marcel is my friend and runs my website. I wondered how many people would want to read about the music – I thought people would want to read something more salacious. But I found I had a lot to say and wanted to put my voice into the book in a way I hadn't anticipated. I don't have any financial interest in it, it's his book, but he did a great piece of work and it helped the Greatest Hits project and the momentum of marking 40 years in music. It helped me to reassess the past and look back and appreciate the things that happened, the songs I'd forgotten, and moments that had disappeared from my memory. It was a really fantastic and positive experience."
She says she will write her autobiography at some point.
"Over the years I've done a lot of writing and kept documentation. It's just a matter of reaching the point where I feel like putting it all together, and that's not now or in the near future, but I love writing and I think it's very unlikely I won't write an autobiography at some point in my life."
Speaking about her breakthrough with Kids In America, which became a worldwide hit when she was 19, after RAK Records boss Mickie Most heard her backing vocals on one of Ricky's tracks, she said: "Mum stepped in as manager with Dad, and I had Mickie fighting my corner. I was still living at home and my parents were in the music industry and there were lots of advantages to that – they had my back and one of them was one of my songwriters, and we shared this dream of the perfect pop record, and still do."
She believes growing up in a famous family helped when she found success.
"It must have helped. I watched my dad perform and be famous and saw how he carried himself. He just loved the music, and his singing and songwriting are testimony to that. We all grew up loving music, not loving fame or having a famous lifestyle. There was lots of music in the house, and Dad was always in the studio trying out new styles and songs. He taught us all how to sing harmony. If you sit in the car with a bunch of us, no one ever sings along to the melody, we always pitch a third or a crazy harmony somewhere else."
Brother Ricky remains a part of her band, as well as a songwriter and producer, while their sister Roxanne is also a musician. Ricky's daughter, Scarlett, sings backing vocals in Kim's band, and Harry, Kim's eldest child, is in a band called Wunderhorse, so music remains the Wilde family business.
"Both Harry and Rose are fine songwriters," Wilde said proudly. "Rose is studying psychology and focusing on university at the moment, while Harry will soon be travelling to America to tour with Wunderhorse. It's a calling – I know that sounds airy-fairy but it is what it is, I don't think he has any choice in the matter. He's not interested in being famous, in fact he loathes that aspect of it, but he's a very dedicated musician."
Dad Marty continues to write and tour at 83, but Wilde says she will have called time on her live career long before then.
"I think I'll always sing but I don't know if I'll be running around in my leather glam rock outfit singing Kids In America in my 80s and maybe not in my 70s," she added. "I see this next decade as being one I can really enjoy and relax in with all of my experience, and bring it to the stage in a really positive and fabulous way, and then we'll see. I want to keep it classy."
Magic of live music
A quote from Nirvana and Foo Fighters legend Dave Grohl sums up Kim Wilde's love of live performances.
"Dave Grohl said it's fantastic to sing a song and hear 20,000 people sing it back to you for 20,000 different reasons," Wilde said.
"I love that quote and the idea that everyone out there makes a song their own and it's their soundtrack for their particular set of circumstances. I don't know if there's anything else on the planet that brings people together in such a beautiful, positive way. There is something so vital and honest and so very human about the way music brings crowds of people together to sing the same song.
"All of us in the band – all eight of us – have been touring for many years and we've never been more excited about this tour. There was a very real prospect at one point that live music might struggle to ever return. We had to cancel our Greatest Hits tour and we wondered if it would ever come to pass.
"Having played festivals in the summer, and having been in the crowd at a festival last weekend, the vibe is magical and the energy for live music has never been stronger. People appreciate it much more than ever before.
"Our show is going to be loud and fun and we want people on their feet losing themselves in the music, enjoying that shared experience, which is very powerful."
---
Kim Wilde's Greatest Hits tour, O2 Academy, Glasgow, September 13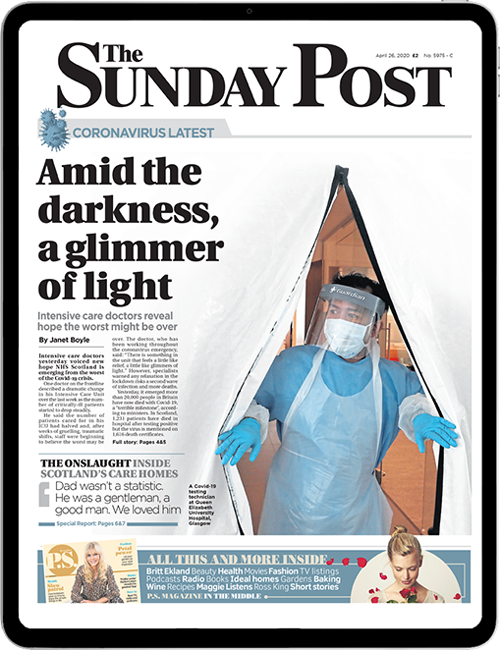 Enjoy the convenience of having The Sunday Post delivered as a digital ePaper straight to your smartphone, tablet or computer.
Subscribe for only £5.49 a month and enjoy all the benefits of the printed paper as a digital replica.
Subscribe