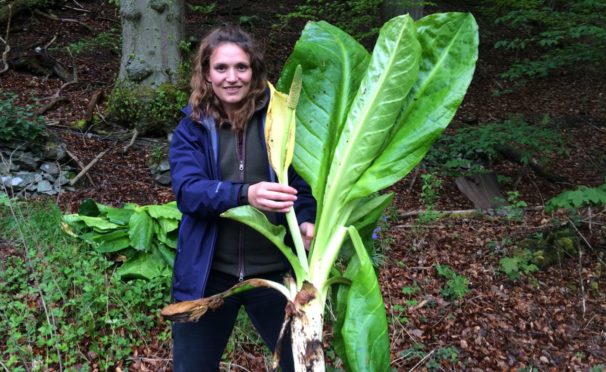 A plant predator called American skunk cabbage is one of the targets of a campaign by environmentalists to eradicate alien species from Scotland.
Giant hogweed and Japanese knotweed are the most high-profile of the non-native invasive species found in the UK because of their harmful effects on humans and their homes.
But the lesser-known American skunk cabbage is now a significant threat to native plants, animals and insects – and it poses a flooding risk by clogging up burns.
American skunk cabbage started to flourish in Scotland because its attractive yellow triffid-like appearance made it a fashionable plant to buy from garden centres.
The pungent-smelling plant – which can grow to 1.5 metres tall – was even given the Royal Horticultural Society Award of Garden Merit before experts realised the harm it can cause when it spreads unchecked.
Selling it was banned in 2016 and it is also one of 13 non-native invasive plant species where it is an offence to grow, cultivate or release it into the wild.
Now it is part of Nature Scot's four-year Scottish Invasive Species Initiative (SISI) targeting rivers and watercourses in northern Scotland – an area covering a third of the mainland.
It is also on the hitlist of Project Wipeout – a programme part-funded by Nature Scot's Biodiversity Challenge Fund to eliminate non-native invasive species.
One area which has had a long-running eradication programme for American skunk cabbage – Lysichiton americanus – is around the River Tweed in the Scottish Borders.
Some of the work even involved removing it from the Dawyck Botanic Garden in Peebles, where it had been planted for its impressive appearance.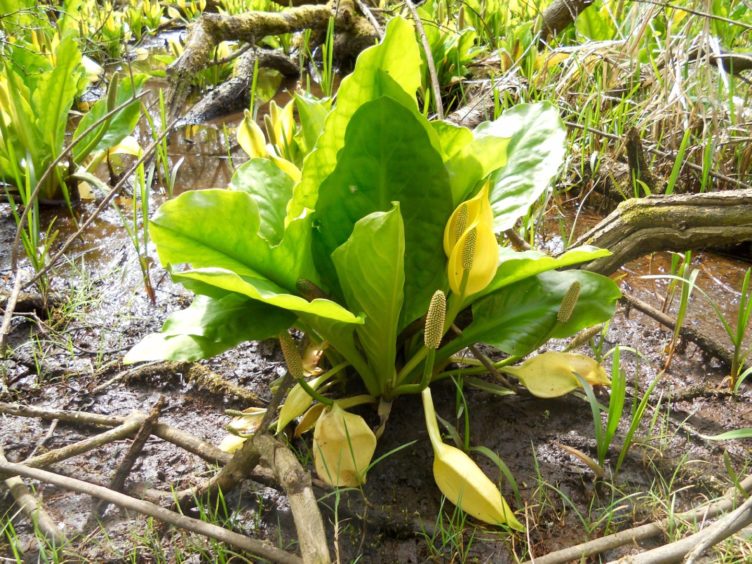 Emily Iles, who manages the Tweed Invasives Project at the Tweed Forum, said: "It's quite a charismatic looking plant.
"The problem was garden centres were selling it as this prize ornamental plant without realising the consequences. It's taken four or five years to get to a level where it's okay. Once it's established it takes a long time to get rid of it."
Licensed herbicides have proved the most effective method of removing the skunk cabbage, either by spraying it on the leaves or injecting it into the stems.
Biosecurity measures to stop the plant gaining a foothold again by protecting the boundaries of the cleared areas are now a priority for the project on the Tweed.
People can also report sightings of American skunk cabbage to Nature Scot to help build a database of where it is thriving and needs to be controlled.
Callum Sinclair has been spearheading Nature Scot's SISI programme in the north of Scotland, where several areas are being targeted for the removal of skunk cabbage.
Part of the project has involved training volunteers in skills such as spraying chemicals, and 111 people have so far gained formal qualifications as a result.
Volunteers have also contributed 15,237 hours – the equivalent of 2,176 days – in tackling all non-native invasive plants since 2018.
Mr Sinclair said: "What this project has been about is trying to control invasive species over quite a big area – it covers a third of Scotland's mainland. Hogweed is among the most high profile, because of the public health risk it causes. So you'll find kids get their arms burned or dogs get scalded noses from it.
"Knotweed gets a high priority because of the property issues. They've all got their own features.
"Often what you find with these plants is they establish really quickly and effectively, and spread really quickly.
"When things like skunk cabbage get into small burns they choke them up and stop the flow of water, so they can make things like flooding worse by blocking up streams.
"Everything is inter-related and when you put something like a large plant and lots of them in an environment where they're not really meant to be, there are consequences for the plants and animals that should be there. Just by being excluded, they get expelled from their natural territory."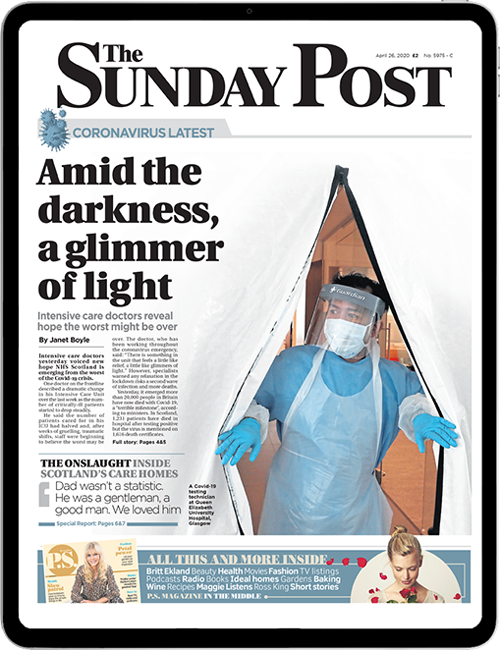 Enjoy the convenience of having The Sunday Post delivered as a digital ePaper straight to your smartphone, tablet or computer.
Subscribe for only £5.49 a month and enjoy all the benefits of the printed paper as a digital replica.
Subscribe