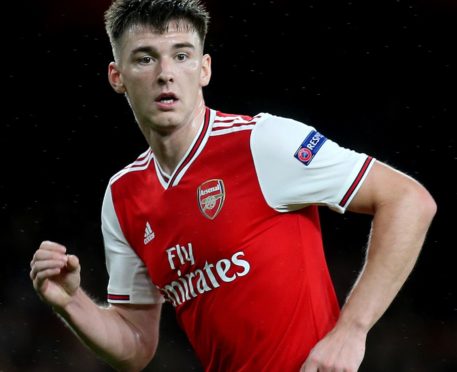 Legendary Arsenal manager George Graham believes Kieran Tierney is exactly the type of player he would have signed when he was in charge at the Gunners.
The Scotland internationalist had a tough start to his career at the Emirates, with injury issues blighting the opening few months.
But post-lockdown, Tierney has excelled for Mikel Arteta's side, who have won their last three games on the bounce.
And it is the full-back's drive and energy that have made Graham reminisce about his own time in charge of the North London club.
"When I first went to Arsenal, I knew I had to rebuild the club, and knew the kind of players I wanted to bring in," said the 75-year-old, whose haul as Gunners boss was two titles, two League Cups an FA Cup and a European Cup-Winners' Cup in his nine-year spell.
"I brought in guys like Nigel Winterburn, Lee Dixon and Steve Bould.
"I had come into a club where there were good players, but I wanted to really shake things up. Having players who are hungry gives you that.
"I still think the current side needs at least another three or four players if they want to challenge and compete.
"But you look at a player like Tierney, who has so much potential, and you get the feeling that he will give everything on the park.
"He has that will-to-win. You can't coach that desire. It's innate and he has it and, for me as a fellow-Scot, I am delighted."
Tierney endeared himself to the Arsenal support last weekend when he was snapped going into Bramall Lane for the game against Sheffield United with his gear in a plastic Tesco carrier bag.
Eschewing the more traditional footballer's Gucci, Armani or Louis Vuitton bootbag in favour or something more grounded gave Graham a chuckle.
But it was also indicative of a fairly-grounded player, according to Graham.
"Kieran does look like a throwback," said Graham.
"He had a tough time with a bad injury, and it's been difficult for him to settle into the club. But there have been signs that we are going to see the best of him now.
"I like his attitude. You see him knocking about with the Tesco bag, and you're thinking that, with all the money these guys are on now, he could definitely afford something a bit more glamorous.
"It made me smile. But, yeah, it definitely shows that he has his feet firmly on the ground.
"I think right now that is what Arsenal need – players who are hungry and want to just focus on their football.
"Every team needs players like that."
Graham played and managed in England at a time when it was common for teams to have at least two or three Scottish players.
If there has been a significant absence of them at the top level in the two decades, Tierney and Andy Robertson have offered an indication that it may yet come round again.
"I love watching Andy at Liverpool," said Graham. "And Trent Alexander-Arnold too.
"Their energy and application is exemplary.
"I absolutely believe that Kieran can do the same at Arsenal.
"I don't know him well at all, and I don't have any dealings with him.
"I have never been one to hang around the club since I left, because you always feel that you have to accept that you had your time and it's passed to someone else. But I still love Arsenal.
"I still love getting along to watch games and the team. I just wouldn't be one of these guys that hangs around the training ground.
"But I always watch football. It is just in me.
"Hopefully I'll be seeing a lot of Kieran in the next few months."