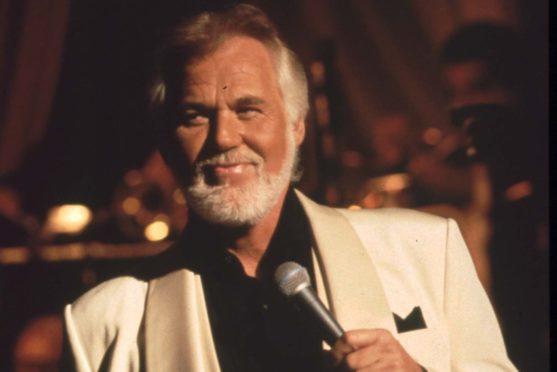 Tributes were paid to Kenny Rogers yesterday after the country music legend died, aged 81.
Scotland's own king of country, singer Sydney Devine, said music had lost one of its great stars.
He said: "I met Kenny Rogers in Nashville about 20 years ago when I was over there doing some recording sessions. He was working in the next studio and I would often bump into him and we would have a chat.
"He was a lovely man who helped take country music to a wider audience. When Kenny arrived on the scene he was more of a pop singer and he migrated across into the country scene. That was an unusual thing to do and it was quite a jump to make. It is usually the other way around – it is country singers who usually want to break into the pop charts.
"Music has lost one of its most powerful and distinctive voices. I'm really sad to hear that Kenny has gone."
The family of the singer, who had hits including Coward Of The County and Islands In The Stream with Dolly Parton, said he "passed away peacefully at home from natural causes surrounded by his family".
A true rags-to-riches story, he was raised in public housing in Houston Heights, Texas, with seven siblings.
As a 20-year-old, he had a gold disc for a song called That Crazy Feeling under the name Kenneth Rogers, but when that early success stalled, he joined a jazz group, the Bobby Doyle Trio, as a stand-up bass player.
His breakthrough came when he was asked to join folk group New Christy Minstrels in 1966 who had a hit with psychedelic track Just Dropped In. The band reformed as First Edition, mixing country-rock and folk on songs like Ruby, Don't Take Your Love To Town .
After the group broke up in 1974, Rogers started his solo career and secured a huge hit with the sad country ballad Lucille, in 1977, which crossed over to the pop charts and earned Rogers his first Grammy. The Gambler, the Grammy-winning story song penned by Don Schlitz, came out in 1978 and became his signature song with a signature refrain: "You gotta know when to hold 'em, know when to fold 'em".
The song spawned a hit TV movie of the same name and several more sequels featuring Rogers as professional gambler Brady Hawkes, and led to a lengthy side career for Rogers as a TV actor and a host of several television specials.
Deacon Blue singer and broadcaster Ricky Ross said of the icon: "Kenny has some genre defining moments for me. There are three songs he cut which illustrate how wonderful music is.
"With the First Edition, Just Dropped In (To See What Condition My Condition Was In) was an early great from Mickey Newbury.
"Islands In The Stream is such a brilliant pop crossover with the great Dolly Parton and Bee Gees on writing and co-production (Barry Gibb at least). Who could imagine such a combo? But the greatest is one of my top five country songs of all time: The Gambler. Don Schlitz wrote it and Kenny nailed it. Country perfection."
Dolly Parton posted a video to Twitter expressing her sadness at the loss of her "friend and singing partner". She wrote: "You never know how much you love somebody until they're gone.
"I've had so many wonderful years and wonderful times with my friend Kenny, but above all the music and the success I loved him as a wonderful man and a true friend."
You never know how much you love somebody until they're gone. I've had so many wonderful years and wonderful times with my friend Kenny, but above all the music and the success I loved him as a wonderful man and a true friend. pic.twitter.com/hIQLIvt8pr

— Dolly Parton (@DollyParton) March 21, 2020
A statement from the Golden Globe Awards, which nominated Rogers' They Don't Make Them Like They Used To in 1986, hailed him as "an icon of country music".
Rogers sold tens of millions of albums and won three Grammys, making him a 70s and 80s superstar. Despite his crossover success, he always preferred to be thought of as a country singer.
"You either do what everyone else is doing and you do it better, or you do what no one else is doing and you don't invite comparison," he said in 2015. "I chose that way because I could never be better than Johnny Cash or Willie (Nelson) or Waylon (Jennings) at what they did.
"So I found something I could do that didn't invite comparison to them. I think people thought it was my desire to change country music. But that was never my issue."
BBC Scotland presenter Bryan Burnett added: "To people in Scotland in the 1970s, Kenny Rogers was country music. It's hard to imagine any mainstream country artist nowadays achieving the level of success that he did.
"I interviewed Kenny in Nashville some years ago and he was always aware of how much people in the UK had taken him to their hearts, particularly in Scotland. Even now, it's not a proper karaoke night in this country until someone has got up to sing Islands In The Stream."
---
FROM 'THE GAMBLER'
You've got to know when to hold 'em
Know when to fold 'em
Know when to walk away
And know when to run
You never count your money
When you're sittin' at the table
There'll be time enough for countin'
When the dealin's done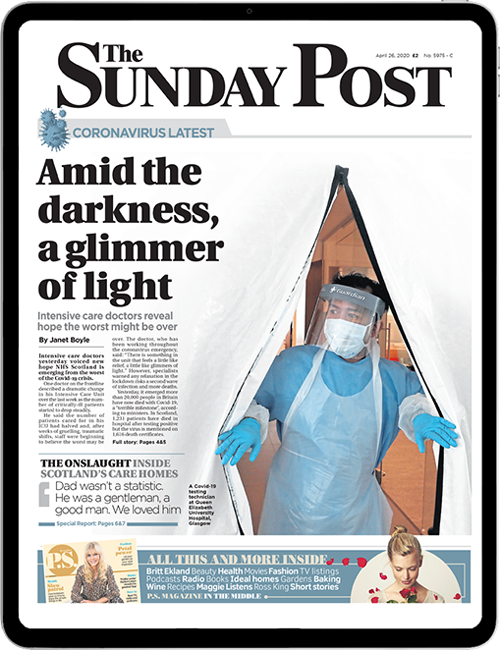 Enjoy the convenience of having The Sunday Post delivered as a digital ePaper straight to your smartphone, tablet or computer.
Subscribe for only £5.49 a month and enjoy all the benefits of the printed paper as a digital replica.
Subscribe