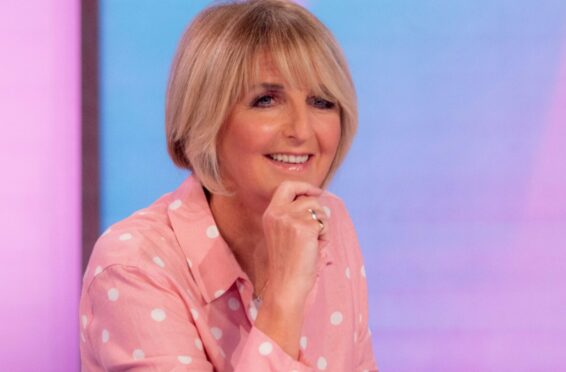 Kaye Adams was counting down the days to her next birthday with a feeling of abject hopelessness, as if it were the timer on a bomb ticking down to oblivion.
The broadcaster turns 60 at the end of the year and, as someone who has refused to celebrate birthdays since turning 30, the thought of reaching the milestone age horrified her.
The Loose Women presenter and Radio Scotland host knew she was being irrational so, over the past few months, she has been looking inside of herself, as well as speaking to others her age, to identify why she feels the way she does. And now her attitude is beginning to shift.
She launched a podcast in April called How To Be 60, in which she discusses with guests such as Anthea Turner and Jonathan Ross about the trials and tribulations of reaching the seventh decade. She will soon record special episodes of the series in Edinburgh in front of a live audience, marking her Fringe debut.
So far, it sounds like Adams is bucking any stereotypes associated with the impending birthday. But while acknowledging that we cannot be pigeonholed as a certain type of person simply by the numbers on our birth certificate, she offers that so too must we concede we simply cannot run away from our age forever.
"When I was growing up, 40 was totally over the hill. Now, it's barely middle age. We've got fabulous at 50 and flirty at 50, you know, Amanda Holden and Davina McCall and people like that. Fifty is no barrier," offered Adams. "We talk about 40 being the new 30 and 50 being the new 40, and I think those milestones have been toppled, but 60 is still there, teetering.
"You look at the birthday cards for 60 and they're still about farting and losing your memory, but maybe that will change over the next few years. However, you also have to admit that when you reach 60, you've got more behind you than you have in front of you. Time is marching on.
"When we were younger, we looked at our granny and grandpa at 60 and they were old people, but this current generation just don't want to be having that. We want to dress young, behave like we're young, and have fun like we're young, whereas the previous generation were almost content to grow older and be the older generation.
"Previously, I didn't want to think about turning 60 and I was just going to crack on. Touch wood, I feel fit and healthy, and I make sure I exercise and eat well, and I don't feel any different to when I was 40, certainly, or 30, so I was kind of blinkered about it. Now, I've started to think about it in a different way."
Adams, who grew up in Grangemouth before moving for her studies to Edinburgh, also thinks back to her parents and how they worked constantly until an older age and ultimately didn't have the chance to enjoy a long retirement.
"They were very energetic people and set up their own haulage business when they were young and worked really hard until their late 70s, taking very few holidays. And then, unfortunately, a couple of years after that, they both became ill and died a few years later. It makes me think, 'Do I really want to that?', you know, because I'm constantly chasing my tail.
"I don't always have time to see the friends I want to see or go the places I want to go, or just have the time to do nothing, because I'm always on the hamster wheel. And doing the podcast has made me realise that is a choice. I'm constantly saying I'd love to learn Spanish or visit Istanbul or spend more time with my partner, because we're like ships in the night, and so I have that choice. But I say I'm too busy to make the choice, and that's stupid."
Adams has been with tennis coach partner Ian Campbell for more than 25 years and they have daughters, 20-year-old Charley and Bonnie, 16. Did having her kids a little older in life contribute to her still feeling youthful today?
"I think that does make a difference. We talk about keeping feeling young, but what do we mean by that because your birth certificate is immutable? It's not like I'm trying to fool anyone because I have a 16-year-old child. But when do you start to feel old? It's that thing we say, isn't it, I know I'm 59 but I feel 21. Or, I don't look my age. At what point do you look in the mirror and say, 'Yeah, this is my age'?"
Adams believes it's the poor attitudes towards older people that is partly responsible for why we refuse to accept our age.
"I mean, to be an old person is a term of insult," she continued. "It's almost like there's not the same value to the person anymore. Being young carries a higher value than being old in our society. But you're lucky if you get to become an older person, because a lot of people don't have the chance to turn 60. It should be a privilege to get to 60, and if you're in relatively good health, why pretend to be younger?"
Adams, who has presented Loose Women on and off since the daytime debate show began in 1999, believes her attitude towards age stems from her mum, Cathie.
"She was one of those people who would say 'over 21' when she was asked her age. It became a family joke but, lo and behold, I've turned into my mother – in all sorts of ways. My mum always dyed her hair, right to the very end. She was very ill in hospital but, my God, if I let her roots go too long she would have killed me. I dye my hair, obviously, and I'd always said I'll be just like my mum and never let it go grey, but now I think maybe there will come a stage when I will."
Keen for a good talking point to begin a podcast, Adams realised that her pondering over turning 60 was the perfect topic.
"Some people really embrace getting older and feel like it's a positive thing and have all these plans, whereas I was closed off to the idea and had anxiety about it. It felt like a ruminative subject and there's no definitive answer to it. Once you start to talk to other people and find out how they feel about it and approach it, it gives rise to some really interesting conversations."
It forced Adams out of a comfort zone and she'll feel the same way when she makes her debut at the Edinburgh Fringe next month.
"I can't believe I agreed to it when it was suggested to me," she smiled. "I said not to be ridiculous. But Karen MacKenzie, who I do the podcast with, said she thought it would be great. I decided since I was supposed to be embracing new things I should say yes, but I still can't quite believe it, to be honest.
"I've always loved the Fringe. I went to university in Edinburgh and the Fringe was always the most exciting time. I know it's changed an awful lot since then but I've always loved Edinburgh at this time of year. So to be a part of something that really means a lot to me and was something I grew up with, even if I am just a tiny little dot in the grand scheme of it, is really exciting.
"We'll have some good and interesting guests, and Karen and I will be abusing each other as usual. I'm also looking forward to doing the show in front of a live audience. We've not had a live audience on Loose Women for a couple of years now, because of the pandemic. I really enjoy having an audience there, it's not something that fazes me. We hope to have the audience back on Loose Women in the autumn which we're all thrilled about, as it's such a huge part of the experience.
"As for the Fringe, we're hoping to make people laugh as well as think. We won't all be sitting there stroking our chins and being miserable."
---
Kaye Adams – How To Be 60: Live!, Gilded Balloon Teviot – Debating Hall, August 23-24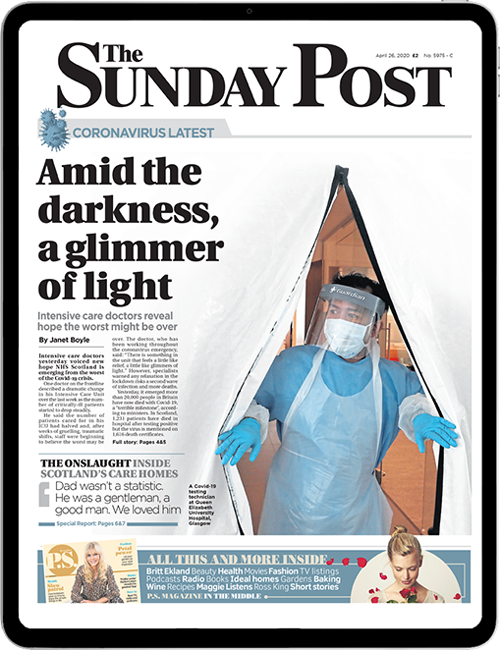 Enjoy the convenience of having The Sunday Post delivered as a digital ePaper straight to your smartphone, tablet or computer.
Subscribe for only £5.49 a month and enjoy all the benefits of the printed paper as a digital replica.
Subscribe