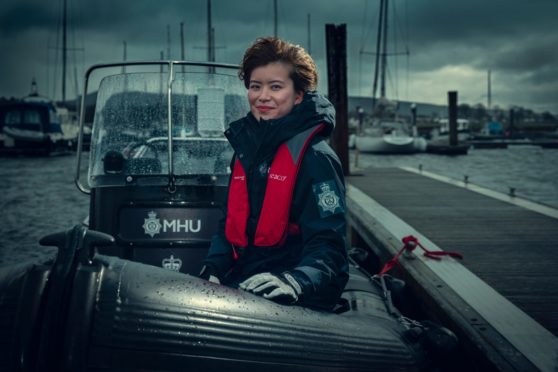 Katie Leung achieved success and fame beyond her wildest dreams while she was still a teenager.
But it took going back to the beginning and starting all over again for the Motherwell actress to find herself and lay the foundations for the in-demand career she now has.
Plucked from obscurity when she was 18 to star in one of the biggest movie franchises of all time, the Harry Potter series, Katie decided when filming was over to go to drama school and have some life experiences in the real world before picking her career back up.
Since then, she has appeared in acclaimed TV series such as The Nest, Roadkill and White Dragon, and will next be seen in new Glasgow-set police drama, Annika, opposite Nicola Walker and Guilt's Jamie Sives.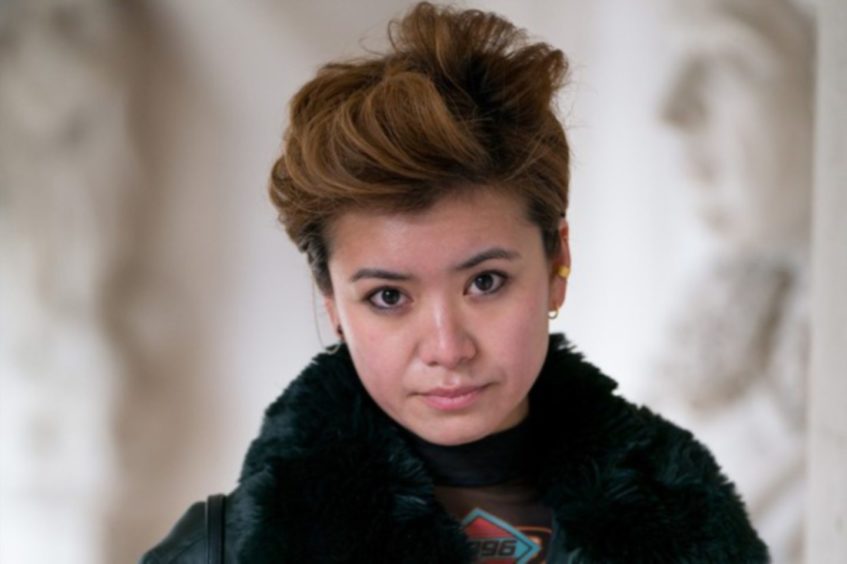 "I'm glad I did it," said Katie, speaking about her time at the Royal Conservatoire in Glasgow. "I met most of my best pals at drama school.
"Being in an environment where I could be vulnerable was something I'd never experienced and that's where you are able to let your guard down. You have to be vulnerable in order to learn and I think that's the most important thing I learned at drama school.
"I took that time out to study, and I don't know if it made me a better or worse actor but that's beside the point, it was about life experience, about learning other people's life experiences and having empathy for other people.
"It was the psychology of it all, finding what you need to say through meeting different people at school. A lot of young people come to me and ask how to get into drama school, and I tell them it's not about having a CV at that point, it's about getting out and having life experience to find yourself a bit more. Sometimes that's what drama schools are looking for."
A new start
Katie, 33, was reticent at first to speak to her classmates about her role as Cho Chang in five Harry Potter films.
"I think my fear of signing up to drama school was that people would have expectations of me, because I'd been in a big blockbuster, so that made me not want to go and I really had to push through that and think about what I wanted and that it would serve me, as opposed to just worrying what people would think – which I spent a lot of time doing when I was filming Harry Potter.
"So it was important for me to say, 'Life starts here', and realising as well there were no expectations from my classmates – it was all in my head, it was all me, really.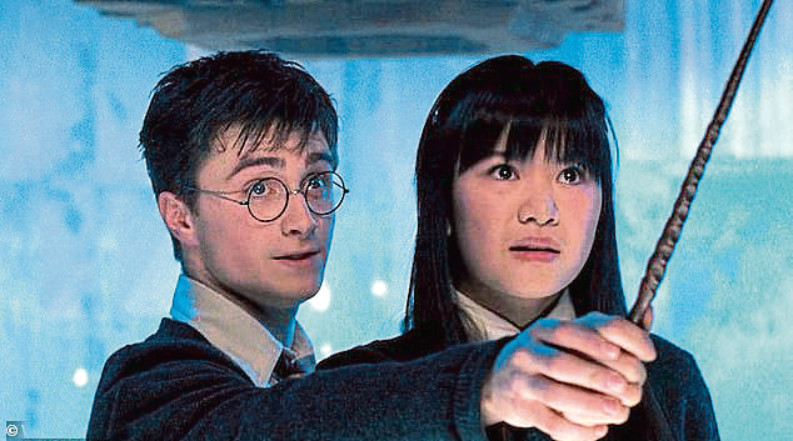 "I remember the first couple of weeks, as we were trying to get to know each other and having discussions in class and talking about our roots, I would mention having done a film but would never talk about it specifically even though everyone knew. It was a huge elephant in the room, but I just didn't want to talk about it because I didn't want it to define me.
"It was hilarious – the more I didn't talk about it, the more obvious it became, and I said, 'Oh God, I wish I'd just said at the very beginning and it wouldn't have become this huge deal'. But everyone was really lovely and supportive.
"It's funny, my mates and I reminisce and we talk about first year and they laugh about how awkward it was and ask me why I didn't just say, because they thought I was doing great, so again it was really all just me."
Despite the success she is enjoying in the second phase of her career, Katie is reticent about feeling content.
"I think I've worked hard to be here and I don't think I'll ever consider myself as established – you keep learning and figuring out how much you don't know the more you do it. That's the best way to be. If you reach a stage where you are too content with what you are doing, you don't really challenge yourself. I think humility is important."
Acting in lockdown
Spending time with family was one of the positives Katie was able to take from what turned out to be a busy lockdown for her, but a bizarre day involving her mum's kitchen and Anne Hathaway sums up the strange times we found ourselves living in.
"As awful as the pandemic has been, I made closer connections to my family, because when everything shuts down all you have left is your loved ones," Katie said. "It was so nice to spend time with my parents and siblings, to get to know them as individuals rather than who they are in relation to me.
"I did a cameo for the film Locked Down from my mum's kitchen. That was such an odd day. A sound guy came to my mum's house, set up a microphone, and then sat in his van for a couple of hours while I shot the scene. Anne Hathaway was on my computer screen and I thought, 'What is going on, this is so weird'."
Katie also did a lot of audio work during the pandemic, and is now filming The Peripheral, a major new series from Amazon.
"I felt really lucky I could continue to pay my bills and I don't feel it impacted me as much as it has lots of other people, so I'm grateful for that," she continued.
"The Peripheral is a really cool role – it's very futuristic and I get to play with lots of different looks. Once upon a time, when I was still in my 20s or just starting out, I'd be really nervous about it and be overwhelmed, but the nice thing about having done this for a while is you realise it's just the same as any other job."
Annika
Before The Peripheral, though, is Annika, a new six-part series filmed in Scotland during lockdown, featuring an all-star cast.
It begins this week on the Alibi channel. Based on the hit Radio 4 drama, it stars Unforgotten's Nicola Walker as the witty and enigmatic DI Annika Strandhed, who heads a new Marine Homicide Unit, which is tasked with investigating murders that wash up in Scotland's waterways. Katie plays DC Blair Ferguson, alongside Sives, Blindspot's Ukweli Roach and Kate Dickie.
"It's very different from the usual police dramas you see on telly," Katie continued. "It's unique and I feel really grateful to be part of it. I'd call it a light-hearted police dramedy. Nicola does this Fleabag-esque thing where she breaks the fourth wall and talks to the audience.
"Blair is the data analyst for the team – she's supposed to be the most intelligent of the four. She's a bit of a computer geek, quite quirky with a really weird sense of humour. She really looks up to Annika in the way I look up to Nicola, so that wasn't hard to play.
"I have so many mates who had worked with Nicola and raved about her, so I was excited and star-struck. She was so down-to-earth, really maternal and a pal, she really looked after me well. Just watching her do her thing was inspiring, and Jamie and Ukweli were like my brothers."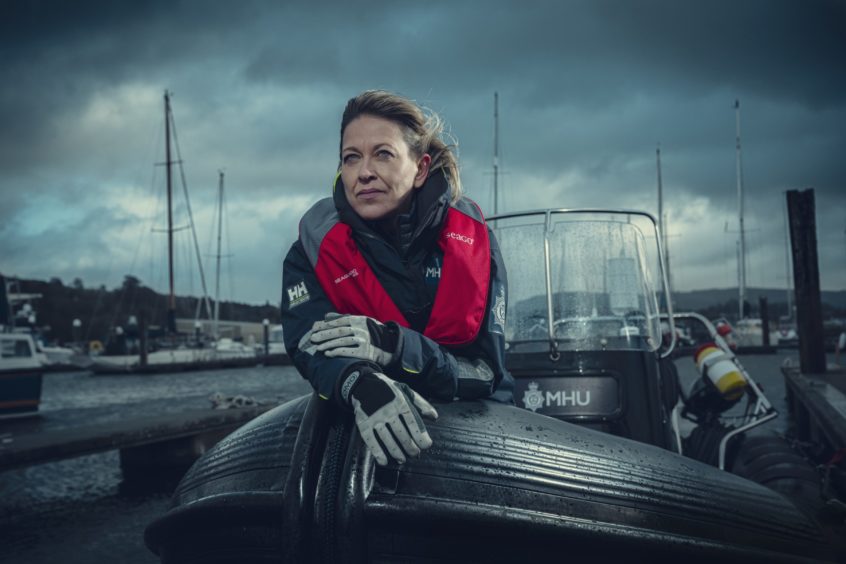 Filming outdoors in Scotland in winter, during a pandemic, could have made the shoot difficult but Katie says she enjoyed it.
"We began shooting a week before Christmas and finished at the end of March. I hate the cold but there was something really nice about everyone coming together and just embracing it.
"There was one day I was out on the boat with Jamie and it was so beautiful. We were on Loch Lomond and it was bitingly cold – it was dawn, in February, so it was Baltic. But the views were so beautiful and stunning that it didn't matter that it was super-crisp. And I felt badass being out on the boat – it was like being in a Bond film!
"Jamie and Ukweli had to jump into the water during shooting and I was really grateful I wasn't doing it. I was going to be a feminist and say, 'Why is it always the boys going in, why can't the girls save the day?' but I was glad they didn't ask me!
"As for the pandemic, you tend to get caught up in a bubble when filming and almost forget about it, it's only when you are doing crowd scenes you realise you've not been in a crowd for a long time.
"We had an instance where a make-up artist who had been working with me caught Covid and I had to isolate. I thought for sure I would catch it, too, but I didn't, which just goes to show masks work. But we were really careful throughout filming and I'm glad we never needed to shut down."
Katie says she is happy to see more opportunities for filming coming to Scotland.
"It's ironic that the moment I moved to London, I'm coming back up for jobs. When I lived in Glasgow for the first 10 years of my career, I was having to come down to London for everything, including auditions.
"It's great there are more opportunities up in Scotland, and I also find when I'm auditioning I'm not having to put on an English or American accent, they're quite happy for me to have my own accent, which I think is the way it should be. That makes me happy."
---
Annika, Alibi, Tue, 9pm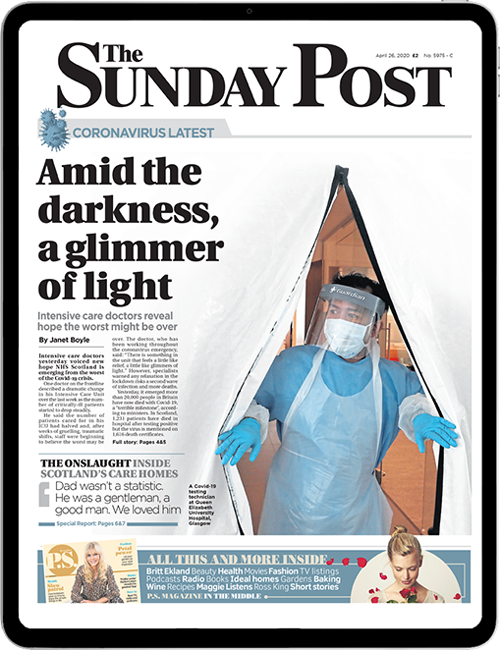 Enjoy the convenience of having The Sunday Post delivered as a digital ePaper straight to your smartphone, tablet or computer.
Subscribe for only £5.49 a month and enjoy all the benefits of the printed paper as a digital replica.
Subscribe