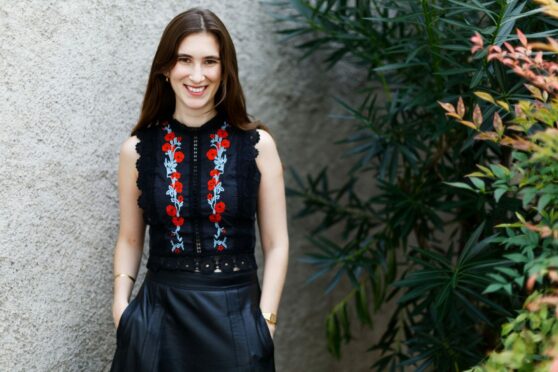 Take a trek across the arid savannas of Zimbabwe, near where Katherine Rundell spent her childhood, and dig beneath the sand. There, if you're lucky, and the creature you're looking for isn't, you might uncover a living treasure.
It is a mole: one compact enough to fit in the palm of a child's hand. With webbed feet and a tiny, powerhouse body it is quite blind, much like their British cousins. Yet, unlike their British cousins, if you hold this mole up to the African sunlight it will glitter like a shining rainbow.
The Golden Mole is the only iridescent mammal in the world, explains Rundell, one which changes colour depending on which direction the light from which it hides is shining.
This remarkable creature is also the totemic star of Rundell's new book, The Golden Mole And Other Living Treasure, where the author and academic explores the lives and curious histories of 22 of the world's most incredible animals.
Her book, as befitting a veteran children's author, as well as biographer of philosopher John Donne, contains delightful twists as well as deep insight; it is also a warning for another remarkable animal: us.
Like JK Rowling's bestiary Fantastic Beasts And Where To Find Them, her collection contains plenty of magical creatures; unlike that fictional work, somehow all of these animals are real. Horned whales, bumblebee-sized bats and charming, dancing anteaters; it is one of these latter creatures which prompted Katherine to write her book, following a trip home to Harare, the rural part of Zimbabwe where she grew up.
"This particular pangolin was a rescue who was unable to walk the necessary distance between termite mounds, so she had a keeper who carried her in his arms over tens of miles a day in a special backpack," she says. "And I just found her beauty so moving and so rare. When I got back to the UK, I was telling some people and the main response I got was, 'what is a pangolin?'"
For those of us unaware of pangolins before Rundell mentioned them, imagine a Pokemon relative of the anteater. Despite a suit of scaly armour, they can dance on their hind legs and scale trees with ease. If threatened they roll into a near-perfect ball, their young secure inside like, Rundell says, "pangolin matryoshkas".
"I had a sudden realisation that there are so many things, so many beauties about which, in our necessarily busy adult lives we know very little," she adds. "So this book is a kind of salute to the lesser-known beauties of the world.
"I have a friend, an actual adult friend who is 37, who thought narwhals were fictional. 'They're not real', he said. 'You know, like unicorns'.
"And then I sometimes choose animals which we do know about, like crows and spiders and swifts, and point out how much we do not know. And also offer some of the history of these creatures.
"There's always a historical vignette, because we have made so many mistakes about the living world, and those mistakes can be revealing of ourselves."
You may have heard the fact about how we eat eight spiders a year; Rundell reveals how this "fact" was created as part of a 1993 article demonstrating how false statistics could be disseminated. Despite its wrongness, it went on to become one of the most widely circulated pieces of information on the internet.
Having grown up in Zimbabwe, where spiders would lurk under her pillow like coins for the tooth fairy, Rundell is unafraid of them. Familiarity is a vaccine against fear, she believes.
"I used to get bitten a lot by spiders because I grew up around them. It's slightly worse than a mosquito. I think that familiarity really takes the edge off the fear. People who grew up in tropical climates, where large spiders abound, tend to be less arachnophobic as a society. I have an instinctual wariness of scorpions. They don't freak me out and I can think about them. But, when I was about seven, I put my hand under a rock and I was yanked off my feet by my friend's mother because there was a scorpion under it and ever since then, I think I associate scorpions with that jolt of adrenaline."
Rundell, who speaks in thoughtful fully-formed paragraphs peppered with clever insights, even has sympathy for the scorpion though.
"Scorpions are associated with evil and with tattoos on people who want to be intimidating," she ponders. "The stinger that rises above its back, of course, is meant to be intimidating, as it was designed by evolution to protect the scorpion from things bigger than itself, which very much includes us. So we are supposed to be afraid of scorpions. It's for the scorpion's own good."
Humanity's treatment of the natural world is one of the shining themes of Rundell's book. Each of the animals is endangered in some way, including The Golden Mole, and half of Rundell's royalties will go towards organisations tackling climate change.
For an academic and Oxford fellow, she has a refreshing enthusiasm for the world. Each day begins with a cartwheel, for instance. She also sees the majestic in the mundane. In The Golden Mole, she describes, at the cigarette-end of a night out, feeding a city pigeon some of a friend's late-night fried chicken takeaway, and while doing so noticing how its feathers caught the neon lights.
"I don't actually eat meat so I think it was a friend's fried chicken," she laughs. "It was the worst thing. I mean, I was trying to feed chicken to a pigeon; just the family history of that for the pigeon is extremely distressing. But the thing about it was the sudden realisation that these things, which we essentially treat as a grubby part of the landscape, if we didn't have them, if they weren't hobbling, club-footed around city streets, we would be startled by pigeons.
"Pigeons have iridescent throats which catch the light in different colours which, if we weren't accustomed to it, would be a marvel. If they weren't right there, we would travel miles to see pigeons."
Her book is a tribute to the natural world but it is also a warning to the reader about the creatures we are killing. Rundell knows turning round a globe seemingly addicted to self-destruction is a difficult task. When I ask if it is impossible she, for the first time, hesitates.
"Okay, so I think this: the biggest lie we were ever told is that mankind is the most important thing on the planet," she explains carefully, after a few false starts. "And that we are more important than the sum total of all other living things. It's a lie that multiple cultures tell, it's in the Bible. And it's a lie that will finish us off. That lie has led us to consume the world without attention.
"The era we are in now, this era of urgency, is the moment when we will have to reimagine our relationship with the natural world, and we will have to do it fast. But we have changed before, we have changed dramatically. If Covid taught us nothing else, it told us we can change the entire planet very quickly in the face of emergency. So what is needed is for those who wield power, largely those in elected governments, to recognise and act in accordance with that.
"I spoke to so many scientists in the making of this, around 150, they all say more or less the same thing: we can do it, we have the capacity to do it. It's not too late.
"I get asked a lot if there is still hope. Yes there is still hope, but hope has to be an action now. It can no longer be an emotion we hold on to in stasis. Hope has to be something we create, in action, in a way that was not the case 40 years ago."
The final, shining creature in Rundell's book is a familiar one. The cleverest animal of all, the one reading this; yet the one with the most destructive capabilities.
"You know, it's not only moles that have a shine that they cannot see. Humans are bioluminescent," she explains, once again carefully choosing her words. "We can't see it because it's thousands of times weaker than human eyesight, but we do emit photons which are the elementary particles of light. We shine. And constantly, from birth, from our faces. If we could but see it we are shining creatures…
"And who knows? There might be creatures in the animal kingdom who can see the light shining from us, that we do not."
From the book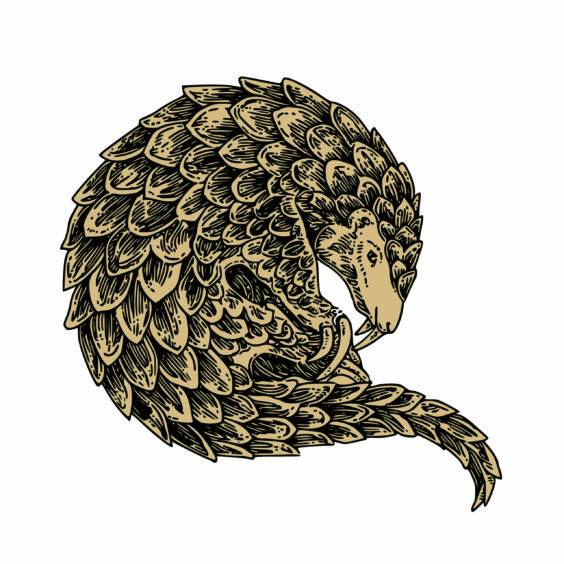 In The Golden Mole And Other Living Treasure, Katherine Rundell goes home and discovers an amazing relationship between a pangolin and its keeper
This particular pangolin, in Zimbabwe, has a keeper – a man who walks with her through the bush from anthill to termite mound for 10 hours a day, keeping her always in sight. She needs to consume roughly 70 million insects a year in order to stay alive.

If the distance is relatively short, she walks. If it's longer, she is carried in her keeper's arms, or in a specially designed backpack. He set her down on the ground to demonstrate how a pangolin walks; she moves on her hind legs only, her forelegs raised and her long claws clasped together in front of her, as if knitting her fingers together in anxious thought. She returned to her handler, setting one hind foot on his shoe in order to allow herself to be more easily lifted onto his shoulder. It was unlike anything I have ever seen. Her loveliness makes other forms of loveliness – diamonds, rubies, wrists bedecked with Rolexes – look like a con. But unauthorised ownership of a pangolin comes with a nine-year prison sentence in Zimbabwe; for which I am glad.

Pangolins are more beautiful than seems plausible in this fallen old world; they look as though they should be strictly prelapsarian. And they are in fact prehistoric; they are 80 million years old, in contrast to our six million.

They were here first, at the origins of things; they have an ancient, unassailable, ungainsayable right to remain.
---
The Golden Mole And Other Living Treasure by Katherine Rundell is out now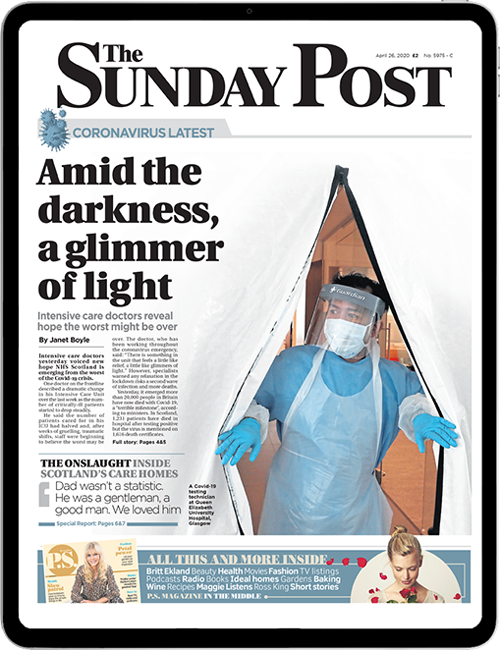 Enjoy the convenience of having The Sunday Post delivered as a digital ePaper straight to your smartphone, tablet or computer.
Subscribe for only £5.49 a month and enjoy all the benefits of the printed paper as a digital replica.
Subscribe