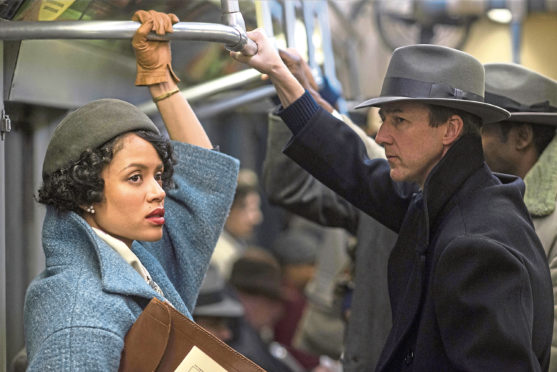 Motherless Brooklyn is the first film Edward Norton has written, directed and stars in.
A noir detective film set in 1950s New York, the picture sees Norton playing Lionel, a private eye with Tourette's syndrome.
A pet project, it's taken 20 years for Norton to make the movie as it's based on a 1999 novel of the same name that he read and became obsessed with as soon as it came out.
But though the novel was set in the 1990s, Norton has shifted his movie to the 50s, in part to explore a long-standing fascination with the powerful city planner Robert Moses.
Moses is a controversial character, he's been accused of reshaping New York along racial grounds through shady methods, and Norton even invented Alec Baldwin's character, Moses Randolph, as a stand-in.
Another invented character is Laura Rose, a mysterious woman who fights against unjust housing legislation, played by Oxford-born Gugu Mbatha-Raw.
"My agent sent me the script, and I was like, 'Wow, Edward Norton. I'm such a huge fan of his work, and I have been for such a long time,'" says the 36-year-old.
"I read the script and just thought it was so rich and layered. I loved the noir genre, so I met with Edward. I was in New York for something else, and I met with him in the West Village for a cup of tea.
"We just talked about the film. I hadn't read the book and he sort of joked, 'Well, don't read the book. You probably won't take the role, because the character's not in the book!'.
"Normally, I would be so nerdy about my preparation in terms of research but since the book is set in the 90s and the film is set in the 50s, it was more helpful for me to do my research in a different way.
"We really just talked about acting, talked about Laura as a character.
"I loved the fact that she wasn't the cliché. She wasn't a classic film noir femme fatale. She was educated, she was a woman of purpose as an activist in her community.
"I just thought the unfolding of her involvement in that world was really unexpected.
"I love that she's a woman of purpose in her own right. She's not just a love interest there to serve the male lead.
"She really has her own journey. She's an educated woman. She's a trained lawyer even though she grew up in the Harlem jazz scene. She also has a law degree and is an activist for her community against racial discrimination in housing.
"I think sometimes we see women in movies set in the 50s, especially the noir genre, and they're either the femme fatale or the jazz singer or they're the 50s housewife.
"There's nothing in between that has a complexity or an intelligence. I just love that she was articulate, and she has her own life going on.
"I like the fact that she and Edward Norton's character (Lionel Essrog) are both somewhat outsiders in their own worlds, and that she's able to shape-shift between these different cultures.
"She sees something in Lionel, and they're both underestimated in different ways. People think she's a secretary, people think he's a 'freakshow'. I think with his Tourette's Syndrome that they both have more to them than first meets the eye, which was really refreshing."
---
Motherless Brooklyn (15) is in cinemas from Friday December 6.