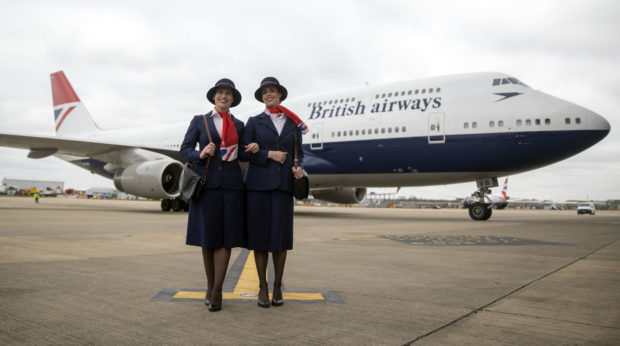 British Airways is celebrating its centenary this year.
The true forerunner of "the world's favourite airline" was the rather unimaginatively named Aircraft Transport and Travel Ltd which flew its first scheduled service on August 25 1919 from London to Paris.
This also just happened to be the world's first daily international scheduled air service.
To mark the 100-year milestone, BA has painted four of its modern-day fleet in retro colour schemes – including three of its massive Boeing 747 Jumbo Jets, one of which now sports a very natty British Overseas Airways Corporation (BOAC) livery.
The 747-400, which can carry 400 passengers for 7,000 miles while flying at 575mph seven miles in the air, is a world away from the Airco DH.16s used 100 years ago. These carried four passengers at 100mph and couldn't fly much farther than the Hounslow Heath Aerodrome to Le Bourget route.
The Jumbo's first flight in its new/old colours was a trip to New York, which was fitting as just such a transatlantic route was the first flown by the 747 in BOAC colours.
As repainting airliners is a time-consuming and costly undertaking, the Jumbo is expected to remain in this livery until its anticipated retirement in 2023.
The huge jet entered the International Aerospace Coatings workshop at Dublin Airport in February, where it was stripped of its previous design and repainted with the distinctive theme that adorned the BOAC fleet between 1964 and 1974.
British Airways came into being in March '74 after the government created the British Airways Board to manage the two nationalised airlines, BOAC and British European Airways (BEA), along with two regional airlines, Cardiff's Cambrian Airlines and Northeast Airlines from Newcastle upon Tyne, which were merged to form BA.
In fact, proposals to establish a joint British airline had first surfaced back in 1953 as a result of difficulties in attempts by BOAC and BEA to come to an agreement over air rights through the then British colony of Cyprus.
BOAC, which flew what are now called long-haul routes, was protesting that the other carrier was using its subsidiary Cyprus Airways to circumvent an agreement that it would not fly routes farther east than Cyprus, particularly to the increasingly important oil regions of the Middle East. However, the Treasury blocked the proposal.
Mergers had been the norm in air travel from the beginning as almost 30 years earlier Britain's four main fledgling airlines including AT&T and the wonderfully-named British Air Marine Navigation Co Ltd had merged to form the famed Imperial Airways Ltd.
Their smaller rivals also merged to form the original British Airways Ltd and in 1939 the two were nationalised to form BOAC.
After almost 50 years in public ownership, Britain's flagship airline BA was privatised in 1987 by the Conservative government of the day and went on to expand by acquiring British Caledonian, Dan-Air and British Midlands International.
But that didn't mean it had no British competitors. Richard Branson formed Virgin Atlantic in 1984 and the two swiftly became bitter rivals.
In fact, Virgin sued BA for libel in 1993, claiming it had been the victim of a "dirty tricks campaign" and alleging BA had been poaching customers, tampering with private files and undermining Virgin's reputation in the City.
As a result, BA's management apologised unreservedly and paid £110,000 damages to Virgin, £500,000 to Branson personally and £3 million in legal costs.
BA was also a founding member of the Oneworld airlines alliance along with American Airlines, Cathay Pacific, Qantas and the now defunct Canada Airlines.
The most recent round of mergers saw the International Consolidated Airlines Group (IAG) formed when BA and Iberia merged and they have subsequently become the parent company of both Aer Lingus and Vueling, another Spanish carrier.
BA's image as the aforementioned "world's favourite airline" was introduced by its iconic "Face" TV ad from 1989.
Developed by ad gurus Saatchi & Saatchi, it featured thousands of extras holding up coloured cards on the salt flats near Moab, Utah, which formed an image of a face in BA's classic – and patriotic – red, white and blue colours, to the tune of The Flower Duet from Leo Delibes opera Lamke.
You'd know it if you heard it.
For its centenary, BA painted one of its Airbus 319s in a British European Airways scheme and other 747s received the two previous versions of the classic British Airways colour scheme.
When BA was formed, its aircraft flew in the liveries of their former owners with "British airways" painted on the fuselage.
They were quickly given a new white, red and blue colour scheme with a stylised Union flag on the tailfin, designed by the Negus & Negus firm, and that Negus livery has been applied to one of the other repainted 747s.
But the lettering looked awful, especially the lower-case "a" which gave BA a budget-airline look. This was addressed by a new livery applied across the fleet from 1982 that now adorns the third retro Jumbo.
The most recent redesign came in 1997 when it was announced the airliners would each carry one of 15 "ethnic" designs, including tartan, Aboriginal or South-African-inspired artwork, on their tails.
These proved hugely unpopular. Former PM Margaret Thatcher covered the tail of a model 747 with one of the new designs with a tissue, saying: "We fly the British flag, not these awful things."
And quick to capitalise, Virgin began to apply the Union flag to its jets as well as the slogan "Britain's national flagcarrier". Ouch.
As a result, it was decided the entire BA fleet should be repainted in what was called the Chatham Dockyard livery, which was originally intended for Concorde alone.
It features a stylised Union flag on the tail and a red-and-blue "ribbon" behind the cockpit – which is an echo of the Speedbird symbol first used by Imperial Airways and then worn by all BOAC and BA aircraft.
Indeed, BA aircraft's radio callsigns are "Speedbird" followed by the flight number.
The trouble is, this look simply isn't as classy as the BOAC-painted jet, which is elegant and harks back to the days when a gentleman's attire for flying would be a tweed three-piece and trilby, not matching cowboy hats and T-shirts bearing the logo "Gazza's stag, Marbella 2019".
The retro jets have proved popular with passengers and plane-spotters alike, and BA chairman Alex Cruz says: "The enormous interest we've had in this project demonstrates the attachment many people have to our history."