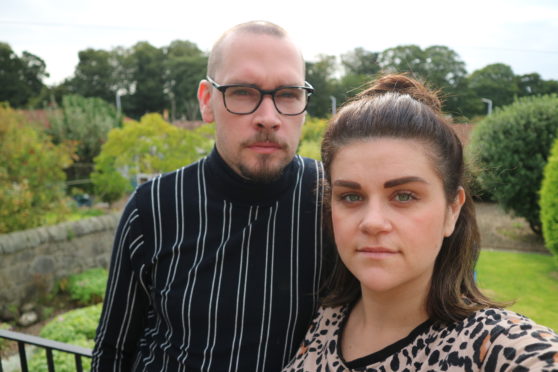 Julie Ford, 28, was six weeks pregnant with her second child with partner Craig Kelly, 34, when she miscarried.
In a powerful account, she describes the Kirkcaldy couple's grief, her dismay at her treatment and why she is backing the Changing Miscarriage Campaign to improve care across Scotland.
---
---
Writing this, I feel like a fraud. Like I have no reason to really be upset about miscarrying at the start of this year. The reason for this is because I'm sitting here 23 weeks pregnant. I feel guilty for taking up space that could be used by women who have had recurring miscarriages or women who have been unable to conceive at all.
But then I read the complaint that I submitted to my local health board a few weeks after my miscarriage and suddenly remembered just how traumatising the whole situation was. And I realise that I have pushed the experience to the back of my mind to protect myself, my family, and my unborn child, from the sadness and anxiety that overwhelmed me earlier this year.
I was six weeks pregnant when I miscarried what would have been our second child. But a matter of weeks after seeing that line on the stick, I remember experiencing – what I can only describe as – a "gush" of fluid. My heart sank at that moment but when I checked, there was no blood, just a huge amount of discharge. Having been pregnant before and having experienced all the "normal" symptoms of early pregnancy, I knew deep down that something was wrong.
That evening, I remember sitting watching TV before bed and experiencing abdominal cramps that wouldn't go away, no matter what position I was in. I finally went to bed hoping that lying down would ease the pain, but they continued and got stronger. The next morning, while getting ready for work, I felt a wetness. With the cramping having subsided overnight, I expected something similar to the day before. But, instead, when I went to the toilet this time all I could see was blood. I would be lying if I said at that moment that my heart didn't stop. My whole life felt like it was crumbling. I may have only been six weeks pregnant, but this was already our baby, our daughter's sibling, and our parent's grandchild.
I called Craig immediately, desperate to reach him before he got on his train to head to Edinburgh for the day. When his phone went to voicemail, I felt lost and alone and didn't know what to do. So, as most women do, I called my mum and just cried down the phone. She responded, as mums do, with "I'm coming straight over". Craig phoned back, obviously thinking I was calling for my usual morning blether as I drove Niamh to nursery and myself to work, but when I answered, I couldn't speak, all I could do was cry. Finally, I managed to tell him I was miscarrying, and he said he was coming home. Within minutes, Craig was back and we both had tears in our eyes. In those moments, I felt like I – and my body – had failed us as a couple and as a family.
After picking myself up slightly and trying to put my "practical" head on, I started trying to find the number for the Early Pregnancy Unit (EPU) in Fife. I expected this to be readily available, but it was nowhere to be seen. I am aware, however, that this has since been rectified. Unable to find this number, I eventually called the Midwife Assessment Unit who transferred me to the EPU, which was supposed to be a 24-hour service. I don't know who answered, but it wasn't a nurse or midwife, and I was told no-one was "in" yet and to call back at 9am. When I finally got through to the EPU at the Victoria Hospital, I was very distressed and needed my concerns to be taken seriously. When explaining what was happening and listening to the "uh-huhs" and "yeahs" on the end of the line, I quickly started to feel like just another number in the system.
I sadly got the cold response of "bleeding in early pregnancy is normal", and when I tried to explain this wasn't my first pregnancy, I was then patronised with "not every pregnancy is the same". Both of which I am fully aware of, and after trying to explain that this bleeding followed a night of cramping, that the bleeding was getting heavier, and that I was experiencing some level of pain on one side, I was told to call back in a couple of days. At this point, I was not in a rational or emotional state to question this further and went away quietly.
The following day, with bleeding getting heavier and my cramping being so bad I could only lie in the foetal position, I called the hospital again begging to be seen. Once again, I was met with a dismissive attitude – it felt like they thought I was over-exaggerating and potentially wasting NHS time. However, after battling to explain the severity of my pain and the distress that I was in, I was reluctantly offered an appointment to be scanned at 9:30am the following day. Over two full days after the bleeding and cramping began.
That morning, while getting ready for my appointment, I started giving myself false hope. That perhaps everything that had been said in the days before was true. That this was 'normal' bleeding and that everything was going to be absolutely fine. Until I had a sudden urge to go to the toilet. That urge was a small contraction which saw the final passing of the foetus. When I felt my baby leaving my body, I felt numb and like I'd failed my child. How could this be the end of my pregnancy? How could it be that my baby goes down the toilet and that's the end. Story over.
I didn't tell my anyone that this had happened, because I was in denial. I was in denial that my pregnancy had ended, and my baby was gone. I needed confirmation from a hospital scan, which I got. However, my experience at the hospital was far from positive. I was once again met with an attitude that I was "only six weeks pregnant" and I should have known that there was a chance my pregnancy would end in miscarriage. Like this is completely normal, and that women and parents must learn to deal with that fact and remove any emotions from the equation.
Once I was home, and beginning to rationalise what had and was happening, I started to feel let down. Let down that my concerns, upset and distress hadn't been taken seriously from the moment I called. Let down by our society, where collectively we suffer from a particularly cruel cognitive dissonance. On the one hand, we maintain a stigma around miscarriage – it remains firmly a taboo subject, met with grimaces, quick changes of subject and palpable awkwardness. On the other, we are encouraged to think of miscarriage as just one of those things, a view that allows – in fact, encourages – us to fail to see, understand or empathise with the psychological impact that it can have on parents.
I went back to work after a week off trying to process what had happened, and I remember sitting crying at my desk weeks after my return. But, instead of being up front with what I was going through and admitting to the pain I was in, I hid it from colleagues and tried to carry on regardless. I put on a brave face and bowed down to societal pressures of not speaking about miscarriage, of not taking time off to process my grief. After all, I was only six weeks pregnant, so was I really pregnant at all?
For months after, I felt angry at what had happened. Angry at the miracle that had been snatched away from my family and wishing I could turn back the clock – to have the chance to do everything I could to save my pregnancy. A chance to do everything by the book: drinking zero caffeine or taking my vitamins religiously, perhaps not carrying those shopping bags the weekend before I miscarried. All of these "what ifs" still live with me each day.
I know that there was probably nothing that I could have done to stop or prevent my miscarriage. That doesn't stop me feeling let down at being made to wait over two days before I was seen by a hospital and being made to feel as though I was wasting NHS time. Or let down at being offered no aftercare to check that I was both mentally and physically fine, and then being offered absolutely no checks to see if I was lacking something vital – such as iron – to ensure a stable pregnancy.
Following my experience with my local EPU, I submitted an official complaint to the Chief Executive of NHS Fife. I couldn't stand by and allow other women or families to go through something similar. This was dealt with properly and promptly, and I was offered a meeting with a clinical nurse manager. I was pleased to get the opportunity to speak about my experiences, and to learn that the people who had dealt with my care had been spoken to and extra training had been offered. But I was also told that the reason I experienced such a poor level of service was due to a lack of staff during that period because of ongoing recruitment. To be frank, as a patient and someone who was still very much in grief, that should not have been made my problem. But perhaps more concerning still, staffing issues should never affect the bedside manner of people dealing with parents in the process of losing a baby.
To progress properly, as a society, and to understand more about miscarriage, we need to stop treating it as just 'one of those things' that happens to far too many women and couples, and actually start investigating why it has happened to a person to see if, medically, there is a way to try and prevent a miscarriage from progressing when bleeding begins. I hope that when my daughter is older, and potentially having children of her own, that she never experiences miscarriage. But, if she does, I hope that this campaign, and others that will undoubtedly follow, help to improve the services and medical care that is offered to her and her peers.
---
---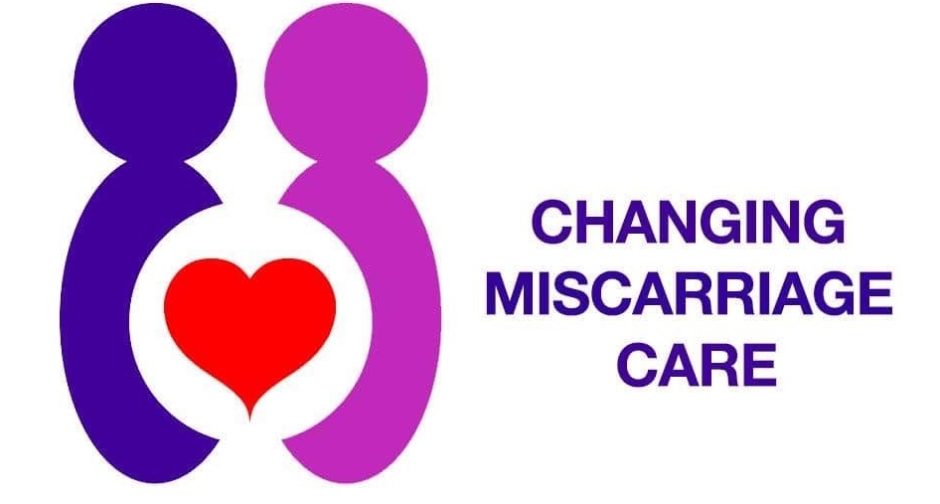 Up to one in four women have pregnancies that end in loss yet miscarriage is too often suffered in silence.
The campaign, Changing Miscarriage Care, fronted by Shona Robison and Nadia El-Nakla, and supported by the charity, Tommy's, aims to remove the health postcode lottery that applies to miscarriage and encourage women to talk about their experience.
They want to see small but important changes that would see education improve around the reality of miscarriage and consistent care and treatment in the NHS, including the option of progesterone when a miscarriage is threatened.
Share your story at changingmiscarriagecare@gmail.com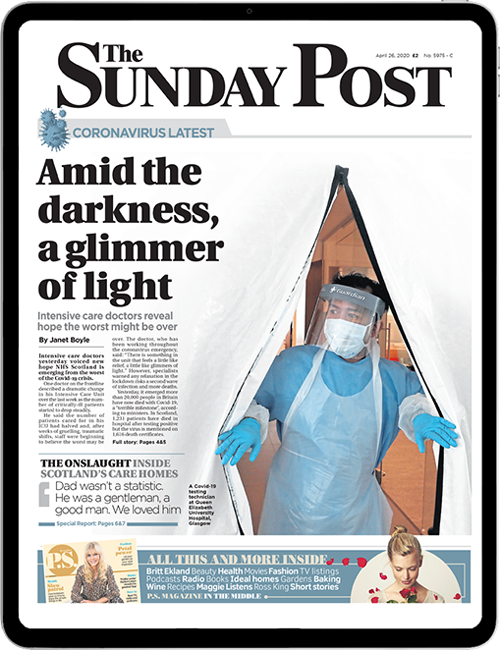 Enjoy the convenience of having The Sunday Post delivered as a digital ePaper straight to your smartphone, tablet or computer.
Subscribe for only £5.49 a month and enjoy all the benefits of the printed paper as a digital replica.
Subscribe