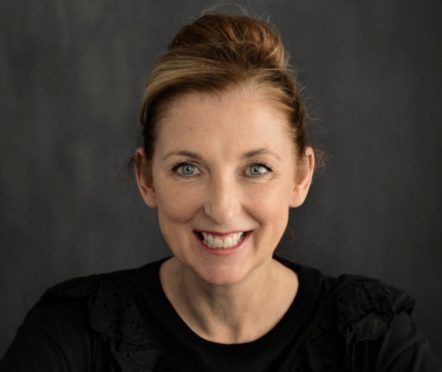 They've been married for more than 20 years, but as Julie Wilson Nimmo's husband called "action" in the family dining room, they might as well have been meeting for the first time.
"It was really nerve-racking," said Julie, the better half of Still Game creator and star Greg Hemphill, with whom she has two children, and who directed her in a lockdown performance for the National Theatre of Scotland.
"It was just me and Greg. But it was weird. When it's someone you love, working together like that is a different pressure.
"The last thing you want to do is put that stuff on top of your life, on top of your marriage, you know? 'Look at these two, like Richard and Judy…'
Julie delivered a 10-minute monologue for the Scenes For Survival project, a response to the closure of live theatre since the beginning of the coronavirus pandemic, written and directed by her husband.
"Greg was really good at making sure I was relaxed. I was really nervous doing it, but it's good to have that wee edge when you're performing. My legs were shaking under the table.
"We've shied away from doing some things in the past together. You have to wonder – what if we've been bugging each other, what if we're having a bad day with our boys?
"But the boys are getting bigger now and the older we're getting, the more Greg and I are growing into each other. We've only been married 20-odd years…"
Their project is part of a hardship fundraising campaign launched by the National Theatre of Scotland in association with the Federation of Scottish Theatre to help support those who work in the arts, especially those not on stage.
Julie's piece – The Banshee – is a dark and moody glimpse into a toxic relationship, where an oppressive husband's passive-aggressive control impacts on the life of an aspiring author, wondering what the dreadful noises from the house next door are. Filmed at their family home in Elie, Fife, it features a sinister voice-only cameo from Greg, best known as Victor McDade in Scotland's favourite comedy, which ended last year.
It's inspired, in part, by time the family spent living in America.
Julie said: "There was a woman who lived next door when we lived in California. We were in the pool with the boys when they were wee and we heard her screaming. I went over to ask if things were okay, and her nurse told her she had a brain tumour. She sounded like she was in terrible pain. That part of the story was true. It was lifted from reality."
The piece is available online alongside previous short films featuring the likes of Peter Mullan, Jonathan Watson, Lorraine McIntosh and Janey Godley. It features a chilling nod to ancient Celtic mythology, where banshees were seen as harbingers of death.
"I think more people during Covid will watch something like this. People have 10 minutes in their day to watch something like this. I was really pleased for Greg. He wrote and directed it, and spooky stuff isn't for everybody, but we're still really chuffed about it," said Julie.
"We didn't want to do anything about Covid, we thought there would be enough about that. But this was still a story about survival. Just a different kind of survival."
It's the first time the pair have worked together, one-to-one, but their work together spans two decades, with Julie and Greg both featuring in the early Chewin' The Fat programmes on Radio Scotland, before it jumped to TV and gave life to two old men singing rude songs in the pub, who would go on to become the biggest Scottish small-screen success story of modern times. Julie has also featured in two of Greg's BBC comedy horror stories on television in recent years, and – unlike her character in The Banshee – has had her husband's full support and encouragement to develop her voice in other ways during lockdown.
"We've really liked doing this," she said. "God, that's sounds sickening, doesn't it? We definitely want to do more of it. Greg has been trying to talk me into writing my own stuff for years. And me and Louise McCarthy were writing some stuff for the last series of Scot Squad. So I'm trying to do more, and I'm really enjoying using that part of my brain.
"Johnny McKnight (the playwright, actor and theatre director) has set me deadlines for writing throughout the past few months and that has really helped motivate me to do it."
Julie won't say what she's writing yet, but added: "I'm trying, and I'm really enjoying it. So I'm pushing ahead with my idea."
Besides, when you've one half of the country's most successful comedy duo in the kitchen, then it would be daft not to take whatever guidance is going.
"It's totally a help," she said. "He says, 'All you do as an actor is use other people's words so why are you scared about writing down your own?'"
Did she ever offer her opinion over the mince and tatties about the content of Still Game scripts?
"Eventually Ford Kiernan stopped showing Lesley (his wife) and Greg stopped showing me. Early on they would show us, but in the end they didn't really need us and you can't interfere with that," she said.
Julie is also well-known to a generation of kids now in their late-teens and early-20s after four years playing Miss Hoolie in kids telly favourite Balamory in the early-2000s.
She said: "It seems like five minutes ago, but these kids come up and ask me for selfies and they're not kids now. I was looking at old photos recently for my dad's 85th birthday and there were pictures of my son Benny when we were filming the programme, in a pram. He's 19 now.
"It was such a special time in my life. You don't realise it at the time. You're just doing it, working really hard and then the next thing, it's done, and you're like, 'What happened there?'.
"We're so lucky on that show, we're all still friends, we hang out together, we get drunk together and we talk about it all. It was just brilliant. We got really lucky."
Greg and Julie's life has taken them from Glasgow to California to Fife in recent years.
The family have ridden out the lockdown months on the east coast, having already given up their permanent Glasgow home. It's given them a life of dog walks on the beach and kayaking along the coast as lockdown gradually relaxed.
She said: "It's a beautiful part of the country and we're dead fortunate to be here. But it doesn't stop you waking up feeling really unsettled, and I think that's the case with so many people.
"But I've really felt it for the boys. Chevvy is 14 and Benny is 19, and you really need your pals at that age.
"They've missed them. I've had my best mate here with me, but I think it's been really hard for teenagers everywhere."
Julie was due to appear in The Wonderful Wizard Of Oz at the Tron panto in Glasgow this Christmas, but it was cancelled and rescheduled for next year.
She said: "We'll just have to be patient. Of course I want crowds back in theatres for Christmas, but I just don't think that'll happen.
"We're booked for next year, so let's hope that we're able to do it then."
---
Visit nationaltheatrescotland.com to watch Greg and Julie's film, and for more info on National Theatre of Scotland's response to Covid-19, Scenes For Survival.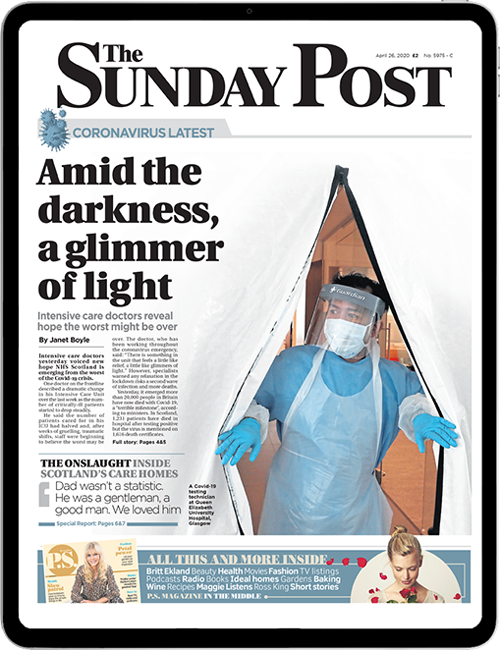 Enjoy the convenience of having The Sunday Post delivered as a digital ePaper straight to your smartphone, tablet or computer.
Subscribe for only £5.49 a month and enjoy all the benefits of the printed paper as a digital replica.
Subscribe