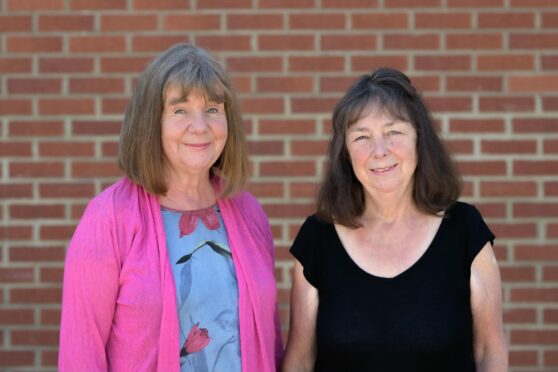 They grew up in the same house, went to the same school and university, and fell in love with the same boys. Together they have shared life's greatest joys and survived its most agonising grief.
Children's entertainment giant, Gruffalo writer Julia Donaldson, 73, and her sister Mary Moore, 71, are so close their geneticist father once passed them off as twins. Laughing, they reveal a great aunt even suggested Moore tie the knot with Malcolm Donaldson, the boyfriend young Julia met at university and was to go on to marry.
Now marking their 50th wedding anniversary, Donaldson is gearing up to "wed" the retired Glasgow paediatrician all over again as part of her Edinburgh Fringe Festival show, The Gruffalo, The Giant, And The Mermaid, in which the couple play scarecrows Harry and Betty from The Scarecrows' Wedding. And Donaldson's sister will be at her side, performing in the show which for the first time uses British Sign Language.
The siblings – who grew up in a fun and music-filled three-storey Victorian house they shared in London with their parents, grandmother and aunt and uncle – are no strangers to the stage or to the Fringe; their first appearance in 2006 was followed by sell-out shows in 2015 and 2018.
They are in fine form when P.S. catches up with them for a Zoom chat. From her study in Sussex, Donaldson, who has a second home in Edinburgh, smiles: "Performing together is a good way of seeing each other more regularly; especially in Edinburgh where we have 25 performances. Mary will stay in our flat and we will go to see other shows together."
The arts, it transpires, is in their blood. "We grew up with parents who were very involved in various musical activities. Our mother sang in a choir and we'd all go to see her perform. Our father played cello in a chamber music group and was chairman of a musical society. He put on a lot of shows," says Donaldson.
Zooming in from her home in Stroud, Gloucestershire, Moore chimes: "From a very early age Julia and I performed together; Christmas and ballet shows at home. We were in the Children's Opera Group. We were close growing up. I always looked up to Julia. We'd do things like having a jumble sale outside our house and we'd give the money to the Save the Children Fund, or we'd go carol singing or sell bluebells out of the garden."
Remembering their teens and their first romantic forays, Donaldson – a former Children's Laureate who for 25 years lived in Glasgow – recalls: "One year I stayed in Germany with pen friends and fell in love with a handsome German boy. Nothing happened but I really fancied him. The next year Mary went and fancied the same boy…"
"And something did happen," interjects Moore. "I had my first kiss and Julia was cross, but she didn't tell me about him before I went so I didn't know."
"The same thing happened with a mountaineer," parries Donaldson. "Our school took a group of us to Wales for mountain activities. I really fancied one of the instructors and the next year, Mary went and fancied the same one. When Mary was going to marry, a great aunt of ours suggested she could wed Malcolm!"
Both girls graduated from Bristol University where Donaldson read French and drama, and Moore studied French, Latin and Ancient Greek. So close were they, their fun-loving father – a polio survivor who relied on a wheelchair – passed off his only children to unsuspecting colleagues as twins. Donaldson remembers: "He studied twins. He took a series of photographs of both of us and showed them to his colleagues and would ask if they thought we were identical."
The siblings have revelled in each other's joys, like the birth of their children and grandchildren as well as their successes. Donaldson is quick to praise her sister's talents as an amateur but "serious" actor and director and a founder of The Hexagon Theatre Company, while Moore is proud of Donaldson's phenomenal success which started with The Gruffalo in 1999 and earned her an MBE in 2011 for services to literature.
Donaldson started out busking in Paris where she was a student at The Sorbonne, something she did with Malcolm before the arrival of their children. The busking led to a career in singing and songwriting for children's TV, working in the 1970s, creating songs for Play Away and other shows.
But it was when she and her family moved to Scotland in 1989, after Malcolm secured a paediatrics post in Glasgow, that she began to write books. A publisher asked if she could turn one of her old songs – A Squash And A Squeeze – into a picture book. Appearing in 1993, it launched her as an author and began her collaboration with illustrator Axel Scheffler, who would go on to work on the monumentally successful The Gruffalo, Room On The Broom and a string of other titles.
Since then, adaptations of Room On The Broom, The Highway Rat, Zog, Stick Man and The Gruffalo have delighted Christmas Day viewers, and with more than 200 titles to her name Donaldson has become the top-earning author of the last decade, with one of her books said to sell every 11 seconds.
Alongside their huge achievements the sisters have together also endured unimaginable grief, helping each other through the darkest of days. In 2003 they lost three family members in just over three months – first their mother at 85, then Moore's son Gaius, who was 32, followed by Donaldson's son Hamish who was 25.
Donaldson prefers not to discuss their horrific losses, saying only: "We were a great comfort to each other in mourning together and planning the funerals. It means a lot."
Moore says: "I remember how Julia rushed down to Stroud after our mother died. She lived with me and we worked together on going through her things and planning the funeral. It would have been very hard for me without her help.
"We take it for granted that we do understand how the other one feels and don't make a big thing about it."
Family is clearly all to the sisters. Donaldson has another son, Alastair, and grandchildren Poppy, 12, Felix, nine, and Kitty, four, as well as her youngest son Jerry, who lives near Dundee with his children Leo, 11, Adrian, nine, Vincent, eight, Josephine, five, Rita, two, and Malcolm, one. Donaldson admits to loving nothing better than roping her brood into performances. She laughs: "We were in three charity shows recently with our son Alastair, his wife Chris and their three children. We're training them up."
The showbiz gene is strong on Moore's side too. She has a daughter, Imogen, and granddaughters Lola, 21, Amelie, 18 and Claudia, 12. Lola is a Brit Award-nominated singer who performed the John Lewis 2021 Christmas song and appeared on The Graham Norton Show in February, while Amelie is about to join the Royal Welsh College of Music and Drama.
Donaldson, who described her late mother as her biggest fan, admits her grandchildren were less impressed with her credentials until the family went to Chessington World of Adventures together, and sampled the Gruffalo ride and Room On The Broom experience. "I was a popular granny then," she laughs.
She is delighted to see youngsters finally able to experience the world again in person after the restrictions brought about by Covid. Her latest offering, Welcome To The World, published in April with illustrator Helen Oxenbury, introduces little ones to and celebrates the low-key, everyday experiences that before the pandemic were taken for granted, like bus rides and outings to the park. Inspired by a fan at a Glasgow book festival who asked Donaldson to inscribe a book with the words: "Welcome to the world", it took on new and powerful meaning in the light of lockdown.
The author says: "For some children, the Edinburgh Fringe will be their first experience of theatre. I have such good, vivid memories myself of being taken to see The Nutcracker in the Festival Hall in London with our mother. There is something very special about going to the theatre. It is all those other simple things as well that children have lost out on, and it is lovely to see it all happening again."
Mermaids, scarecrows and more
Julia Donaldson's new Edinburgh Fringe show The Gruffalo, The Giant And The Mermaid will open on August 4 at the Underbelly.
The show runs until August 29 and features a selection of her stories and songs. For the first time it will include an integrated British Sign Language performance of The Gruffalo, with its actors doing the signing. The show also includes The Singing Mermaid, The Go-Away Bird, Cave Baby, The Highway Rat song, The Smartest Giant In Town and The Scarecrows' Wedding.
Donaldson says acting while signing is a whole new ball game.
"It was quite a challenge," she smiles. "We always do the Gruffalo, a bit like Queen having to do Bohemian Rhapsody. Usually performing The Gruffalo is a piece of cake. But this time we have had to learn all the signs and it's hard doing it when you are talking. For example if I say, 'there is no such thing as a Gruffalo', the signing is 'Gruffalo no such thing.' It's like patting your head and rubbing your tummy at the same time."
Donaldson plays a scarecrow, the rude Go-Away Bird and the Mouse in The Gruffalo, as well as narrating The Singing Mermaid. Moore narrates The Smartest Giant In Town and also acts the Chit-Chat Bird in The Go-Away Bird, Annie the Acrobat in The Singing Mermaid and the Owl in The Gruffalo.
Directed by Peta Maurice, the cast also features Malcolm Donaldson, Joanna Hutt and James Huntingdon.
For tickets call (0131) 510 0395 or visit underbelly.co.uk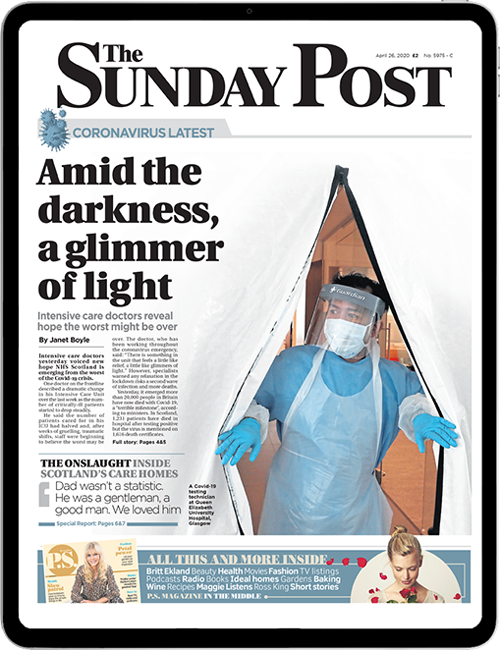 Enjoy the convenience of having The Sunday Post delivered as a digital ePaper straight to your smartphone, tablet or computer.
Subscribe for only £5.49 a month and enjoy all the benefits of the printed paper as a digital replica.
Subscribe