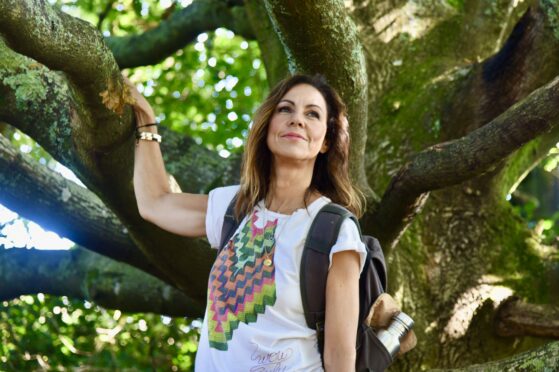 Julia Bradbury has always turned to nature when she has a problem and there have been times during the last year when she would have been forgiven for running into the wilderness and screaming at the hills. But that's not her style.
Instead of retreating from the world when she received her breast cancer diagnosis in September 2021, the former Countryfile presenter bravely decided to share her medical journey.
The resulting ITV documentary, Breast Cancer And Me, in which she bared her body before and after undergoing a mastectomy, reveals a strong, confident, articulate woman dealing with a sense of loss and fear that had never touched her before.
Only now, as she nears the anniversary of her diagnosis, does she feel that the conversation is finally moving on from illness into recovery, though it's clear her brush with mortality has left its mark.
Reflecting on the day her world changed, the mum of three, 52, says: "You hear the words telling you that you have cancer and worse than any fear of death was the thought of not seeing my children grow up. That's what made me cry and still makes me cry when I think about it. I love being a mum so much."
She went through more than most to have son Zephyrus, 10, and twin daughters Xanthe and Zena, seven. After years of trying she discovered endometriosis, when the lining of the womb grows into surrounding organs and tissue, was preventing her from having a family with property developer Gerard Cunningham.
IVF was their saviour and Bradbury, true to form, is very open about the condition. "I had my boy at 40 and then my gorgeous twin girls at 43 after four rounds of IVF and we need to raise awareness of the condition and how it's viewed in society," she says.
"It's a global problem and a big issue for us all to talk about, and can still take up to eight years to be diagnosed. There's a lot of negativity and a lack of understanding."
Bradbury's partner, older sister Gina, and parents, Michael and Chrissi, were first to know of her cancer diagnosis and the close-knit family threw a blanket of love and support around her.
"My parents have both survived cancer and are incredible role models", she says. "They're so positive it didn't even seem an option to think about not surviving and living. It's very motivating and inspiring and, as ever, since we were very young, Gina was always there to look after me."
Thankfully an operation successfully removed the tumour, with no further treatment required but, while her physical wounds healed, mentally coming to terms with her illness was more difficult. "Cancer can be a very lonely place, but I had to process that information on my own," she says. "I love my family so much and I don't want to hurt them so I don't want them to feel that sorrow too."
Living with uncertainty has become part of daily life, so Julia has done what she has always done in new situations and learned everything she could about diet, nutrition, medication and treatments.
"I'd always been fairly confident about my fitness levels," says Julia, who often shares videos of her gruelling workouts and amazing physique on her Instagram channel. "I exercise, eat very well and don't restrict my eating, sometimes indulging in treats because life is for living.
"I have a healthy relationship with food and I'm teaching my children to understand healthy eating and respect the importance of food. Now I practise meditation and gratitude every day, make sure I sleep at least eight hours every night and have cut out almost all alcohol."
Bradbury started her mainstream TV career in 1996 as GMTV's Los Angeles correspondent. The following year, alongside Tim Vine, she helped launch Channel 5 with a countdown from the Spice Girls.
Presenting work followed as a co-host on Top Gear and BBC consumer rights show Watchdog. But it's as presenter of Countryfile, which she left in 2017, that she is most loved for.
Her passion for the outdoors and good physical and mental health have held her in good stead throughout life's ups and downs and it was the healing power of nature she turned to again throughout her cancer battle.
"I'm still coming to terms with everything, so life is very heightened at present. The skies are a deeper shade of blue, nature more striking than usual. I'm taking it all in, grateful I'm here and understanding that the small things are actually the big things, and now I really feel I'm looking forward.
"Nature can help us all. I need to walk every day and it keeps me sane. Outdoor spaces are healing physically and mentally, and walking was my therapy.
"My sister Gina and I grew up in a pretty village in Rutland, with a lush garden and a couple of apple trees we used to harvest.
"Then I went to school in Sheffield and my dad started taking me walking through the Peak District where he grew up. I always turn to nature if I have a problem. It gives the space I need to think."
It's clear the TV star is beginning to feel comfortable again in her own skin. On a recent family holiday to Mauritius Bradbury wore a bikini again for the first time since her mastectomy. A few days after our interview she posted a video of herself looking relaxed and happy on a beach with the caption: "Bikini ready! Sea sunshine gratitude, jump into the sunshine!"
Bradbury hopes sharing her experiences will help other women who are living with breast cancer:
She said: "Now life is all about grabbing the opportunities. The documentary I made was done to hopefully usefully share what happened to me, but it also helped me reflect on everything. I'm keen on positive thinking, not because it will cure all ailments, but the brain is a powerful tool and you can train it to be positive to help you through."
Bradbury has been ahead of the wellness curve when it comes to the power of nature but the pandemic has meant many more people discovering the great outdoors.
Lockdown saw a huge spike in hits to her website The Outdoor Guide which she started with Gina 10 years ago and features hundreds of walking routes from around the country. The sisters believe passionately in enjoying a healthy life outdoors and helping as many people as possible to access and share the benefits.
Through their charity The Outdoor Guide Foundation, they have launched Waterproof & Wellies, a project that aims to donate at least 200,000 sets of waterproof suits and boots to state primary schools.
Now the scheme is launching in Scotland, where the sisters have spent many happy family holidays exploring the countryside.
"There's a direct link between our mental and physical health, and time spent in nature and green spaces," says Bradbury.
"Scarily, 40% of children never play outdoors – and the long-term impacts on their future health are worrying. We all need outdoor spaces and time outdoors every day to boost our immune systems, help with creativity, reduce stress and keep us healthy."
"Waterproofs & Wellies was dreamed up by Gina, with CBeebies presenter Gemma Hunt as the face of the campaign.
"Almost a third of kids in the UK live in poverty, leaving little money for wellies and waterproofs, but this is a wonderful and easily affordable way for companies to support local schools. I'm excited to see it come to Scotland just as the children come back from the summer holidays."
As Bradbury points out, Scotland has wonderful country parks, wild countryside, and access to nature but sadly so many children here don't get out there, simply because they don't have the weatherproof clothes to ensure they can make the most of it.
"We need to ensure all children get the chance to enjoy nature," she says. "It's helped me so much in healing and looking forward. Waterproofs & Wellies give the chance to get outdoors to everyone."
A welly great cause
Waterproofs & Wellies was partly inspired by Julia Bradbury's passion for the outdoors, says her sister, Gina Bradbury Fox.
The project, launching in Scotland next month, aims to help all children get outside, irrespective of income and ability.
It costs just £275 to donate 10 sets of waterproofs and wellies to a primary school, and, as Bradbury Fox explains, it's easy to get involved.
"Anyone can get involved with this and give something important to their community," she says. "By next month we'll have donated over 2,000 sets to schools in England and we're really thrilled to be launching in Scotland.
"Julia and I holidayed in Scotland for years with our parents, and I loved taking my son back here. Crieff was always a favourite destination and of course Julia has filmed here. Just email me direct if you'd like to get involved and I'll get the ball rolling."
TV presenter Gemma Hunt, an ambassador for The Outdoor Guide Foundation supporting Waterproof & Wellies, says: "It's so important for children to be able to explore the great outdoors without anything holding them back."
To support a school, email gina@theoutdoorguide.co.uk, or visit theoutdoorguide.co.uk or theoutdoorguidefoundation.org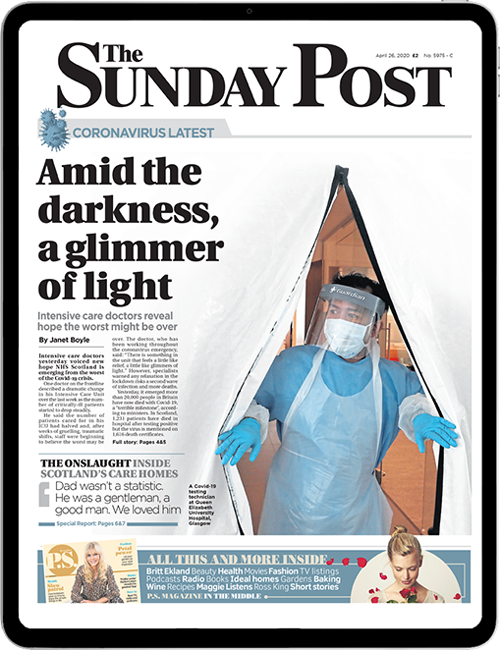 Enjoy the convenience of having The Sunday Post delivered as a digital ePaper straight to your smartphone, tablet or computer.
Subscribe for only £5.49 a month and enjoy all the benefits of the printed paper as a digital replica.
Subscribe