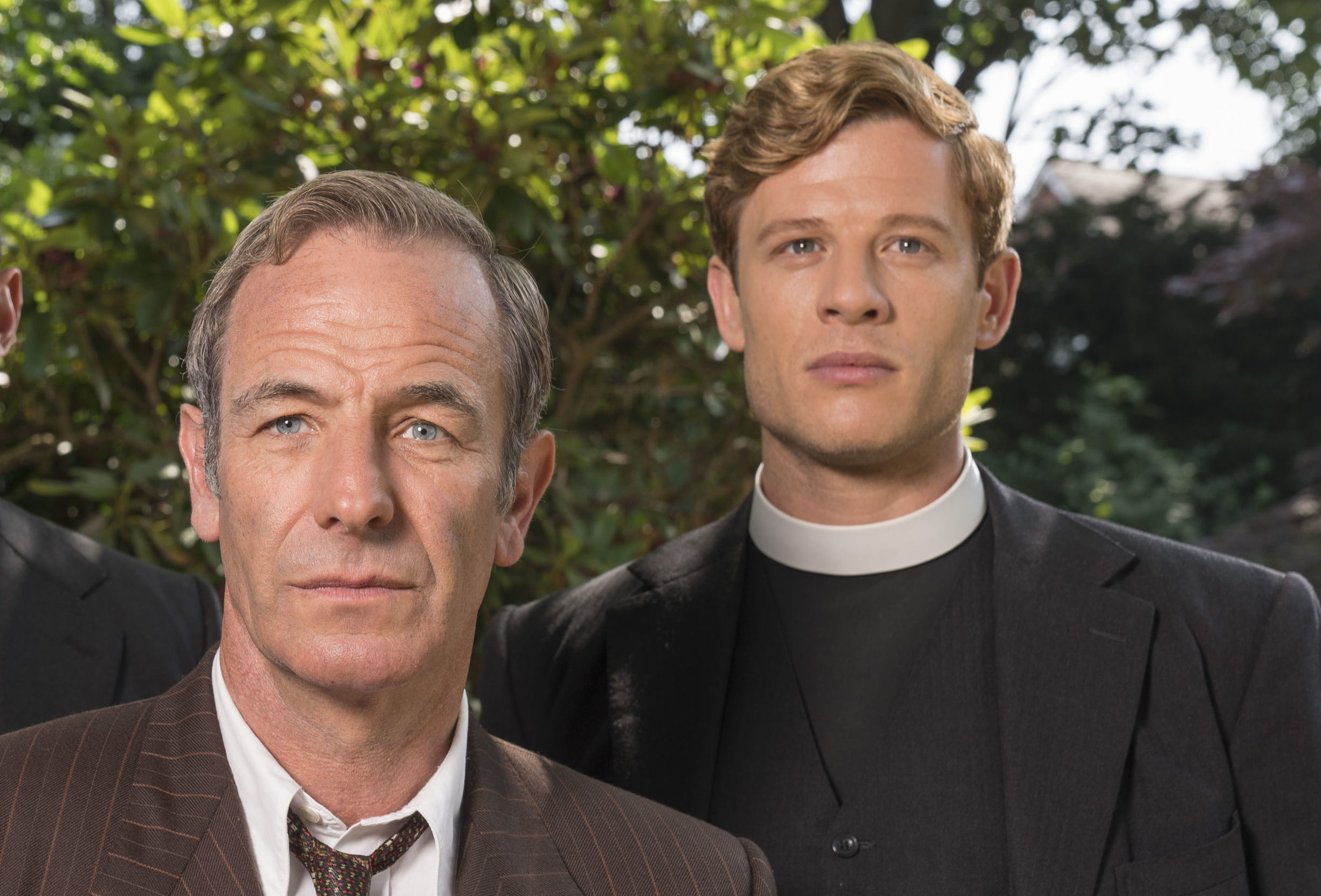 IT should have been a fittingly poignant end to a working relationship that became a close friendship.
But Robson Green has told how a musical mishap put paid to filming of an emotional farewell scene with James Norton.
Hit period drama Grantchester is back for a new series this week with Robson once again playing Detective Inspector Geordie Keating.
But Norton, who is crime-solving cleric Rev Sidney Chambers, is quitting part-way through this run.
Their final scene is in a pub and it didn't go as planned.
"That goodbye scene required very little acting," admitted Robson.
"It's a very intense relationship and we're still best friends. Working with him was one of the main reasons I turned up for work every day.
"When we were on set in the pub going through the scene, there wasn't a dry eye among the crew.
"Even people who never show emotion were bawling.
"The executive producer had asked to be on set for his own 'Hitchcock moment' in the background, supping a pint.
"He was given just one instruction, to get up and go and look at the songs on the jukebox.
"But he does that – and then presses a button. Eddie Cochran starts blasting out and ruins the whole thing of James and I holding each other's hands and pouring our hearts out.
"The director was cursing and we had to do it again."
Although he has the closest of bonds with James, the change of cast and the fresh storylines that opened up, made for exciting times.
And that freshness was a big appeal for Robson.
"So many times in jobs over the years I've thought, 'They're just falling back on something they did in series one' or you're hearing the same things," he confides.
"But there was a new energy that was surprising as I kind of thought at series three it was done.
"But then there was interest from America as long as James was in it for some of it and I was still there.
"They wouldn't have done it if we'd both left."
Norton's departure sees former Outlander star Tom Brittney step into the fold as the new lead cleric.
And once again Robson, as the big draw, had a key role to play.
He was asked along to do audition scenes with a dozen actors who were being considered for the part of Will Davenport.
"Any one of them could have been chosen," insists Robson.
"And there were five of them in particular who were so good. But there was something about Tom that was so charming and likeable.
"And when the camera wasn't rolling, we had this relaxed chat."
From Soldier Soldier to Touching Evil, Wire In The Blood to Northern Lights, Robson has been one of TV's most in-demand actors.
But one of last year's big BBC1 series in which he starred, Age Before Beauty, won't be making a return.
"I don't think you'd get that cast together again as we've all gone off doing our own thing.
"It was kind of a one-off and I don't know where the writer Debbie Horsfield would have gone with it.
"It was great to do, especially working with James Murray. He is a really keen fisherman and we would go off and do that between filming.
"That was a real joy to find a kindred spirit and we'd be away on the river every opportunity we got."
Angling-mad Robson has also been making both his entertaining fishing programmes and his engaging documentaries. They include several series showcasing his native Northumberland, where he still lives.
"I'm lucky to have several different ones to consider for this year, including one about the River Tyne and one about the Industrial Revolution.
"And I've been asked to do one about the 1980s. I like things that are on my own doorstep."
And acting-wise he could be heading for Australia to shoot a big international project and then another in New Zealand.
"Of course there's always the opportunity to fit in a bit of fishing," he laughs.
Grantchester, ITV Friday, 9pm.