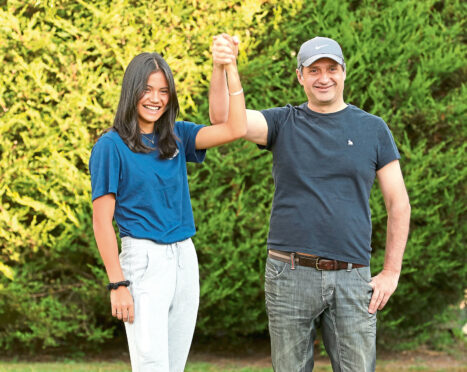 Ever since the first wave of coronavirus ripped through our communities, we had been pinning our hopes on finding an effective vaccine.
That faith in science really has been the one constant throughout such an uncertain time.
Now, we are well on our way to protecting the population, as more than four million people have received their first dose of a Covid-19 vaccination, while almost 3.8m have received their second dose, too.
With much of the adult community now vaccinated, the focus has shifted to the younger generation, and it was announced last week that 12 to 15-year-olds will be offered a single dose of the Pfizer-BioNTech jab from tomorrow.
Although it's welcome news – especially given the high levels of infection in our schools – there is concern about one aspect of the announcement.
In England, guidelines under something called "Gillick competence" say that children will be able to overrule their parents' decision on whether or not they should have the vaccine, and the same applies in Scotland under the Age of Legal Capacity (Scotland) Act 1991.
It all sounds very technical, but essentially if a child is deemed competent and understands the health implications, they can refuse, or indeed take, their vaccine dose without their parent or guardian being informed.
Naturally, this is very worrying for parents.
When I heard the news, I thought a lot about the arguments from both sides, and I took myself back to being a mum of young teenagers.
As a parent, you never stop feeling responsible for your children, but it's especially true when they are taking their first tentative steps towards adulthood.
Between the ages of 12 and 17, they grow, develop and change so much both physically and emotionally, it's vital that parents provide guidance and support to steer them in the right direction. So, what happens if you strip parents of that right?
Yes, I have always been a strong advocate for encouraging children to make their own decisions and speak their mind, but when it comes to their health, surely mum (or dad or grandparent or carer) knows best?
I just don't think children of that age have enough life experience to make an informed decision.
What's more, we know all too well how easily influenced young people can be, particularly by their peers and even celebrities.
It would just take one influential person advocating against vaccines for a group to decide they don't want to take the "risk".
Just look at rapper Nicki Minaj, who last week made incredible outlandish claims about side effects of the vaccine (no, I won't repeat them, this is a family paper) and was criticised by none other than England's Chief Medical Officer Chris Whitty.
He even went so far as to say those, like Minaj, who spread myths about Covid-19 vaccines "should be ashamed".
Allowing children to overrule their parents on a matter so important as their health will open a massive can of worms, and I can completely understand why many are concerned.
Decisions like this need to be made as a family, taking everyone's opinions or concerns into account. To do otherwise could create massive rifts that will take a long time to heal.
You'll see lots of unusual sights driving the NC500, but nothing quite like two people pitching up to a campsite in a hearse!
A couple from Cheshire turned a few heads on their recent adventure by travelling around in a converted funeral car, dubbed "The Grim Sleeper", unfazed by what they call the vehicle's "previous passengers".
Well, it's certainly a different way to explore Scotland isn't it? When you think about it, a hearse really is pretty convenient for camping – there's a lot of sleeping space in the back – and it's presumably much cheaper than a traditional campervan.
Shannon and Iain, who bought the car for £3,500, have said they even plan to buy more hearses to convert and rent out after receiving so much interest. Well, they do say the secret to a good night's rest is sleeping like the dead…
Begum case conundrum for the UK
Since Shamima Begum ran away to join Islamic State when she was just 15, she has become one of the country's most divisive figures.
After being accused of playing an active role in the terrorist group, she lost her UK citizenship and has since been living stateless in a camp in Syria, which houses the families of IS fighters.
Last week the 22-year-old gave a new interview in which she said she wants to return to the UK to face trial, as she "would rather die than go back to IS", having lost three children while living abroad.
I don't think we'll ever be able to get to the truth of what happened to Shamima. She says she was a young girl brainwashed online and only journeyed to Syria to be a wife and mother, not a fighter.
But at the same time also says she should be allowed to return home as she can help the government understand how IS operates. If she knows their inner workings, surely that means she played a more crucial role?
Yes, she was incredibly young when she made such a foolish choice, but letting her back into the country would also set a worrying precedent for other would-be extremists.
Her case will continue to divide the public, but it will be up to a judge or a panel of experts to decide whether she is really truthful – and remorseful – or whether her return could pose a threat.
Emma Raducanu
Did you see those amazing pictures of Emma Raducanu at the Met Gala? Just a few days after the 18-year-old tennis sensation had an historic win at The US Open, she was rubbing shoulders with some of Hollywood's biggest stars while dressed head-to-toe in Chanel.
Now she's home in Bromley celebrating with her family! How wonderful is that?
Her parents weren't able to be there in person at Flushing Meadows, so it was heart-warming to see those first pictures of her arrival back home after seven weeks on the road. Her parents must be so proud and excited – just like the rest of us!
A penny for your thoughts
Did you know that lockdown has created a shortage of pennies?
Apparently, one pence pieces are back in production for the first time in two years because we've hoarded so much loose change during the pandemic.
Around eight million new 1p coins have been minted for use in the economy, and banks have recently called on people to donate their spare change to charities, who have been hit hard by coronavirus restrictions.
To re-coin an old phrase, when was the last time you spent a penny? It seems to me it would be far more sensible to just do away with pennies altogether, rounding everything up to the nearest five or 10.
After all, even penny chews cost 2p these days!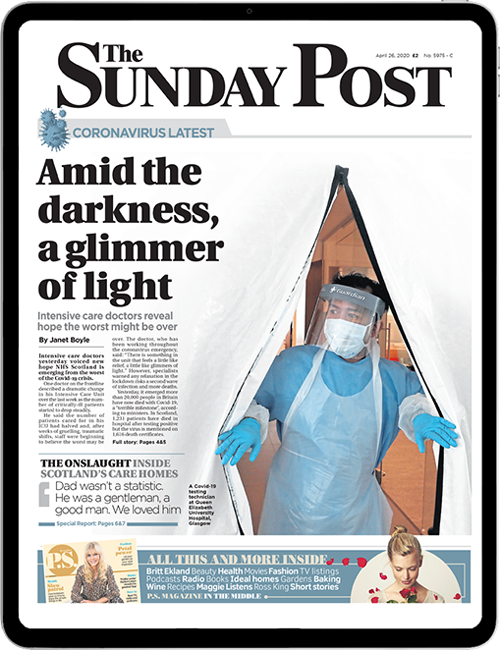 Enjoy the convenience of having The Sunday Post delivered as a digital ePaper straight to your smartphone, tablet or computer.
Subscribe for only £5.49 a month and enjoy all the benefits of the printed paper as a digital replica.
Subscribe