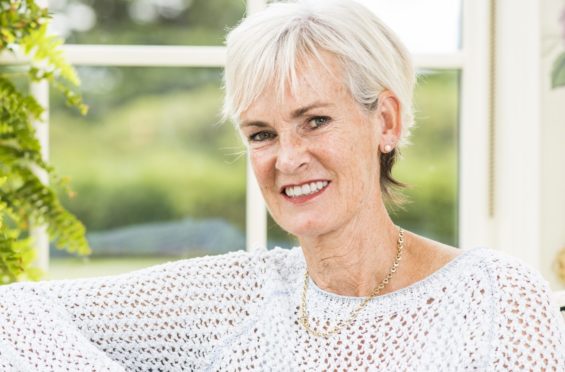 How do we recover from the pandemic?
That's the question plaguing politicians, business owners and community leaders alike as we slowly emerge from lockdown and, unfortunately, there are no easy answers. Every area of our lives has been affected, from work and school to healthcare and leisure – it really has been an unprecedented 12 months – so rebuilding is going to take time.
But, like most things in life, the first step will involve money and investment, and the government has already started outlining how it plans to help.
Lots of different programmes and projects have been announced, but the one that really caught my eye was the Scottish Government's "Summer of Play" initiative, which focuses on encouraging children, young people and families to make use of their local outdoor parks, playgrounds and sports centres.
The initiative is backed by £20 million in funding, which will boost children's access to activities, and I think it's absolutely key for addressing the impact the coronavirus crisis has had on the younger generation. Separated from friends and learning from home, our children really have faced dramatic changes to their everyday lives, which has affected their mental and physical health. So, we need to put their wellbeing at the heart of what we do next.
One of the few positives to come out of this terrible year has been the increased amount of time we've all spent outdoors, enjoying fresh air and exercise, so it makes sense to build on that. If you want to retain any level of interest, encouraging families to explore nature and get active, we need to make sure our outdoor spaces are clean, welcoming and accessible for all – otherwise, when other options reopen, it will be all too easy to go back to our sedentary and indoor ways.
Allocating money to improve access to activities over the summer is a fantastic start, but we could go one step further. We had Rishi Sunak's Eat Out to Help Out scheme last summer, so why not try something like Play Out to Help Out? Every parent knows how expensive after school classes and summer sports camps can be, so let's make it more affordable for all by introducing free activities, equipment and even vouchers for families to come along and try a new active hobby over the next few months. Not only will that provide support for the local clubs, community centres and sports teams that have struggled during the pandemic, but it will also introduce both children and adults to new, fun pastimes they can do together.
It's all about building the foundations for change. A one-off tennis lesson or game of football might spark instant passion, but it could really thrive for the long term if the whole family gets involved. So why not show mums, dads, grannies, grandpas and children some activities they can do together at home? After all, inter-generational play and bonding has been one of the best aspects of being cooped up together during lockdown, so why not encourage that to continue?
Empowering parents and embedding exercise into everyday life is key for ensuring the next generation is happier and healthier. So, let's start now.
---
What's in a name? Everything actually
Last week actor Thandie Newton announced she was reverting to the original Zimbabwean spelling of her name, after it was misspelled in the credits to her first film more than 30 years ago.
The 48-year-old revealed her name is spelled Thandiwe (pronounced "tan-dee-way") but was widely used without the "w" after she didn't correct the mistake.
As a young woman, only 17 or 18 years old, I can imagine she probably didn't feel confident enough to speak up, so it's fantastic she is finally able to go by the name she loves – or, as the actor put it: "That's my name. It's always been my name. I'm taking back what's mine".
---
Ladies losing out hits a sour note
Research has found music suggestion algorithms used by streaming services such as Spotify are less likely to put forward female artists, with listeners only hearing women's voices 25% of the time.
When tested, the widely used formula first recommended tracks by a man – and users had to wait until the seventh or eighth song to hear a woman.
It's ridiculous but hardly surprising. Practically every industry is guilty of putting women second, especially as men are invariably at the top making the decisions.
Perhaps to redress the balance I'll play female singers on repeat this weekend. I'm thinking Annie Lennox, Amy Macdonald, KT Tunstall, Sandi Thom and Lulu…
---
Duke's award touched lives of millions
The royal family have had a difficult year, with so much of their private lives hashed out in the press, so I can't imagine how hard it will be for the Queen to lose Prince Philip – her rock of 73 years.
Whether you are a royalist or not, we can all agree the Duke of Edinburgh was certainly dedicated to public service, and I'm sure his memory will live on in the many charities and organisations that bear his name.
I'm proud to be an ambassador for The Duke of Edinburgh's Award, which he created in 1956 to encourage young people to set goals, take on new challenges and develop leadership skills.
To date more than eight million young people from 144 countries have achieved his coveted award, which is an impressive achievement.
---
Ignore the scaremongers and roll up your sleeve for the jab. Science is on your side
There's been a lot of debate around the potential risks of the AstraZeneca vaccine. Research linked the jab to rare blood clots, and it has been announced all under-30s will to be offered an alternative. After 20 million doses were administered, 79 people developed the condition, and 19 patients ultimately lost their lives.
While it's terrible to think anyone has died as a result of vaccination, there are complications to every medicine we take and the risk really is very, very low. Scientists believe there is only a four in one million chance of developing a clot, which is far lower than, for example, those taking the contraceptive pill (500 per million) or even getting deep vein thrombosis after a long-haul flight (1,000 per million). I had the AstraZeneca vaccine, with zero side effects, and I have absolutely no concerns about taking my second dose. Our vaccine rollout has been informed by science, and the programme is progressing so well, it's believed we will pass the threshold for herd immunity by tomorrow.
So, let's stop the scaremongering and continue to roll up our sleeves.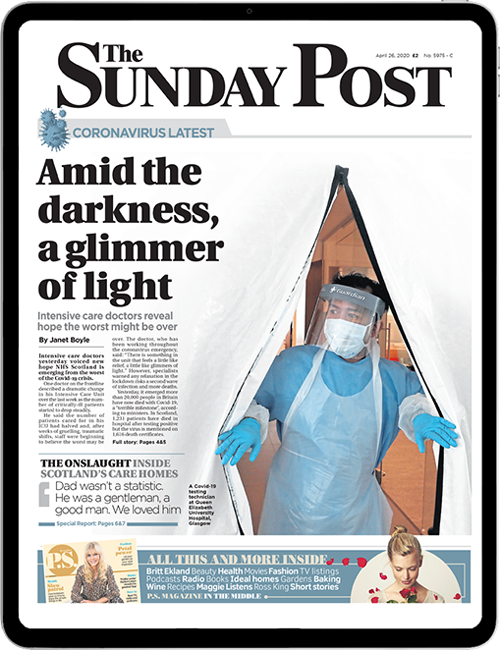 Enjoy the convenience of having The Sunday Post delivered as a digital ePaper straight to your smartphone, tablet or computer.
Subscribe for only £5.49 a month and enjoy all the benefits of the printed paper as a digital replica.
Subscribe