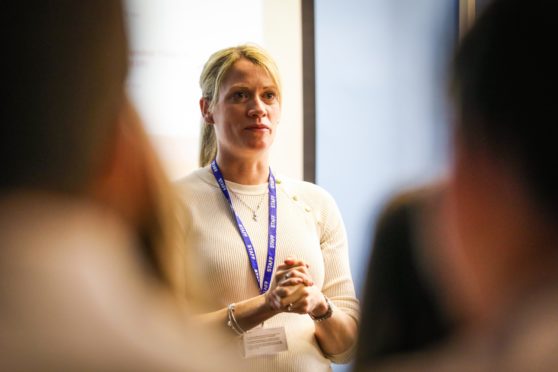 We've learned a lot of lessons over the past year, but perhaps none more so than the value of friendship.
For much of the pandemic, we have been separated from family and loved ones by many miles and constantly changing restrictions, and it's been hard to stay motivated for the days, weeks and months ahead.
And that's perhaps particularly true for those who have been dealing with not just everyday isolation, but also the terrible symptoms of the virus itself, which can linger for extended periods. In fact, a recent article in the British Medical Journal estimated as much as a third of people infected with Covid-19 experience long-term symptoms.
With so many people struggling to cope, what can be done to help? Well, to paraphrase James Taylor's classic hit, all you have to do is call.
I've signed up to take part in a research project, run by Abertay University, which is connecting people from the world of sport with members of the public who are battling through recovery.
Launched just last week as part of the Sport v Covid programme, myself and other volunteers – including Olympic medallist Eilidh Doyle and Paralympian Tanni Grey-Thompson – will hold one-to-one video chats with participants, sharing motivational tips and coping strategies, as well as our own experiences facing life's stumbling blocks.
It may initially seem like there's not much link between athletic training and recovering from Covid, but I truly believe sport instils us with a multitude of life skills no other activity can. From communication and leadership to discipline and goal-setting, not to mention risk-taking, teamwork, resilience and persistence, sports people have the lived experience that, when shared, can help others develop coping strategies and get their lives back on track.
Sometimes when your goal seems too big or too far away, the easy option is to give up – but if you break down each phase into manageable steps, that once unattainable end point can quickly feel within touching distance. That's something you learn on the pitch, court, pool or track.
Another part of the calls that I think is especially important is the fact we often find it easier to open up to people who are not part of our inner circle. Somebody who doesn't know your background or circumstances is less inclined to judge, and they're far more likely to listen with an open mind. I remember when I was a teenager, my mum's best friend was the person that I always went to if I needed a bit of advice because it was so much easier to speak to someone outside of my immediate family.
We have become so used to chatting on video calls throughout lockdown, and they really do allow you to connect on a personal level, unlike standing on a podium or platform – once the norm for sports stars connecting with fans. So, by providing that shoulder to cry on or a listening ear, I think this project could have huge impact, and I hope many more sports people will get involved.
SW19 is special… but stressful
It's been two years since we were last at Wimbledon, so it's been very special to be back and able to watch Jamie and Andy competing again. Although I can't say it hasn't been stressful!
We didn't know if Andy would get back to top-level tennis after his surgeries, so seeing him on Centre Court was incredible. His match against Oscar Otte was a roller-coaster, but he was spurred on by the crowd – especially Justin Rodrigues in the front row and wearing a Scotland rugby shirt.
Unfortunately, his run came to an end in the third round on Friday while Jamie, who has had his own injury issues, and doubles partner Bruno Soares lost yesterday.
Whatever the results, though, I couldn't have been any prouder to see both my boys back playing at Wimbledon again.
Forget age, start living
I remember reading an article some years ago that said 52 is the age that most women find their confidence. Looking back now, I reckon that was me.
In my early 50s a number of life and career highs happened – including becoming the GB Fed Cup captain, and Andy winning at the Olympics and Wimbledon – and I felt like I was able to finally step away from any residual fear that was holding me back.
I started saying what I thought, doing what I wanted and, honestly, I don't think I've stopped since.
So, I was heartened to read that Claudia Winkleman feels the same about entering her fifth decade, saying in a recent interview that she "can't wait to be 50" when her birthday arrives in January. She also added: "This is my time. My body is falling apart, I look like Meatloaf naked, and I'm all right with that!"
Well, that's one way to remain positive about ageing!
I always thought that 60 was the age you would retire, as you would likely be a granny by then, stop working and have a quiet life. But, of course, as you get older and closer to that decade, age becomes less a number and more about the energy you have.
So, if I could give one piece of advice it would be to stop worrying about the candles on your cake, and start living.
We can make summer safer
We've seen a worrying increase in positive coronavirus cases in the past few weeks, with Wednesday marking the highest daily figure on record, and the biggest rise in hospital admissions for almost four months. Experts have also estimated 2,000 new infections were a result of people travelling to London to watch Scotland face England in the Euros.
As National Clinical Director Jason Leitch has said, there's no way for us to know exactly how, when or where we catch the virus. Football fans, for example, could have taken the virus to London, caught it en route, or picked up germs once they arrived home.
If we want to stay as safe as possible, the at-home rapid lateral flow tests will be key. They are readily available, easy to do and only take about 30 minutes for the results, so there's no excuse not to do our bit and get regularly swabbed. Receiving a negative result does put your mind at ease, and will make the summer safer for everyone.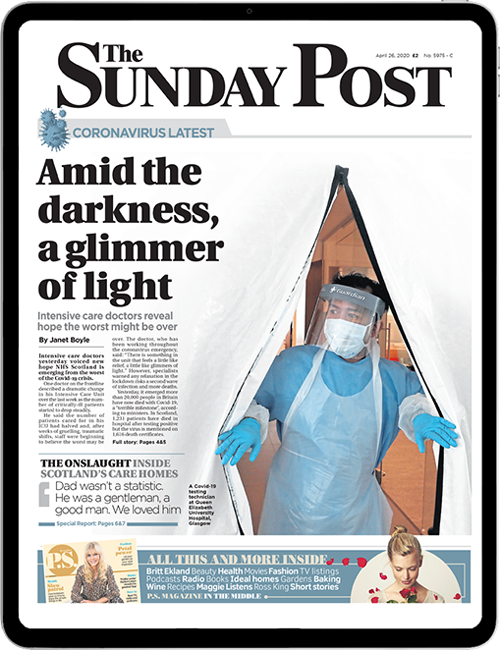 Enjoy the convenience of having The Sunday Post delivered as a digital ePaper straight to your smartphone, tablet or computer.
Subscribe for only £5.49 a month and enjoy all the benefits of the printed paper as a digital replica.
Subscribe