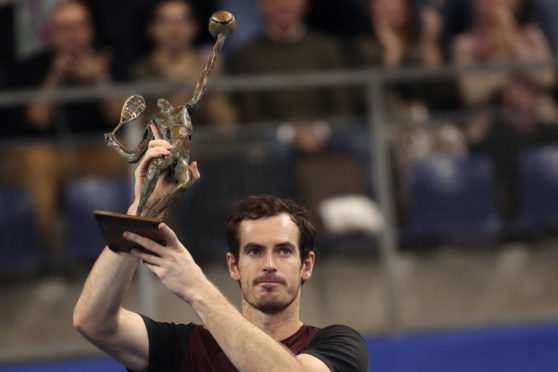 I've been buzzing all week after Andy's brilliant European Open triumph in Antwerp.
He only started playing singles again in August and the goal for the rest of 2019 was simply to test and build his fitness for the start of next year.
I'm not sure any of us expected he would be finishing the season with a tournament win. Hip surgeons and specialists across the UK are fascinated by his progress and his rehab programme, and are apparently being bombarded with people wanting "an Andy Murray", or hip-resurfacing surgery.
It was such a huge decision for him to have that operation. It's a relatively new procedure and completely untested by any other top athletes so he had no reference point. In truth, he really had no choice either because he had been in such pain for two years. It was following his brutal 2017 French Open semi-final match against Stan Wawrinka, another top 10 player, that the problem with his right hip really set in. From there it was two years of trying to find a solution to an injury that affected his personal life as well as his professional one as he struggled to carry out even simple tasks like walking the dog or tying his shoelaces.
When he lost a five-setter in the first round of the Australian Open in January, his hip was so inflamed that he couldn't travel home for two days. That was when he knew he couldn't go on like that and he committed to going under the knife again.
No one knew whether he could return to the top flight or not, but I was pretty sure that if anyone could do it, it would be Andy.
And so he proved in Antwerp, by coincidence against Wawrinka who has also fought back from injury problems stemming from that French Open match.
When I celebrated the news of Andy's win on Twitter, I included a little spider emoji as a nod to the tattoo I had on my back a few years ago after I had finished writing my memoir.
In telling the story of our family's journey through the tennis world from Dunblane Sports Club to grand slam glory, it reminded me of all the obstacles and challenges we faced along the way.
We were just a regular family from a small town in a country with a limited tennis infrastructure and no track record of success.
I remembered the frustrations, the barriers and lack of expertise and support that would often confront us, but I'm the sort of person that if you tell me I can't do something, I'll go out of my way to prove you wrong. It's the bloody-mindedness in me that my sons have also inherited.
And just as when close to despair, Robert the Bruce had been inspired by watching a spider that refused to give up as it attempted again and again to weave a web, so Andy's perseverance and resilience against the odds, bears out that old motto if at first you don't succeed, try and try again.