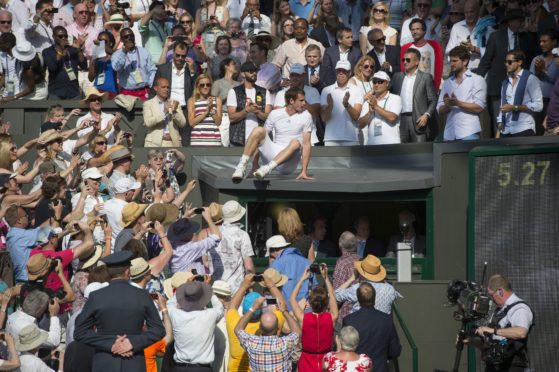 Ever since I was a little girl, Wimbledon has been part and parcel of my summer.
My parents were huge fans, so my brothers and I were pretty much force-fed tennis for those two weeks each year when we were growing up. My mum barely left the sofa and, if we were hungry, she would just point to the fridge.
Those were the black-and-white TV days when players used wooden rackets and white tennis balls. My favourites were Billie Jean King, Chris Evert and Evonne Goolagong – all amazing female athletes who helped me fall in love with the game and inspired me to become a tennis player, too.
This year, contemplating a summer without my SW19 fix has been seriously strange.
This would have been my 18th consecutive year cheering on the boys from the stands, but Wimbledon isn't just about the tennis. The venue is steeped in history and tradition, and the atmosphere and excitement would have been completely lost had it been played behind closed doors. I mean, who can imagine Wimbledon without a queue? Or Pimm's? Or strawberries and cream? No fans equals no fun.
Thankfully, I won't need to spend the next week reminiscing about the memorable moments I've witnessed over the last two decades, as BBC Sport have been airing classic matches and special one-off documentaries – as well as tonight's second episode of the "Murray Weekend".
And I will actually be able to enjoy clips from their matches because I already know the outcome – supporting from the stands or the sidelines is total torture.
That is probably the one thing I won't miss this year – the stress! As parents, we want our child to do well, no matter what they're doing. My kids just happen to be doing their thing on a world stage with millions of people watching, and Wimbledon is the biggest prize in tennis so the stakes are incredibly high. Once they are out there, I can't do anything to help them other than yell, clap and fist pump – they are on their own and I just have to sit and suffer!
As the main British hopes for success for such a long time, they have both had to deal with massive pressure and expectation, and that has only increased as they made their way to the top of the game. They've taken it pretty much in their stride, but it doesn't make the task any easier.
So, although it's sad we won't see Wimbledon's pristine 8mm grass (yes, it's that precise) until 2021, I think my blood pressure will enjoy the break. And when it returns next year, I hope someone will have invented an intravenous wine drip for me.
---
SW19 win? Andy didn't forget me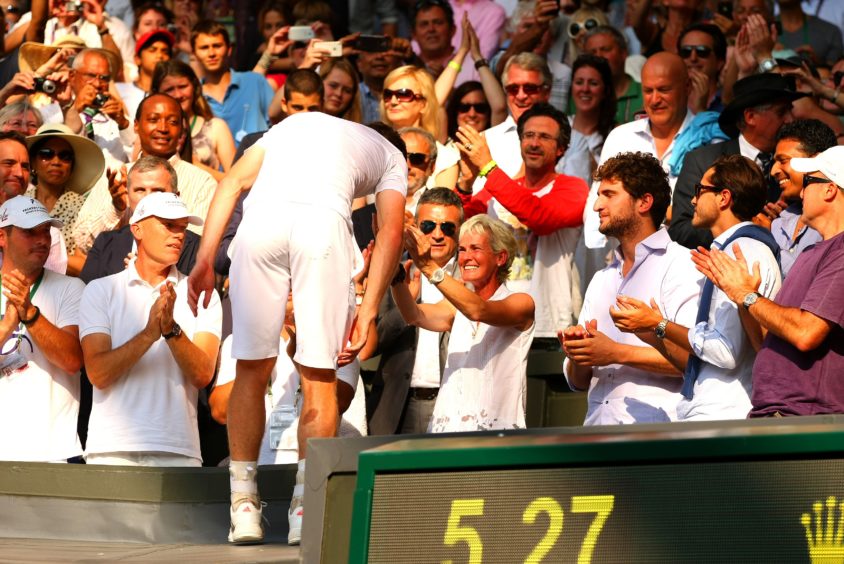 People often ask about the moment Andy "forgot" about me during his victory lap after winning his first Wimbledon title in 2013. The truth is, he just couldn't find me!
The Centre Court players' box is mixed, so each player gets 18 seats for their entourage, who have to sit side by side.
It's already a stressful situation, but sitting alongside the other player's family and team members makes it even worse.
The previous year, when Andy lost in the final to Roger Federer, I found it incredibly uncomfortable. So, in 2013, I moved into the stands.
When he won, he climbed up to the box to celebrate, but I wasn't there. I didn't want to rush down for fear of being accused by the media – again – of being "the ultimate pushy parent". Then everyone in the crowd was shouting "What about your mum?!" so I felt I could go down and hug him.
Looking back, it seems ridiculous certain sections of the media made me feel so self-conscious.
It will be nice to watch that final again – only this time without the three hours and 10 minutes of stomach-churning nausea.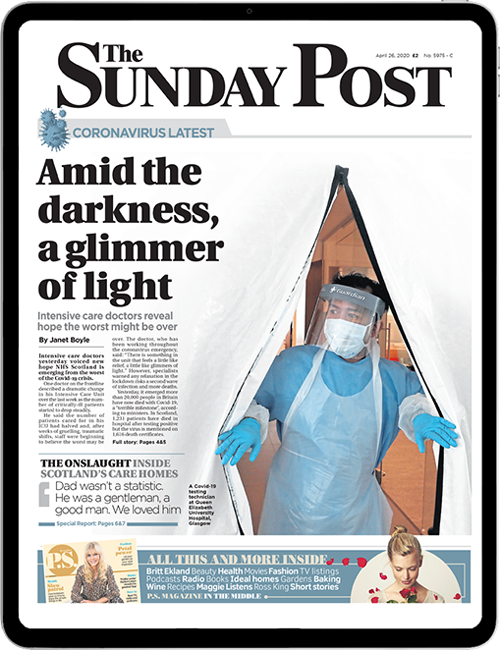 Enjoy the convenience of having The Sunday Post delivered as a digital ePaper straight to your smartphone, tablet or computer.
Subscribe for only £5.49 a month and enjoy all the benefits of the printed paper as a digital replica.
Subscribe