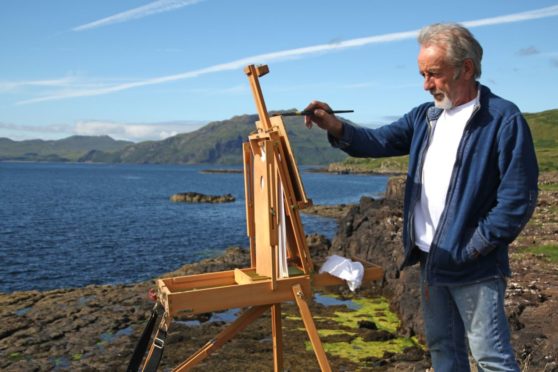 It's a long drive to Alan Hayman's gallery near Drimnin, but the journey is glorious.
The last dozen miles from Lochaline along the shores of the Sound of Mull curve through Atlantic oak woodland with breath-taking views to the russet-ochre, weed-fringed shoreline speckled with wildflowers and lichen-embellished rocks.
Herons stand sentinel, otters and seals put in frequent appearances, and it's not unusual to catch a flash of cocoa-coloured fur as a pine marten rushes from the crepuscular woods.
Alan and his wife Helen are used to remote places having lived in the long and lonely Glen Lyon for 17 years.
Even having reached Drimnin, there are a further two miles on farm track until after eventually passing the new Ncn'ean organic whisky distillery on the Drimnin estate, a white cottage appears at the end of this windswept Morven peninsular.
This is a wildlife fanatic's paradise, with views sweeping to Mull and Ardnamurchan. In spring and early summer, cuckoos play verbal ping-pong, while the primeval roars of rutting stags fill the autumnal air. When Alan feels like taking to the sea for a spot of fishing, or if he and Helen need some provisions, they launch the boat from below their beautiful garden and cross the Sound of Mull to Tobermory.
"Ach," says Alan, "Glen Lyon wasn't remote compared to this. I have always had a desire to move to the west and to be somewhere really isolated. We did have a short spell in a gallery in Aberfeldy after Glenlyon, but I never got peace to paint – it was time for a change. So, after much searching, we moved here in 2008."
Alan opens the door on his studio, a converted outbuilding where I become rapturously lost. It's a mesmerising place where I would like to be marooned, for there is so much to see.
The walls are covered with intrigue: skulls, bones, feathers, eggs, talons, beaks, horns, antlers and dozens of beautiful taxidermy specimens, butterflies and moths, skilfully-made driftwood sculptures of whales, dolphins, fish, animal heads as well as numerous paintings. Shelves are lined with wildlife books, amid the tools of Alan's trade – easels, brushes, palettes, paint tubes, canvases, sketchbooks and overflowing folders of art. Birds have fascinated Alan since he was a child growing up in Montrose.
"I was always painting and sketching and spent my spare time at Montrose Basin and along the Angus coast. It's an area that inspired me as it is rich in birds and other wildlife."
He laughs, opens a bulging drawer and holds up a dog-eared poster of a cartoon bear. "One of my early commissions was this teddy bear – not really the work for a grown man, is it?"
The treasure chest also houses numerous early artworks, demonstrating Alan's incredible pencil skills, his passion for avian life and, above all, his brilliance.
He opens drawers of a chest originally belonging to Lord Derby. Here is a huge collection of perfectly-catalogued birds' eggs. Many are rarities from the 1800s. Though it is a fascinating historical record of a once common pastime, thankfully egg collecting is now illegal.
"When I was younger, I often found dead birds and thought they were so beautiful that I wanted to preserve them and also learn about their anatomy.
"There was a one-page article on taxidermy in the Shooting Times, and I began to learn what to do. By the time I left home at 18, I had around 350 stuffed birds in my room."
I first encountered Alan's fabulous and diverse work nearly 30 years ago when we both worked for a company which made resin wildlife models.
I was euphoric as I absorbed the power and accuracy of a vast oil painting depicting a misted mountain-scape, great rocky bastions, crags similar to those I was familiar with in Scotland's remotest mountainous regions.
Alan's paintings and sculptures have found homes all over the world. He has worked extensively in Africa, America and South America and has painted big game as well as the wildlife of Peru and the Andes.
His commissions have come from near and far. "Being at Drimnin has given me an opportunity to paint seascapes and I often venture to islands in my boat where I try to encapsulate the amazing colours, the light, the constantly changing weather.
"I have always wanted to go to St Kilda and last summer I decided that, at 71, it was now or never. More than anything I wanted to see the sea stacks. I just needed a settled spell of weather."
Last June there was a good forecast and astonishingly Alan set forth in his 17ft uncovered rib with its 70-horsepower engine. It was equipped with very little other than basic food and cooking equipment and a spare five-horsepower engine.
"Firstly, I went out to South Uist, and then on to the Monach Isles, where I went ashore briefly but I had to move the boat in the night. I left for St Kilda on the 5am tide, journeying for another three hours. It was incredible and I saw dolphins, whales and basking sharks."
When St Kilda appeared on the horizon, there was still a long way to go and the swell was savage.
"All my food got soaked and the horizon was at about 45% so I had hundreds of birds above as well as below me. When I finally reached Village Bay around 8am, the swell made landing impossible so I set off around the sea stacks. They are like nothing I had ever seen anywhere in the world and I spent the morning taking pictures and absorbing it all, as this was what I really wanted to paint."
Across the garden from the Merlin's Den that is Alan's studio, is his gallery. As I stand and take in walls covered with his eclectic work, it is his recent portrayals of St Kilda that instantly draw me.
What is perhaps even more astonishing is that he made the 320-mile round trip alone in such a tiny boat, and not only coped with the dramatic Atlantic swell that makes these islands so notorious but returned to recreate the awe-inspiring maritime scenes so perfectly.
Seeing them brings a lump to my throat and transports me to my own visits to St Kilda. I can hear the gannets, that clamouring cacophony, and I can even smell the pungency of their guano as the low cloud that tantalises the tops of the stacks like Indian smoke signals adds an ethereal mystery to Scotland's wildest seascape.
Sadly, though Alan's trip was an epic, he was shocked to see that the insidious plastic peril with which the world now battles had even reached this previously pristine environment. He witnessed a gannet flying past with a plastic bag trapped over its head.
"Though I never saw another boat, I am sad to say I saw plastic floating like massive jellyfish on the sea. It is something we really have to tackle. St Kilda is the most impressive environment I have ever painted and I am so glad I went. There is simply nowhere on earth like it."
---
Alan's gallery is open to the public from March to December, Monday to Friday 10.30am to 4pm. Other times by appointment on 01967 421 616. www.alanbhayman.com