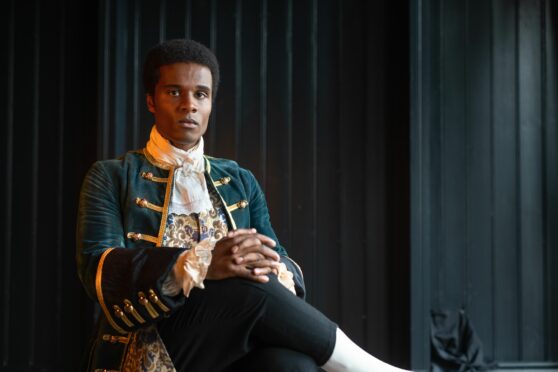 One of the most poignant stories of Scotland's slavery past is being explored in a new play by National Theatre of Scotland, focusing on one of the key players in the abolitionist movement.
Enough of Him tells the story of Joseph Knight, a slave who won his freedom in 1778 following a legal battle against his master Sir John Wedderburn in the Supreme Court and in doing so, helped to end slavery in Scotland.
While previous accounts and histories of the story have focused more prominently on the life of Wedderburn and of the court case itself, the play's writer, May Sumbwanyambe has made sure this version will be told from the point of view of Knight, and delve more deeply into his mind and circumstance.
"The play will naturally tell the story of Knight, who was captured in Guinea and transported to Jamaica in the 1700s as a child slave," said Sumbwanyambe, who is based in Glasgow.
"Once there, he was bought by Perthshire-born plantation owner Sir John Wedderburn, who proceeded to take Knight back with him to Scotland,"
"After escaping from Wedderburn's mansion in Perthshire, Knight won his freedom, taking his case all the way to Scotland's highest court. Knight's lawyers argued that slavery could not be upheld in Knight's case as although it was legal in the Caribbean, there was no law making it legal in Scotland specifically at the time.
"For one reason or another, previous accounts have centred around Wedderburn, so we wanted to hone in on Knight instead, looking at how he was able to win the case, but also the trauma that comes with that.
"Knight was, in some ways, in a position of privilege as a slave, in that he was educated, was baptised, and so was able to challenge the system.
"But it wouldn't have been as simple as winning and then everything was fine – there would have been feelings of guilt, shame, trauma and the fact that he was free while so many others still were not."
He added: "I also think it's important to centrally show that it wasn't just white people who eventually allowed slavery to be abolished, it was also the work of many black people fighting back.
"History has been very editorialised in that respect."
Indeed, one of the key impulses to create the show, a co-production by National Theatre of Scotland and Pitlochry Theatre as part of Black History Month and Scotland's Year of Stories, came for Sumbwanyambe after the Brexit referendum in 2016, where he saw ideologies about Britain 'taking back control' being played out in front of him.
"I remember watching TV and and seeing lots of people saying things like, 'we want our country back,' as if black people had taken the country from them," he explained.
"I think there's this notion that black people have only contributed to the history of this country for a very short period of time. We've been inundated with an editorialised version of history that pretends as though black people showed up when when the Windrush period happened, post World War Two.
"So I wanted to write a play that was based on a factual life that really profoundly spoke to a truth that black people have been part of the history of this country for a very, very long period of time, and they have made cultural, political, economic and social impacts."
The character of Joseph Knight will be played by actor Omar Austin, who also said he knew very little about the country's slave past until he joined the production.
"Honestly, I didn't know anything about Joseph Knight, and I was never really taught about slavery in the UK growing up," he said.
"You do know about it, but you kind of get taught that it was in the USA, and I think that in itself is quite telling.
"As part of the show, we had anti-racism training, and that almost felt like a bit of a history lesson for me to hear about Scotland's involvement. It was really eye-opening.
"It made me see more clearly why we're in situations we're in now and the state of the world today in terms of racism and what people have had to go through to get to where we are at this point in society."
Another key aspect of the play Austin feels is important is the fact it will be showing Knight in a position of empowerment, which he believes is often lacking in previous portrayals of slaves.
"There's a lot of negative connotations when it comes to slaves, for example you have these images of whippings or punishments or in a pitiable situation, but the play flips that on its head to a certain degree and it shows slaves in a more powerful position," he said.
"In this story, Knight is the champion. And I like that there's a little more hope in that and he has the power."
James IV: New Rona Munro play to give black people their rightful but forgotten place in history of Scotland
Questions surrounding Britain's colonial past have been raised following the death of Queen Elizabeth II and the monarchy's connection to the slave trade and historical exploitation of those in its former colonies. Indeed, the British Crown established one of the most prolific slave trading companies in 1660, The Royal African Company.
Many of the enslaved Africans transported by the Royal African Company were branded with a hot iron with the letters "DY", standing for the Duke of York.
It is this history many are uncomfortable with when it comes to the British monarchy, and is a history, believes Sumbwanyambe, too many are still either in denial about, or ignorant to.
"I don't think there is anything to be gained in pretending that any institution or individual is perfect, and I think you can mourn an elder statesperson like the Queen, while also acknowledging that as an institution, the Royal family has benefitted from slavery, and the cost of those things associated with slavery, like sugar," he said.
"I think when you see the lengths certain people go to to defend or editorialise the institution of the monarchy, you question how proud they actually are of that institution, if they're trying to hide certain elements of it.
"When I grew up, my parents had a saying that the person who doesn't read has no advantage over the person who cannot. And I think that too about history, in that the person who does not know that history has no advantage and is just as condemned as the people who have come before to make the same mistakes over and over again.
"And that's the real tragedy."
---
Enough of Him, touring venues across Scotland until November 18. Tickets at nationaltheatrescotland.com.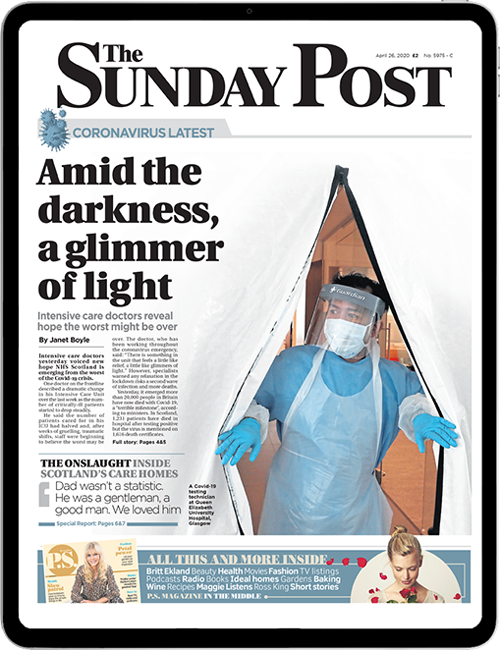 Enjoy the convenience of having The Sunday Post delivered as a digital ePaper straight to your smartphone, tablet or computer.
Subscribe for only £5.49 a month and enjoy all the benefits of the printed paper as a digital replica.
Subscribe