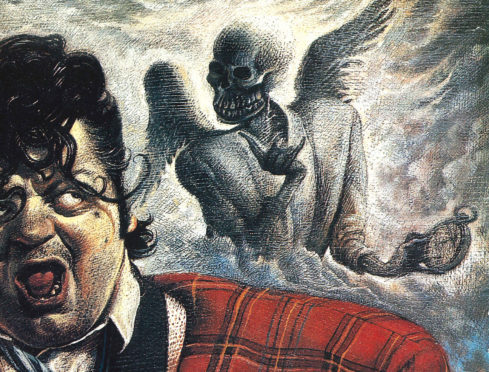 They are both men of influence whose deaths, before the curtain goes up, provoke an unfolding tragedy of love, betrayal and, ultimately, disaster.
One is King Hamlet, father of Prince Hamlet of Denmark, betrayed husband of Gertrude, and brother of treacherous, murderous Claudius. The other is Big Jazza McGlone, lead singer with The Majestics.
Shakespeare's poisoned royal and the debauched rocker, who takes three steps to heaven after an ill-fated late-night kebab run, may both have made their reluctant excuses before Act One, Scene One but, according to artist and writer John Byrne, what happens next is the real common denominator.
The creator of Tutti Frutti, back on TV after a 30-year absence, says a good story is a good story, whether it's told on the ramparts of Elsinore Castle in the 14th Century or the pubs and clubs of Glasgow in the late 20th.
His six-episode series has been delighting old fans and winning new ones since returning to the small screen on the new BBC Scotland channel on Saturday nights.
Byrne is happy with the reaction to the comeback drama, marked by his script that was both dark and hilarious, often in the same scene, sometimes in the same line, and an ensemble cast determined to make the most of it. He's happy but not surprised, saying: "It's still popular because it's about human beings, we all fall in love and we all go on adventures.
"It's of its time but it's also universal. We share the same emotions and the same adventures as everyone else, everywhere else.
"I was in the town yesterday and went into the stationery shop to get some typewriter paper when a lady, an older woman, stopped me to say how wonderful it was to see it back, how she and all her friends remembered it and were watching it all again.
"She thanked me for writing it. It's nice, overwhelmingly positive."
Byrne, who also wrote the acclaimed Slab Boys trilogy, set in a carpet factory in the 1950s, first staged in the 1970s, and still regularly revived today, said: "Put human beings in a situation and it doesn't matter whether it's the 14th Century or a carpet factory in the 1950s, or a rock'n'roll band in Glasgow in the 1980s.
"It doesn't matter. We all share the same emotions, the same ups and downs through the centuries. People identify with it. It touches people.
"Before letting anyone else look at it, I have to tell myself a story. If I'm furiously interested in what happens to these people then there's a chance others might be. I've got to surprise myself." After being broadcast in 1987, Tutti Frutti, starring Robbie Coltrane as Jazza's wee brother Danny McGlone in hot pursuit of Suzie Kettles, played by Emma Thompson, won over critics and viewers.
The reputation of the drama, charting The Majestics' silver jubilee tour around small-town Scotland, as a lost but legendary classic grew with every year that passed without repeats. Conspiracy theories for its absence from the listings multiplied with the most popular citing copyright issues around the rock'n'roll classics performed by The Majestics. Byrne, however, is not so sure.
While happy to see the Majestics on screen again, he fears Tutti Frutti and his follow-up series, Your Cheatin' Heart, were never as popular with BBC executives as they were with viewers.
He said: "They just didn't bother. It won six Baftas and then it disappeared. It took 25 years to come out on DVD, it took Your Cheatin' Heart 27 years to come out on DVD and I'm not sure if they liked either of them. I've no idea why. Maybe they were too common and too popular for them?
"It wasn't the copyright. According to them, clearance was only gained for the UK which made it difficult but I have some doubts. I'm not sure that is the whole truth.
"It took long enough but I'm delighted it's back and back on the new Scottish channel."
And, in more good news for fans, Byrne is again in talks with BBC Scotland about future projects. He said: "I'm going to be pitching something to them. I've got a meeting and an idea. If they like it, I'll write it…then wait another 30 years to see it."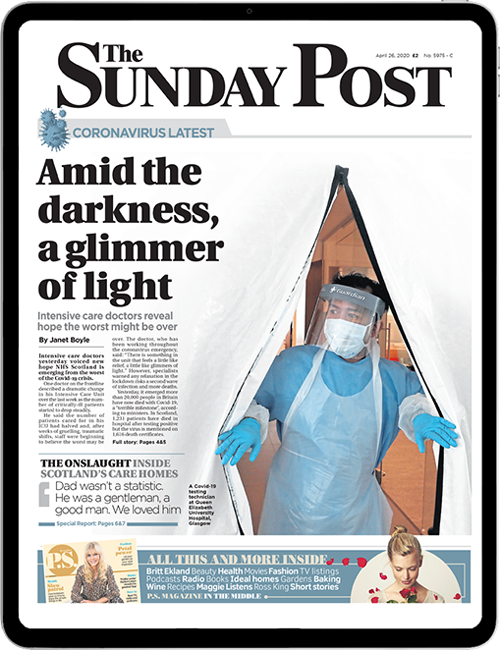 Enjoy the convenience of having The Sunday Post delivered as a digital ePaper straight to your smartphone, tablet or computer.
Subscribe for only £5.49 a month and enjoy all the benefits of the printed paper as a digital replica.
Subscribe