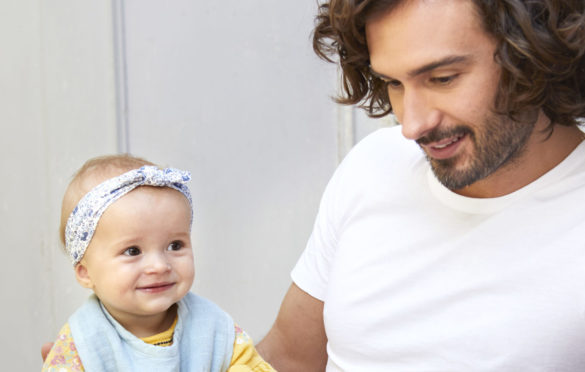 Through searing pain and the fug of morphine, Joe Wicks had a moment of clarity.
He was in a London hospital after the hand he had broken a few weeks' previously in a bike accident became infected and began to rapidly swell.
While he waited for the procedure to ease the pressure – and help him get back to getting the nation fit again – Joe began to speak to the nurses.
"I was probably chatting absolutely guff, mate," laughed Joe, recalling his weekend in the care of the beleaguered NHS. "I was buzzing out my face.
"I kept asking where all the nurses were from – one thing that impressed me was that it wasn't all English people.
"There were nurses from Iran, Ireland, The Philippines, India – all over.
"I had a real moment of gratitude when I was in there. I was thinking, you know, everyone thinks the NHS is this big, old system – but it's real people, those people going into work have families as well, and they're all around the world and they're coming together to help people.
"And that made me, for the first time in my life, truly appreciate the NHS – I dedicated my workouts that week to them to help raise some money for our amazing health care system.
"We're so lucky, but we take it for granted."
If there's anyone deserving of a bit of gratitude, it might be the man who calls himself The Bodycoach.
The 33-year-old shot to fame with his hit Lean In 15 book in 2015, and since then has become a fitness pin-up.
His YouTube broadcasts, PE With Joe, have become one of the small things – like Captain Tom Moore's fundraising efforts and Sophie Ellis Bexter's Friday discos – which have made quarantine a bit more bearable.
Joe is not only on a mission to improve our health via his weekday PE broadcasts, but he wants to help us become better parents, too. He's doing that with his new book, Wean In 15.
"In my previous books such as Lean In 15, it was very much healthy recipes to get you lean and strong, it was about physical transformation," he explained.
"Fast forward five, six years and now I've got two kids of my own.
"It's kind of a silly name – Wean In 15. The name and concept came first, before I even had kids. It was something me and my brother joked about.
"But then when I became a parent, I realised it is quite daunting when you start feeding your baby for the first time, you're not sure what to give them and you want to get it right."
Joe enlisted the help of nutritionists and has come up with a book to help move your baby onto solids.
Much of it, he says, is based on he and wife Rosie's experiences with his one-year-old daughter Indie, and now his five-month-old boy Marley.
Not all of it is positive.
"I really wanted to share a positive message and I wanted to make sure that I was given the right information," he said.
"But also demonstrating the highs and lows of parenting, because there are days where Indie will eat everything you give her and the next day you give her the same thing and she throws it on the floor.
"Indie has been fantastic, but some days your baby will just not eat food because they might be teething, feeling unwell, overtired.
"I'm really passionate about this. I'm more excited by this than I have been about any of my books, because this will really give a lot of parents a lot of confidence and comfort."
Joe is open about feeling a bit lost when he became a dad for the first time. Feelings of wanting to enjoy the process were lost among the practicalities of raising a baby.
"I had no confidence. I'd never weaned a baby, what did I know? I mean," he said.
"I wanted to make sure that I did enjoy being a parent. I didn't want to be really nervous and anxious about being a dad, I wanted to sit and enjoy the food and cook together and make it fun.
"And that's one of the things I think is so important – you need to relax, have fun, and enjoy the process.
"I think with Indie we definitely had an amazing fortune. She's a good sleeper because we've been consistent.
"But it's not like she's this amazing little foodie that's just come out of the womb, we had to teach her.
"Marley was different, he was three weeks early and for the first three months he couldn't see anything. It was really difficult for us.
"He wouldn't want put down, he hated being alone. He cried a lot and didn't sleep well.
"Now he's settled down and he has perfect vision. So it's the highs and lows of being a parent.
"I'm looking forward to weaning Marley because I have experience now, and I'm more confident in myself."
Despite that, Joe admitted he finds himself leaning on others in unexpected places for a bit of support.
"It's important to have that support, he said. "I have a WhatsApp group, the Daddy Gusto Gang – we used it to talk about Gusto, the recipe company.
"We've all got kids so now we mainly talk and laugh about how we don't get any sleep, or how annoying our kids can be.
"We have a network where if I'm having a difficult time I can say, 'Boys, does your kid ever do this?'
"But I've also got my wife. She's amazing with the kids.
"I watch her and I learn a lot from her. I try to help her and we make sure we talk a lot about the kids."
Life seems good for Joe at the moment, with a new book, two kids and the success of PE With Joe.
Like his chiselled abs, it took a lot of work to get to this position – and Joe doesn't want you to think it was an overnight success – or that lockdown put his YouTube channel in a fortunate position.
"I've been overwhelmed by the response, but I also know that it's what I've been dreaming about," he said.
"It's what I've been working on for so many years.
"For the past four years, I've been doing tours of the UK, I went to Ireland, Northern Ireland, Scotland and Wales. I went all over the shop visiting schools.
"So what I dreamed of happening, what I knew would happen, I thought was going to take 10 years.
"It's happened in seven weeks – I've had international press and 50 million views on the YouTube channel.
"So it's basically the right idea at the right time, but I've been building it for years. So it's not an overnight success. It's taken a long time."
The hard work for Joe has paid off – and although he seems to make being an author, fitness guru, presenter and family man look effortless, he never stops being grateful.
"I've been loving doing PE – I love the structure, I love routines," he said.
"I'm playing games – we're doing Wheel Of Fortune and Higher Or Lower. It's me and a camera and that's it. Sleeping in doesn't really happen for me now, but I can get up early.
"You know what helps? I've got these two alarm clocks I'm really grateful for, they're called Indie and Marley…"
---
Wean In 15, by Joe Wicks, published by Pan Macmillan, is out now.