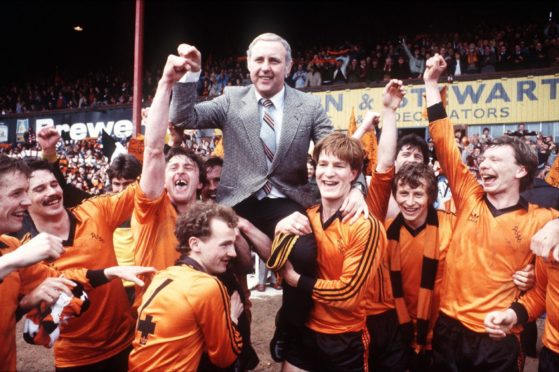 It is fair to say I will never forget my first encounter with the man who deserves his place alongside Sir Alex Ferguson, Bill Shankly and Jock Stein as one of the greatest football managers Scotland has ever produced.
The year was 1992. Jim McLean – whose death, aged 83, was announced last night – was still in place as manager.
I had just switched from being a news reporter in Aberdeen to working for the Courier's sports desk in Dundee.
This was back in the halcyon days when football clubs let journalists through their door on a daily basis, and a central part of the job was the often-lengthy lunch-time spin down to Dens Park and Tannadice with the rest of the "local lads".
You would get a bit of news for the next day's paper and, as often as not, about three times as much gossip about what might, or might not, be going on in the game.
My introduction to the man who led Dundee United to the Premier Division title, the European Cup semi-finals, the UEFA Cup Final and two League Cup triumphs, though, was even more revealing than I expected.
The door to the Manager's Office was chapped. "In you come," was the shout in reply, and in we trooped – to the sight of a naked man standing towelling himself down!
Almost equally-surprising was the fact the four or five other journalists in the company did not bat an eyelid, but settled into the seats arranged around McLean's desk and cracked straight into a bit of chitchat.
This was the days before the use of voice recorders was standard.
The second shock for me was the breakneck speed that, having got dressed from his regular work-outs, Jim would race though news of injuries, squad call ups, games past and games to come and his opinions on pretty much everything he was asked.
As you might expect from a man who turned down the chance to manage Rangers in the 1980s, he was a man who knew his own mind.
His knowledge on all football was incredible.
This was a man who got a state-of-the-art satellite dish fitted in his garden, so he could watch games from all over the world decades before it became the norm for fans at home.
He was near-obsessive about United's youth teams of all levels, and could get just as het up watching the Under-15s.
To those who dealt with him on a regular basis, that could be a good thing. Local papers and nationals alike were served with a regular supply of back-page splashes.
It could also be quite the opposite.
Pretty much all the journalists were banned from Tannadice at one stage or another. Even the local legend that was the late Dick Donnelly of Radio Tay, a man who could charm the birds from the trees.
I certainly had my turn. In fact, after phoning him once too often at night to try to check the truth of a tale, he suggested that the next time I tried, he would hang me from a tree in his garden!
You would have to serve your sentence, aided by the colleagues Jim continued to give daily briefings.
He absolutely knew the score, but never pulled them up on it. And after enough time had passed, he would inquire of your well-being to the lads, and tell them to tell you to come up and see him.
And, just like that, it was all forgotten about.
To the men who played for him, McLean was a larger-than-life figure. Someone who had almost as much fame for the anecdotes he spawned.
Members of the all-conquering 1983 Premier Division winners talk fondly of the time he got his foot stuck after kicking a hole in the dressing room kit hamper – and tried to continue pointing out their flaws, all the while trying to free his leg.
In the end, though, his players will remember him fondly, and do so for the incredible triumphs under his charge.
The capture of the title in 1983 at a time when Alex Ferguson's Aberdeen were a force of nature, the home and away wins over Barcelona in the run to the UEFA Cup Final four years later, and coming oh so close in the controversial European Cup semi-final against Roma in 1983-84.
The title of the Jim McLean story, published in the late 80s – Jousting With Giants – suggested a manager punching above his weight.
The club might have been, given their finances, but the man himself was right up there with the best Scotland has ever produced.
He was the architect of the modern Dundee United, and for those fortunate enough to have witnessed the likes of Paul Sturrock, Eamonn Bannon, Ralph Milne and Dave Narey at their best, he will never be forgotten.
---
Malpas: His football knowledge was out of this world
Jim McLean's players last night paid tribute to their former boss as a football visionary, decades ahead of his time, writes DANNY STEWART.
Former full-back, Maurice Malpas said: "Psychologists, dieticians, experts in plyometrics – all the people everyone uses now – we had them all at Tannadice way back in the 1980s.
"We would try tactics and set-pieces that no one had ever heard of. Things he had picked up from other parts of the world, and wanted to try out.
"Clubs from all over Europe would send people to see what we were up to because they could not understand how we could be so successful.
"His football knowledge was out of this world.
"You could name practically any team, and he would not only be able to tell you who they were and where they came from, but what formation they played and who the names and positions of their best players."
Malpas' view was echoed by Allan Preston, a product of United's famous youth academy.
"Jim was a football genius, a great innovator light years ahead of his time," he said. "No one will repeat what he achieved – at United or any comparable club.
"The statue of him being built at Tannadice is well-deserved. It is just a shame he will not be around to see it finished.
"He was a real disciplinarian. I signed as an 'S' form in 1983, on the day they won the title, and one of my jobs was to tidy, clean and fold Maurice Malpas's kit.
"This one week, I got it all done, except the socks which I stuck in the dryer to be taken out later, and headed back to Edinburgh on the Friday.
"Jim heard about it and, having made the point I hadn't finished my duties, made me come back through to Dundee on the Saturday. I never made that mistake again!"
Malpas, though, makes the point there was another side to McLean.
"Things weren't all doom and gloom. We would not all have hung around Tannadice for so many years if it was," he said.
"He was cute as a button with the wives for instance, because he knew if they were happy, we would be happy.
"They got more nights out than us, and wee Jim also made sure he got their bill taken care of.
"As I say, I always got on fine with him. He would shout at me – and I would shout right back!"
---
Jim also proved himself to be no mean player
By Brian Fowlie
Jim McLean will be best remembered as a manager – but he did have a 14-year playing career.
He turned professional after joining Hamilton Accies from Larkhall Thistle in 1956.
His father, and brother, Willie, had previously turned out for the Lanarkshire outfit.
A senior debut came in a 1-1 draw with Dumbarton. The newcomer was praised for his performance at outside-right, although he later settled into playing as an inside-forward.
Football for McLean at that time was combined with life as a joiner, and after more than 100 games for Accies, he was transferred to Clyde in 1961.
McLean's time on the field had a recurring theme – he seemed to always arrive at clubs when their good times had just faded away.
It could be his journey as a player influenced the way he managed.
Instead of looking to recruit journeymen to provide a boost, McLean preferred to rear his own players.
He arrived at Clyde during a time when they couldn't quite capture earlier glories.
They were in the process of being relegated from the top flight when he was brought in, although the Second Division title was won as the Bully Wee bounced straight back.
The closest he came to winning a cup medal was being involved a 2-0 Glasgow Cup Final defeat by Celtic.
His relationship with the city of Dundee began when he moved to Dens Park in 1965, and he was a regular for three seasons in the dark blue.
Season 1966-67 saw him finish as the club's top league scorer with 13 goals, and he was one of Dundee's top performer when they took part in the 1967 League Cup Final.
A second-half goal gave his side a glimmer of hope when he brought them to within a goal of Celtic with the score standing at 3-2 for the Hoops after 77 minutes.
Despite McLean's efforts, Dundee were defeated 5-3.
Kilmarnock recruited Jim in August, 1968 and his first outing saw him play alongside younger brother, Tommy, in a 3-3 League Cup tie against Hearts.
The curtain came down on his playing career in 1970.
He had made a positive impression at Dundee and returned there as a coach.
Just 18 months later, McLean took a few steps down Tannadice Street to become boss of Dundee United.
The rest, as they say, is history.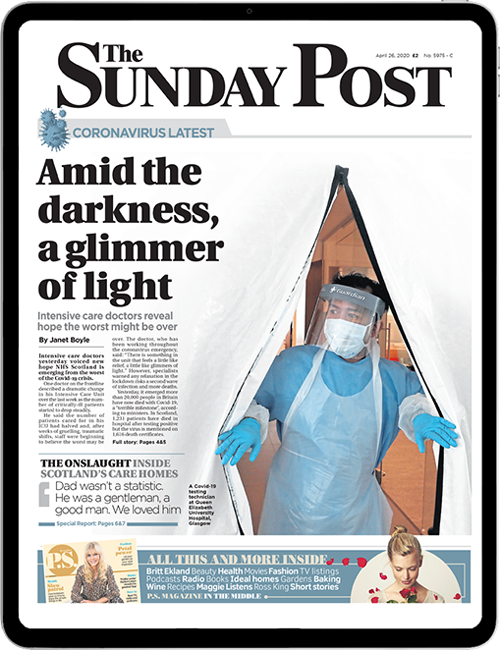 Enjoy the convenience of having The Sunday Post delivered as a digital ePaper straight to your smartphone, tablet or computer.
Subscribe for only £5.49 a month and enjoy all the benefits of the printed paper as a digital replica.
Subscribe