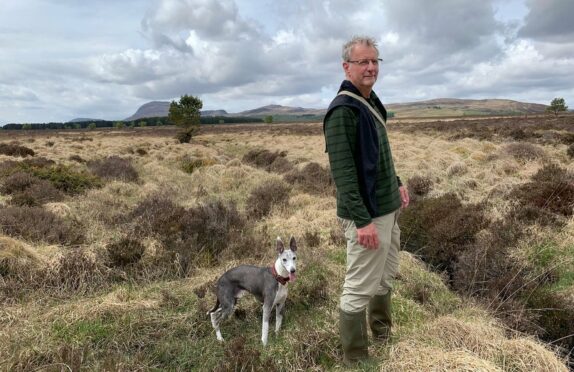 In another world, another time, he could be a laird surveying his domain, the ancient Caledonian forest, the trees swaying in the wind and, beyond, tall grasses in meadows that were once bald pasture grazed by sheep.
Jeremy Leggett, who bought the 860-acre Beldorney Estate in Aberdeenshire a few months ago, along with its castle, however is not of the past but of the future and intends his land to become a new front in the combat to contain climate change; a place of scientific research and eco-development. He is not a typical landowner, he is an eco-champion.
Having already established a successful rewilding project, creating green jobs and re-populating through the building of affordable eco homes at the 1,260 acre Bunloit Estate near Loch Ness, he is now expanding the work to Beldorney, close to the hill and moorland of the Cabrach near Huntly.
And he plans to put them into the hands of the people in a mass ownership model allowing anyone to join the initiative.
He confirms crowd funding for Highland Rewilding will kick-off at the end of the Cop26, with the aim of replicating the rewilding model on other tracts of land across the Highlands.
A separate but vital part of this work is, according to Leggett, the former scientific director of Greenpeace, already showing remarkable results to be unveiled at the climate summit. He says the development of an open laboratory at Bunloit, involving "natural capital" verification systems that accurately measure how much carbon can be stored by different environments such as forestry and peatlands, is coming up with some surprising discoveries.
He said: "We are endeavouring to create the most accurate assessment we can of carbon and biodiversity stocks within the Bunloit estate, working with a number of exciting start-ups in the space and using the most advanced technologies available – from satellite mapping to drone surveys. We are being surprised by our own discoveries, and expect others to be when we publish the report.
"We are confident that, overall, our findings represent good news for policymakers preparing changes in land-management to favour nature recovery, and excellent news for landowners anticipating those changes, wondering how much they will have to change past practices and how much they might be rewarded for it. That said, the picture is one of profound positive surprises, and also seriously negative surprises which we hope will feed into future natural capital policy development. The biggest takeaway we have is the vital importance of approaching natural-capital accountancy on a holistic basis."
Wilding back better: Experts on protecting our natural heritage
Leggett, 67, who quit a life as a lecturer for students destined for the oil, gas and mining industries to work with Greenpeace, later launched global solar energy firm Solarcentury, sinking the £4 million he made from its sale into his rewilding vision. He explained: "The land management system will have to change if the UK and Scottish governments are to hit their targets over the climate meltdown and biodiversity collapse.
"That's going to bring money into this area. Investors will need to know they are investing in real things. So, when we say 'verification', we are talking about providing the rules of the road so that investors and governments know that there is no funny business, no cheating." He added: "Historically, with carbon there has been. Some companies are fast and loose in saying they are off setting all their emissions. Well, how?
"We will have a completely open book, a set of measurement techniques, so that people can see how we have done it, and what we have done, and then that can be a user-friendly guide for others." He said accurate measurement was essential in the potential move away from subsidies and rewards for traditional farming techniques that "prop up" the farming of sheep and cattle that give off damaging "greenhouse gas". He said: "Some farmers and landowners, if they are lucky enough to have good areas of woodland and peatland, will be paid to look after them.
"Government has to do something like this because if they leave it as it is, greenhouse gas emissions will still be going up into the atmosphere in high volumes and biodiversity will continue to be destroyed. Ultimately, we will lose all our pollinators and won't be able to feed ourselves."
While the Beldorney initiative was in its infancy, Bunloit was forging ahead. He said: "Bunloit is an amazing place. It has a lot of different habitats in a relatively small area. It is mostly woodland but there is also peatland. We are doing some super exciting stuff. We will be releasing our first results at the climate summit. But we are showing them to the Scottish Government as we go, and with the partners we are working with."
These include the universities of the Highlands & Islands, Edinburgh, and Aberdeen, as well as links with the city's James Hutton Institute in Aberdeen, and the SRUC (Scottish Rural University).
He said: "We are taking as much carbon down from the atmosphere as we can, increasing the biodiversity as much as we can, measuring it as minutely as we can and making sure we do this with community front and centre. Community is part of the environment, and communities have to be involved. Most of our rangers at Bunloit have been hired locally, they are mostly Highland Scots. But I want to make it more than that with the creation of homes and eco-enterprises in the rewilding landscape that are run by and lived in by members of the local community, making zero emissions and using sustainable materials.
"Here at Beldorney we haven't really begun and it is a very different estate. It is practically 80% overgrazed grassland, and 20% forest. This area is massively underpopulated. There are ruined crofts everywhere, lost when men who farmed them went off to the First World War. It is very sad. So why wouldn't one build an eco-home for an employee simply replacing what was there before?"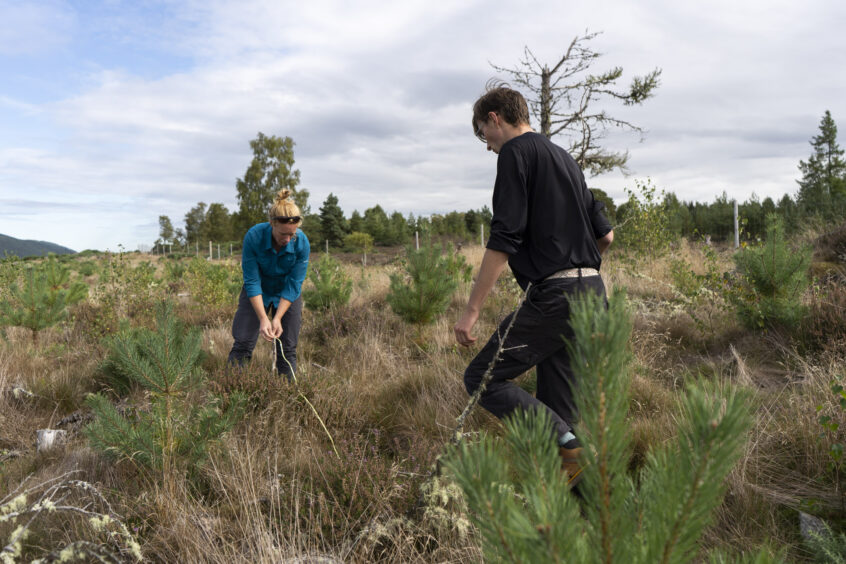 And the site boasts some existing eco-gems. "A walk along the Deveron River leads to the most beautiful, pristine, ancient Caledonia forest," he said. "It's not huge, but tree experts swoon. Then you come to a fence and across the fence, it stops. What's there is pasture stretching up the valley. All of the trees were felled just to make room for the sheep.
"When we bought it in May the pasture was as bald as a golf course, you could have whacked a ball around it all day and never lost it. It's different now, the grass is up to your knees. So what we are intending to do is plant and regenerate forests that simply start where the old one finishes – Caledonian pine, and broad leafs, willow, birch and alder; all these trees that were part of the original forest. It's that mix that gives you the biodiversity.
"What we won't be doing is planting the monocultures that you can see on the other side of the valley, spruce trees in regimented rows one metre apart. They are virtually biodiversity deserts."
His vision is ambitious. But will it make a difference to the scale of the problem? "We don't know is my honest answer," he said. "But we are on a ship and we know that ship is going to sink if we do nothing. We can see the water pouring in from holes in the side. What are we going to do – just sit on deck and have a gin and tonic, are we going to try and plug the holes? I think we are going to try to plug the holes.
"That may be too bleak an analogy because there are things that can fill you with cautious hope as you go about this – not least the fervour of young people who tend to gravitate to exercises like this. I saw that in the solar energy company I founded and I am having the same experience with the Bunloit rewilding project. There a lot of dedicated people who are working very hard. Hope lives."
Leggett's legacy
Leggett was an Oxford University doctor of philosophy in earth sciences, before joining the Royal School of Mines at Imperial College of Science and Technology in London, where he taught students destined for the mining and oil and gas industries and researched earth history funded by, among others, BP and Shell.
But it was a career that "flipped" him. He said: "I got worried about climate change long before it was fashionable in the mid-1980s. I had started trying to teach a module on environmental science as a part of the course so that the youngsters going into the mining and oil and gas industry would know that there were going to be big systemic problems they would have to deal with in the course of their careers. To be fair, my colleagues did let me do that, but they used to refer to the lectures as 'Dr Leggett's liberal studies class.' In 1989, after 11 years with the faculty, it became too much for me and I quit."
His decision – fuelled by his "knowledge as a scientist of what we are doing to the planet," and "looking at the carbon in fossil fuels, the very thin atmosphere and knowing the gasses produced were going trap heat" – saw him join Greenpeace as its scientific director, a decision that cost him friends in fossil fuels industries.
"I went from one of the most conservative universities in the world to one of the then most radical environment groups," he said. "But that was how I thought I could make a contribution; help the Rainbow Warriors get a bit of science into their arguments."
He stayed for "a pretty wild" six years in the process, and wrote about his experience in The Carbon War.
It was watching what he claimed was "the malfeasance of the oil and gas and coal industries at the climate negotiations" and the work he did "lobbying industry", along with the encouragement of his contemporaries, that led to the setting up multi-award-winning Solarcentury. His involvement lasted from 1997 until its sale to Norwegian state renewables company Statkraft last year.
He said: "It sold for £4 million and I have used the money to leverage in more. Most of what I have done so far is fuelled by debt but I put all my own money in alongside that.
"It was tough to begin with because everyone thought solar was useless and it would never be as cheap as nuclear, coal, and gas are. Now it is viewed as the least expensive form of energy. So the solar industry which we were part of has played a major role in the plight that the oil and gas industry now find themselves in. We can do things cheaper than they can, despite what they said."
Now focusing on rewilding, Leggett says Scotland is "a wonderful tapestry of opportunity". But he also admits to being "a political refugee post-Brexit". An Englishman who is "not keen" on the politics of England, he sees Scotland's possible break with the rest of the UK as no threat to his plans. "I don't think it will be as radical a change as people think; there might even be some advantages," he said.
A forest of hope
To mark Cop26, the Scottish Government invited Leggett to plant a "Forest of Hope" at Beldorney Estate in Aberdeenshire.
The eco-entrepreneur said: "This was the idea of the Scottish Government's innovation zone at Glasgow. They called me and suggested I plant a legacy forest for the conference and call it the Forest of Hope. It was one of these lovely ideas where you think, 'Why didn't I come up with that?'
"Ours will be the first but I hope it won't be the only one and that others will do the same thing. To have Forests of Hope across Scotland would be an entirely desirable outcome."
Leggett isn't planning to use professional forestry firms in the exercise, preferring instead to go with "citizen" planters. He explained: "We have decided we will have ordinary citizens doing it. Corporations will send teams of executives to have a week getting their hands dirty doing some real rewilding.
"What is hugely gratifying is that once this became known in the neighbourhood, three landowners up and down the river contiguous with Beldorney sent me emails saying they wanted to do the same thing. So we are now thinking we can make it a corridor of forests; which will be beginning to get to the landscape scale we all need.
"That will start as soon as authorities allow it after the summit. But we will move as fast as we can and take our lead from Scottish Forestry as to what we can do and when we can do it. It is very exciting and we won't have any shortage of wherewithal to do this. The rangers themselves will be involved in planting. The mix of species there is to be decided. We want it to be mixed, agro forestry, mostly woodland but consistent with the policy of having people in the picture. There will be different types of agriculture going on in the woodland as it grows. A lot of expertise needs to go into that. It is ecological design. We will get the best people to make sure we get this right."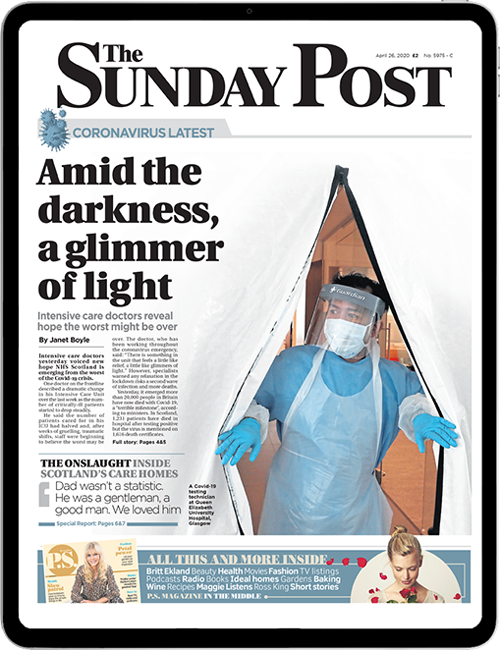 Enjoy the convenience of having The Sunday Post delivered as a digital ePaper straight to your smartphone, tablet or computer.
Subscribe for only £5.49 a month and enjoy all the benefits of the printed paper as a digital replica.
Subscribe