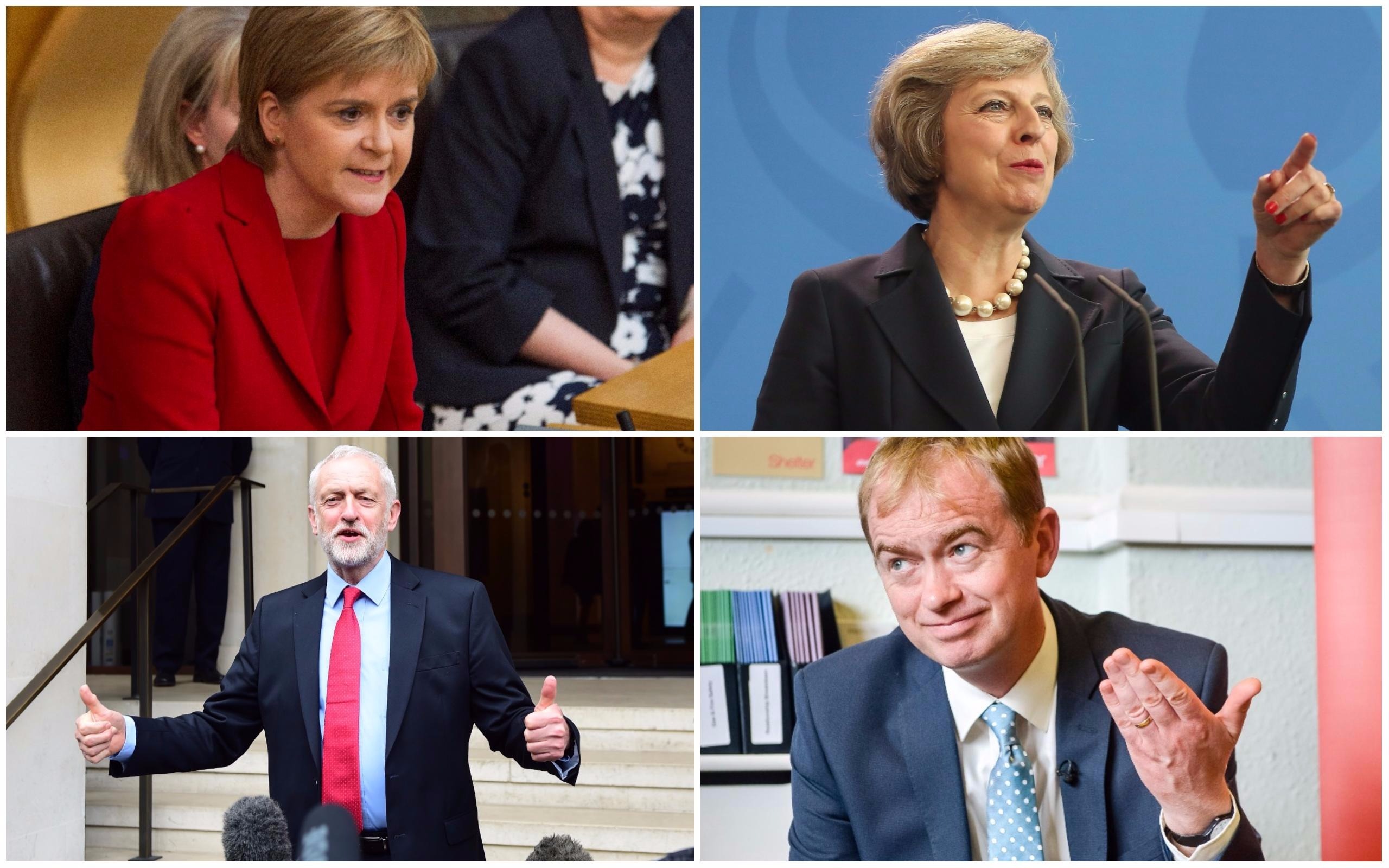 JUDI James is one of the top body language experts in the UK, with regular appearances on television and newspapers to analyse what political leaders, royalty and even Big Brother housemates are really saying.
We have asked her to turn her skills to leaders of the main parties in the General Election race – Tory, SNP, Labour and Lib Dem.
Here she explains her science – and tells us what it reveals.
She says: "In political analysis it's called the science of sensation: voters forget what a party leader said, they might even forget what they did, but they'll never forget how they made them feel when they listened to them speak.
"A leader needs to inspire his or her audience and that comes from personal charisma. Body language sends out subliminal but powerful messages that can pay a huge part in the voting process but – as Hilary Clinton found out in the US elections – getting it all right for the spin doctors can mean getting it all wrong for the guy in the street. Trump's panto gesticulation might have had his PR team tearing their hair but it was the very fact that he looked untrained and quirky that appealed to people who had once loved Obama for his charm and slick delivery.
"Our current leaders love to tell us they want to 'show us who I really am' when they turn up for debates and photo-opportunities or sit with their spouses on the sofa of The One Show but who really does the job in terms of non-verbal signalling and who might have done better to stay indoors and let the manifesto speak for itself?"
THERESA MAY
It's less about 'strong and stable' and more about 'sweet or stern' for May's body language, which can flip from anxious and faltering to strident and deadly at the flick of a switch. Giggling and blushing on the sofa with Philip she looked endearing vulnerable but set her in front of Corbyn and she can turn like a viper, leaning forward to attack with her index finger raised to the ceiling to signal absolute dominance and her vocal tone dropping an octave to emerge as a powerful bellow.
These two sides of May make her a fierce negotiator as her more charming side could let her under the radar for the warrior woman to be let loose.
Like most political leaders her Achilles heel seems to be her coaching. UK voters like quirky and they're not desperate to see the 'human' side. What they hate is artifice or being patronised which is why the constant, robot repetitions of the same soundbite will cause problems. May herself seems to agree. Before each 'Strong and stable' she puts in an 'er' or does a vocal skip that suggests it's embarrassing her too.
May's facial expressions are telling, too. Unlike Corbyn she has no poker face. Her mouth skew is her greatest 'tell' in terms of showing both dominance or embarrassment or the fact that she's been caught out in an interview.
VERDICT: The right kind of leadership body language for the current climate. Tough, charming and easily in charge. She should quit while she's ahead though and power down the soundbites and TV interviews. Her debating in Prime Minister's Questions is fine but her over-honest facial expressions might fare badly when she's grilled by the public.
NICOLA STURGEON
Nicola has the kind of battleground leadership signals that could get you fighting for her even if you're unsure of the cause. She is the only one of the four who uses unashamedly alpha signals, often standing in full splay with both hands on her hips in a gesture that relates to chest-puffing or feather-fluffing in the animal kingdom. It's a gesture of aggressive arousal that is done to intimidate but also avoid actual conflict.
Nicola's gesticulation is sparse and she has no need for regular emphatic hand gestures as her verbal tone and the timing of her delivery is so strong. She thins her lips by pulling them in to signal righteous anger and when she's at the lectern her leg splay and the way she often keeps her weight well-balanced on both feet suggest someone certain of their facts and brimming with confidence.
She was the first woman leader I ever analysed who stepped beyond the 'fashion tips' line. Her delivery was so assured and so powerful during the leadership debates that not one newspaper asked me what she was wearing or who might have styled her hair. I punched the air in delight.
VERDICT: Perfect war time leadership signals that could inspire you to fight but as a rebel without a cause the fire might appear too dramatic. She's the most congruent of the four with her words, tone and gestures all in perfect harmony.
JEREMY CORBYN
His Dumbledore approach of looking calm and kindly but also full of all the 'right' kind of values would be a magnificent selling point to a younger audience in a different climate. His body language is a world away from Trump but the effect is similar. Jeremy's apparent lack of spin and gloss and non-verbal training could be appealing in itself. Congruence is seductive in a culture of sound and sight-bites but now even Jeremy seems to be succumbing to the sheep-dip of leadership appearance and it could be his weakness as it was for the over-choreographed Miliband.
His current vibe seems to be to adopt an over-congruent pose of relaxed calm and indifference. On TV interviews he has been leaning right back in his seat, legs stretched out, smiling rather than looking concerned. A great look for good times but maybe not so reassuring if you feel the UK is in danger of sinking. His normal, more congruent pose is more alert and upright but with an uneasy smile, which means he can shift from calm to passionate/angry quite naturally.
This overdone air of relaxation suggests he is close to boil. Jeremy's best speaking and debating style is quasi-religious, delivering his values straight into the distance and not engaging in the petty squabbles on the ground.
VERDICT: He used to be a master class in anti-spin but now he's joined in the game with everyone else when it's not really his forte. Can you see him on the sofa with his wife talking about wardrobe space? Great when he gets into his stride in a debate and starts tub-thumping but will that happen?
TIM FARRON
Farron's body language makes him look like a man painfully aware that he has a babyish face. To counter-balance he uses Jurassic body language that is more suited to an elderly backbencher. His eyebrows are hugely expressive, with an over-frown when he's busy battering the other parties and an over-raise when he's out meeting real human beings in the street.
He has a habit of smiling with his chin down which can look slightly sinister and this 'leading with the head' method of engagement with the public might not be working as well as he hoped. In many ways he's counter-intuitive. His appearance has a similar boyish charm to Clegg but he's opted for the 'angry' approach which looks incongruent. His large eyes are a handicap for any politician as the eyes provide more insight to true emotion than any other body part.
His gestures can be very retro. So far I've seen Blair's infamous 'thumb of power' and 'gated hands' with a bit of Trump's 'O' gesture thrown in. All this incongruence suggests he hasn't had time to develop as his own man with his own style of charisma.
VERDICT: Keen, but tries too hard and, like Ed Miliband, he probably should just fall back on his rather quirky looks and style rather than trying to square up to other leaders or cosy up to the public. Lacks the physical ease of his predecessor. Will he adopt Clegg's "hand in the pocket" gesture in any debates?