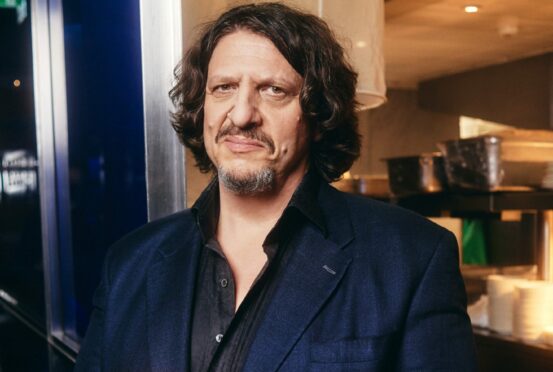 Sometimes we know, most times we don't and our last meals, like last words, have a peculiar fascination.
Despite having eaten in some of the world's most coveted restaurants, award-winning critic and MasterChef judge Jay Rayner says he is asked about his choice of a final meal most often. On his death row menu, his answer remains the same: "I might be greedy but even I would lose my appetite if the next morning I was to be the victim of an appalling miscarriage of justice. The fact is, sometimes there are more important things than dinner."
"All the candidates for last meals, it's not a happy group," he explained to The Sunday Post. "So the idea of the 'last supper' that we bandy around is obviously a fake one. We are asking something else; if nobody was looking and you could just express your appetites, what would you do?"
Those are the questions Rayner sought to answer in his book, My Last Supper, which has now been turned into a one-man live show. Now touring the country, each performance sees the writer delve into our fascination with fantasy final meals, telling the stories behind the ingredients he has finally, after being asked so often, decided would be on his own menu, including how he was introduced to oysters by his late mother, and the time he almost set fire to a hotel through his love of snails.
"I got interested in writing about food because it is about so much more than just how things taste – it's about memory," he said. "It's about where we are in locations, the people we're with, relationships, sex, politics, pleasure and value. All of those things.
"Even if you're talking to people who say, 'Well, I'm not that interested in food', when you start to drill down on their memories, ideally of a time when they felt loved, for example, they will attach it to a foodstuff. During my live shows, I ask people for their last supper, what their choices would be.
"One of the sweetest ones I ever got was a man who said he'd knock on the door of the house where his late grandmother had lived and asked if he could sit on the back step and eat a Dairylea Triangle. Now, by nobody's stretch of the imagination is a Dairylea triangle a fine and refined foodstuff, but it's a thing of significant memories. What's important is less the quality than what it means to you.
"Yes, sometimes you'll get people who – and I'm sure they mean it at the time because it's a key part of them – will name-check grand wines and the best foodstuffs and all that. It's all a bit bloodless, funnily enough.
"For me, it's the ones who go, I want my gran's Scotch broth, and I want to finish with cranachan like my mum used to make. It's that kind of thing, where you want to stop and say, 'Tell me more about that, tell me what it was about your gran's Scotch broth that was so special'."
The show, which comes to Fringe By The Sea festival in North Berwick next month, is "about as close to the theatre" as Rayner has ever come but becoming an actor or performer was never in his career plan.
"Well, when I was 14, I thought I was going to be an actor – but then I realised that a talent for remembering lines and showing off was not the same thing as actually having any talent for acting," he explained with a laugh. "It has been a roundabout route. I was a print journalist and, bit by bit, I got pulled into doing radio and then a lot of radio, then TV and then a lot of TV. By the time you get into doing television I suppose you are performing so it really wasn't much of a leap from there.
"Although I really do live in fear of boring the pants off anyone. God help me. My nightmare is staring out into an audience of people who are subtly trying to look at their watches."
As well as a long-running gig as the restaurant critic for the Observer newspaper, Rayner has appeared as a judge in BBC1's MasterChef, written four novels and three non-fiction books, and also hosts BBC Radio 4's long-running food panel show, The Kitchen Cabinet. His CV may be vast and varied but, he insists, an obsession with food, eating and drinking – and the importance each has in society – is the universal to all his work.
"It is one of those few things that is both hugely pleasurable, but absolutely vital," he said of our society's obsession with food. "The only thing that really comes close to it is sex. You can actually survive without sex – the population can't, but individuals can – but food is this weird combination of being an absolute necessity but also a pleasure.
"I was a crime reporter and covered politics, and I still do long-form features. You name it, I've done it, pretty much. So, I don't think I would be able to have carried on writing about the subject of food for 23 years if it was solely, 'the lamb was overcooked and the fish was raw'. If that's all it really was, I'd be losing the will to live.
"Writers, journalists, whatever we want to call ourselves, we are interested in the human condition, and food is a fascinating root into the human condition, isn't it? The worst kind of food writing is the food writing that has no interest in any of the social constructs around it. The ones that are only there looking at the aesthetics and the food on the plate. God save us from that – it's tedious."
Food writing, he insists, is about so much more than being "a foodie". "The reality is when someone says, 'Oh, I'm a real foodie', I don't even know what that means," he said. "I get emails from people who start with something like, 'As an exquisite gourmand like yourself…' and I think, mate, keep it to yourself! That's not me.
"People want to bang on about the turbot for the champagne sauce dotted with the caviar, and they're running around the world after multi-Michelin star meals which leaves me cold, if I'm honest. That may be a bit kind of a 'Oh, my diamond pumps are pinching' moment, but the whole kind of adoration of the superstar chef expressing their creativity through tweezered ingredients just does make me shudder."
Visiting restaurants big and small around the country still takes up much of Rayner's time but it has more similarities with his stage work than one might think – particularly, as the 55-year-old admits, restaurants are very much like theatre.
When asked whether it's difficult to get an authentic experience as a well-known critic, Rayner said: "When you go to the theatre to see a production they've already written the script, made the costumes, cast it and rehearsed. There is nothing they can do on the night to make it better than it already is. By the same token, there's almost nothing restaurants can do when I walk through the door. They already have the ingredients and the recipes, they have the tables, the chairs, the staff.
"I suppose they can try to ingratiate themselves but I'm quite long in the tooth – I've seen every attempt to flatter me there is – so, really, don't try it. Just treat me like a diner, because that's what I am. I'm the bloke at table seven who has seen a lot and is probably watching more than you think."
With many hospitality businesses still struggling post-pandemic, however, Rayner says he does try to highlight the best places to eat rather than the worst. Well, most of the time anyway. He added: "Although I've worked a little harder to find more positive places and actually not written negative reviews of the smaller joints, certainly over the years, it's amazing how many terrible places I did find.
"When I recently went to the rooftop at the Polo Lounge at the Dorchester Hotel, for example, there was nothing else they could have done because that's what that place was. They were marking up wines by a factor seven, so the cheapest one was £83. They were making a ragu, which tasted of tomato ketchup, and they'd already made it by the time I was there. So very little they can do.
"Occasionally you come across an experience that is just pure Fawlty Towers. If it is one of those grandiose places, high-spending, highly regarded and backed by some venture capital firm out of Dubai, then game on. If it's a small mom-and-pop operation I generally just don't write about it."
---
Favourite last suppers: Pizzas, curries and a good, old Sunday roast
A Sunday roast with all the trimmings was named as Britain's choice for one last meal, according to a poll.
The survey found a roast dinner edged out steak and chips and fish and chips to be top menu pick. Pizza, curry, a fry-up and a bucket of fried chicken also featured in the top-10 in the 2018 survey.
Another survey by the National Museum of Crime and Punishment in the US asked visitors what their fantasy death-row meal would be, with the top pick being "a bucket of KFC, original recipe chicken, french fries, a dozen deep-fried shrimp and a pound of strawberries", possibly influenced by them being told it was serial killer John Wayne Gacy's last meal.
The rest of the list included ice cream, steak, pizza, lobster, hamburger, sushi and crab. But some went high-end with "medium-rare sirloin steak, lobster tail, pumpkin spice latte and an eight-piece salmon avocado sushi roll." Celebrities such as Kim Kardashian are also not adverse to fast foods. "If I could have one last meal I think it would be New York pizza," she said.
Choosing my dream dinner? Well, it's a bit of a hot potato
By Alice Hinds
In the 2015 sci-fi blockbuster The Martian, Matt Damon's character, scientist Mark Watney, survives being stranded alone on Mars by eating the only thing he can grow on the red planet – potatoes.
I'm sure most people watching Watney's plight would feel sympathy for his isolation, punctuated by the same starchy breakfast, lunch and dinner. Sitting in the cinema, I felt envious. Having lived alone during the pandemic and experienced the kind of gut-wrenching loneliness that makes you start talking to your houseplants, of course I don't dream of being trapped in a bubble many miles away from home, friends and family. But getting the chance to eat chips for dinner every night, without fear of judgment? Well, sign me up for a one-way ticket to tattie town.
Whenever I've discussed ideal last suppers my thoughts have, momentarily, drifted to the barbecued aubergine I ate in the Mykonos sunshine or the gooey rhubarb crumble of my childhood, made with the tart pink sticks that grew in our garden. Then I remember the perfect taste and texture of thick, salty chip-shop chips and my mouth begins to water like a Pavlovian dog.
Growing up, my mum always worked late on Wednesdays so midweek became our much-treasured "chippy tea" night. Until she arrived home the four of us – me, my dad, brother and sister – would wait impatiently, glancing constantly at the clock until we heard the car rumble on to the driveway. She didn't need to ring the bell because one of us would rush to open the door, letting her inside with thick steaming parcels, all damp with tangy brown sauce. Only fellow Edinburgers will understand the appeal of fresh chippie sauce, which I still crave now, some 20-odd years later and having moving to the west coast.
I've come to the conclusion that my final meal on Earth, should I have the choice, would be a buffet of potatoes in every form – I could choose just chips but why limit yourself when calories are about to become meaningless? Mashed with (vegan) cream and butter, baked until golden, grated into fluffy hashbrowns, sliced into thick and thin wedges, I could go on and on about the different ways potatoes can be transformed into culinary delights.
There really is no bad way to eat potatoes and, with more than 4,000 varieties, there's a tuber for every taste. Then, of course, there is the dipping sauces, each bringing their own unique flavour profile to the fluffy white canvas.
I'm sure my siblings would choose the same meal for their last supper, too. After all, we're all a chip off the old block.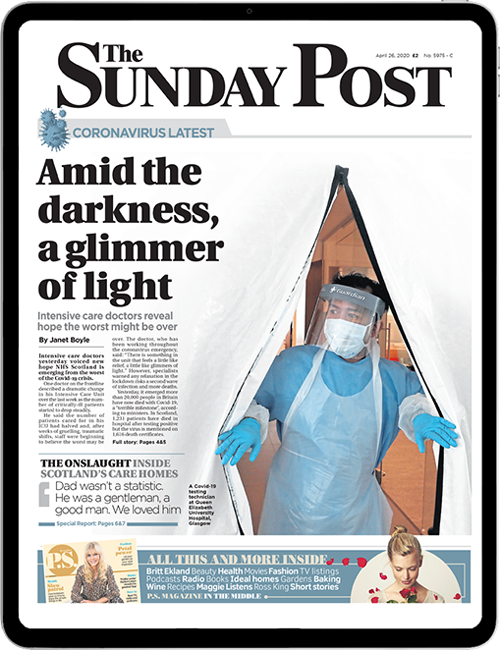 Enjoy the convenience of having The Sunday Post delivered as a digital ePaper straight to your smartphone, tablet or computer.
Subscribe for only £5.49 a month and enjoy all the benefits of the printed paper as a digital replica.
Subscribe