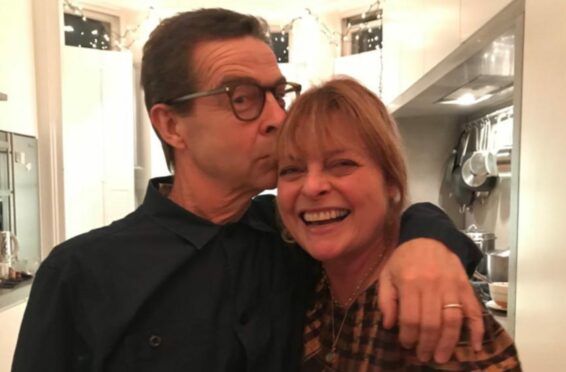 Since Janet Ellis lost her husband, John Leach, time has stood still.
Married for more than 30 years, Leach, a television producer, died in July 2020 after a four-year battle with cancer, and author and broadcaster Ellis admits her grief, although changed, is still a part of everyday life. "It feels mostly like no time at all," explained the 66-year-old broadcaster, a presenter on Blue Peter in the 1980s.
"Honestly, it could be yesterday. The clock, in a very significant way, stops and everything else just chugs on and you have to go along with it.
"Everybody who has lost a partner will understand. Every single person – and I have been in touch, since he died, with a whole new group of people in the same position – shares the same feelings about it. Not one person says, 'I've kind of got used to it now'. It's vivid for us.
"Your grief stays exactly the same shape, your loss stays the same shape but you have to go around it because otherwise you would not be embracing the life they left. After all, it is for me to live for him.
"I'm never going to not talk about him. I'm never going to not grieve for him. I'm never going to feel the world is not the same without him. But I do have to live without him."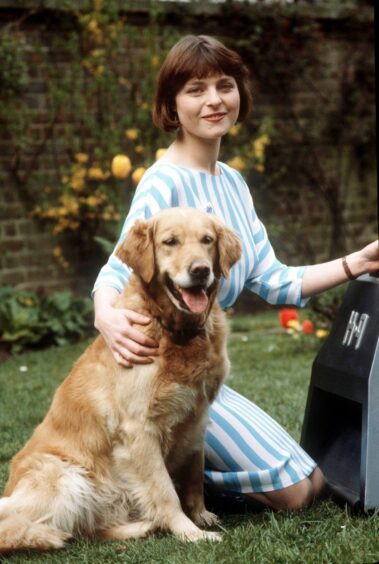 Initially diagnosed with cancer of the tonsils in 2016 after suffering from a persistent sore throat, Leach underwent surgery and radiotherapy but discovered the following year that he had secondary cancer in the lungs. Throughout his treatment and recovery the couple were determined to remain positive, making the most of the time they had left together.
Ellis continued: "Everybody around you is optimistic. Nobody until the very end says, actually, you know, there's no more we can do. With John, it was literally two days before he died that they decided to withdraw some of the treatments he was having. So, you know, right up until the end, it's not as though we were all kidding ourselves.
"We knew that he would not make old age, it was highly unlikely. We always hope that somebody will beat the statistics but it wasn't going to be very likely. However, we had always prioritised each other, there was no unfinished business. We had an easy, close, happy, funny relationship. In hindsight, of course, some of the things that you went through, you think, 'Oh gosh, it must be so hard'. But we lived in the present and I think that's how I'm going to do it now."
She added: "If somebody you love dies, your relationship stays the same. I'm still in love with John. I'm still married to him. I'm still his wife. It's just that he's not actually here."
Having also lost both her mother and her best friend to cancer, Ellis has been a long-time supporter of Maggie's and now represents the charity as an ambassador. The results of the charity's survey conducted as part of the You Care, We Care campaign, which found nine out of 10 of people looking after someone with cancer feel angry, come as no surprise to Ellis, particularly as it can be so overwhelming to be thrust into an unknown world of hospitals, surgeries, treatments and waiting.
"Most people would say that 'carer' sounds like a label you don't particularly want to wear," explained the novelist, who is mum to singer Sophie Ellis-Bextor, whom she had with her first husband, Robin, as well as Jackson and Martha from her marriage to Leach.
"That's for two reasons, really. First of all, that it redefines you, and you might not necessarily be a natural in that post. Secondly, by definition, it means that you are looking after someone who is struggling. Both of those things are awful and difficult.
"Some people aren't particularly good patients either. I mean, my husband didn't want care, he would have hated the thought of me caring for him. But of course, that's what I was doing and he needed it."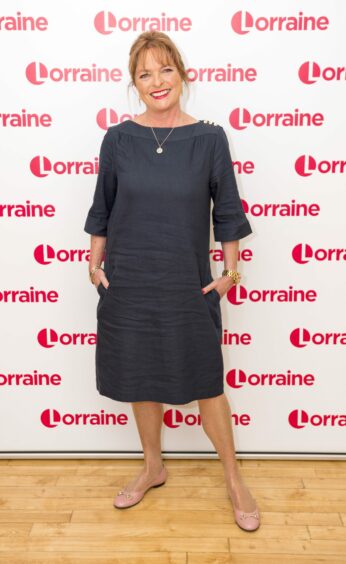 For those struggling with anger, frustration, fear and any number of the other emotions that come from a cancer diagnosis, Ellis says Maggie's can provide support for the whole family.
She continued: "Cancer and all the things that go with it is not a one size fits all. Everybody reacts differently to the treatment. Everybody has a different outcome. And even though, statistically, you can lump everyone together, Maggie's is very key about making it an individual journey for everyone involved.
"We need to make sure that people who are – there's no other words to use – caring for someone feel that they are still themselves in this. It's the same for the person with the diagnosis. Yes, you have cancer, but you are also all the things you were before. All the things you were the day before the diagnosis are still you.
"I think that's really important because cancer only redefines you in a certain way, it doesn't redefine everything about your personality."
'When we found out, it was hard to find the right words, to know what to say'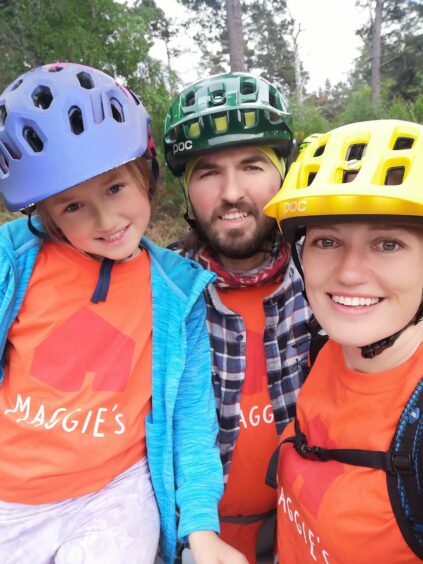 When Laura Znatnaja's husband, Mik, was diagnosed with a brain tumour three years ago, it came as a shock for the whole family but not least their daughter, Keita, who was only five at the time.
Mik, 35, an ultra-fit marathon runner, who also loves cycling and other outdoor sports, was diagnosed in November 2018 and Laura admits it was difficult to explain to Keita the changes that were about to happen to her daddy.
She explained: "When we found out, we really didn't know how to speak to her. We really didn't know how to explain that daddy was going to go through this very big, life-changing operation and treatment. You trying to find the right words but it's not always easy."
One of the hardest parts, Laura admits, was when Mik started having seizures, which left Keita frightened to be left alone with her dad. Laura continued: "When my husband started having seizures, that was quite scary for our daughter – all of a sudden, she was scared to be left home alone with dad. That was heartbreaking for me to see because from the day she was born they were so, so close.
"I wanted to go for a run or a cycle for some time alone but Keita was so scared we just ended up spending 24/7 together. It is quite overwhelming at times."
The family, who stay in Aviemore, began visiting their nearest Maggie's centre where Keita joined the children's art therapy group and soon started opening up about her worries and fears.
"When I had a chat with my daughter after the sessions, she said, 'Mummy, I finally don't feel alone'," explained Laura, who is originally from Latvia and has now lived in Scotland for 10 years. "She could talk to other children whose mums, dads and grandparents had cancer and all of a sudden she was asking all these questions. I realised that she was finally not scared to talk."
What's more, Laura, who works part-time and cares for Mik, was able to access much-needed support for herself, too.
She said: "We have amazing support network of family and friends but no matter how helpful people are it is very different when you speak to a professional who really understands, can give advice and just really listens.
"During the pandemic I had to be Mik's carer. I had to be mum. I had to be a teacher for our daughter for home-schooling. I had to be a chef in the kitchen. I had to be all in one person.
"For many months, everything had been around my partner's diagnosis. It was obviously a very big and serious diagnosis but I didn't realise how much I was struggling, too.
"A friend suggested that I get in touch with Maggie's and it was only once I got there that I realised I needed this support. I thought, 'I need this and my family needs this too'."
Charity's survey reveals how many carers can struggle with a storm of complex emotions
Nine in 10 people caring for someone with cancer experience feelings of anger at their situation, according to research from cancer support charity Maggie's.
The survey of adult carers found complex emotions attached to providing care for loved ones after diagnosis, with 71% also admitting they feel guilty for being angry, and the same figure saying they don't know how to cope with their feelings.
With more than 80% of respondents also agreeing there isn't enough support to help carers deal with the range of emotions that comes from the many demands of caring duties, Maggie's has launched a campaign to highlight the pressures and psychological impact felt by those closest to people living with cancer.
"A cancer diagnosis sends a ripple through the whole family," said Dame Laura Lee, chief executive of Maggie's, which opened its first centre in Edinburgh in 1996.
"But with so much focus on the person with the diagnosis the needs of close family and friends can be forgotten. Yet they can need just as much support as the person diagnosed."
The charity say many people looking after someone with cancer don't identify as a carer, and it hopes the You Care, We Care campaign will encourage more Scots to make use of the free psychological support available at the 24 Maggie's centres around the country, including eight in Scotland.
Lee added: "I hear many people say things like, 'I'm not a carer, he's my husband' or 'I don't think of myself as a carer, we are just in this together'. Many people don't need or want a label, but that doesn't mean we can't support them."
As the cost-of-living crisis continues to impact households, the charity says it's never been more important for carers and patients to have access to support, guidance and advice.
"Money worries have never been a bigger issue for both people living with cancer as well as their family and friends thanks to the soaring cost of living and, in particular, rising energy bills," explained Lee.
"People are worrying about the bills rather than focusing on what they need to do to keep themselves warm, well fed and in best shape possible for treatment and recovery. We know this can cause extra anxiety, fear and stress at an already charged emotional time, but we can help both with money worries and with emotional and psychological stress.
"I would urge anyone worried to visit their nearest Maggie's centre."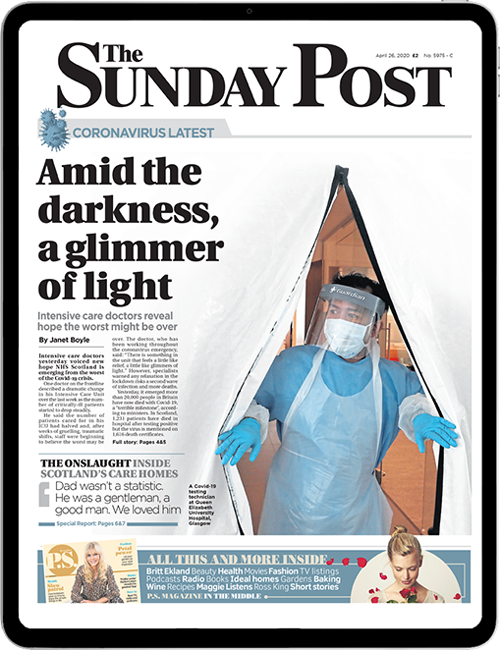 Enjoy the convenience of having The Sunday Post delivered as a digital ePaper straight to your smartphone, tablet or computer.
Subscribe for only £5.49 a month and enjoy all the benefits of the printed paper as a digital replica.
Subscribe