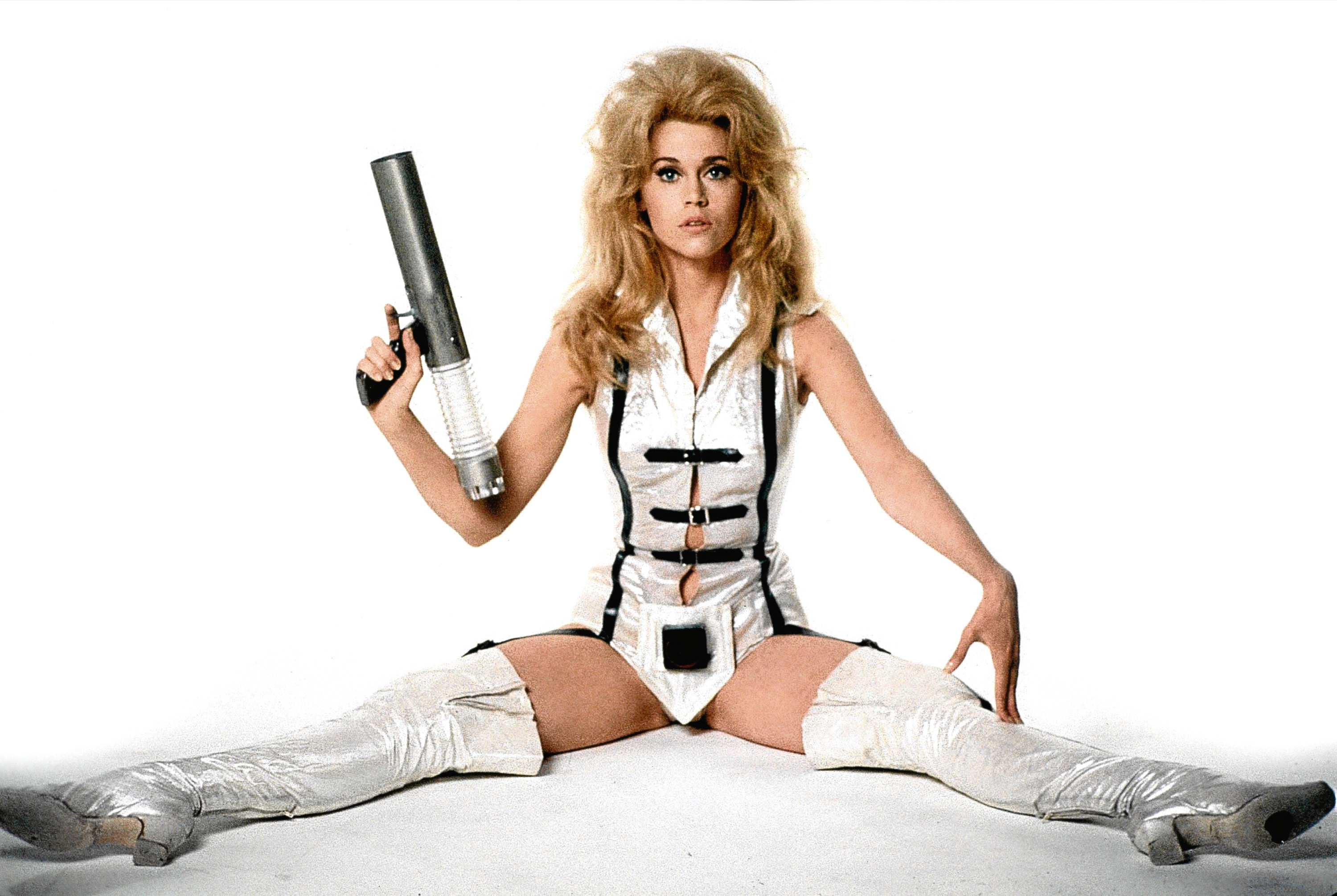 BARBARELLA is almost 80 and as feisty as ever — at least the lady who brought this iconic movie character to life almost 50 years ago is certainly full of life and still kicking.
Yes, Jane Fonda turns 80 on December 21 and not only looks great, but is still enjoying life in the fast lane.
"What is 80? Just four times 20, so you have a load more experience, but can still have fun," said Jane.
"Age has never meant anything to me.
"I'm quite happy to spend time with most people, they do not have to have an age bracket and also I do not see why age has to stop you from doing whatever you want — and I mean whatever.
"When I was young, I never thought I was going to make it past 30!
"Yes, I went through the kind of bad patch most people suffer at some stage and I really thought I was going to die of alcoholism or sheer loneliness.
"I had people around me, but I felt lonely and that can do terrible things to your mind.
"But, hey, I was wrong, I am still here and I feel very alive.
"So I like to tell people that when life is giving you a hard time, don't give up.
"You have to try hard to make the best of who you are and what is going on. You can do it, I have."
She certainly has, including careers as a model, actress, fitness instructor and political and social activist.
We know her best for her many great film roles, but even acting was not an early ambition for her.
"My dad was an actor, of course," she said.
"I was, and still am, very proud of my dad and I wish I had had more meaningful conversations with him when he was alive."
Jane's mother, Frances, committed suicide during an illness when Jane was 12 and dad Henry married again.
"It taught me that life can change in a moment," she said. "I don't think we were especially close, but maybe that would have come later.
"As it was, I had to get on with things. I did not enjoy school very much and could not wait for it to be over.
"A door opened for me to do some modelling, so that is where my life turned at that time."
In fact, Jane was a successful young model and found herself smiling at people from a number of glossy magazines, including Vogue.
"It was good, fun, but only had one layer," she recalled.
"I knew I needed more, and I think it was when I appeared with my dad in a charity show called The Country Girl at the Omaha Playhouse around 1954 that I began to see a different side of acting.
"Perhaps I wasn't then ready because I also loved art and went to Paris to study for a couple of years.
"I returned to the States, and by then, it was 1958 and I began to think more and more about acting. I met a gentleman named Lee Strasberg at the Actors Studio.
"He was an actor, a director and a brilliant teacher. He boosted my confidence by saying that I had talent.
"My dad had told me that, too, but when you hear it from someone else, it gives you that extra buzz.
"Suddenly, it was totally on my mind, and the most- important thing. I went on stage first of all and that was a great launching pad for doing films because you have to be able to totally act for a complete performance, hold your audience and follow directions, of course.
"I loved it. I was an actress. My life had totally changed."
The films began in 1960 with Tall Story co-starring Anthony Perkins, and gradually they became bigger, with Walk On the Wild Side, which earned her a Golden Globe, Cat Ballou with Lee Marvin, Barefoot In The Park with Robert Redford and then, of course, Barbarella, which probably saw her rise from stardom to superstardom.
"They were exciting times and I liked the fact that they were different. They Shoot Horses Don't They? Was another different kind of story and suddenly I was getting offered all knds of movies.
"I turned a lot down. Some went on to become classics, but I have no regrets. They were great movies, but not for me at that time."
The China Syndrome brought us closer to the real Jane.
By the time it was screened, in 1979, Jane had already won an Oscar for Klute, and The China Syndrome brought her more awards, but also the chance to bring to screen something close to her heart.
"I worry about the environment and people, and silence doesn't cure anything," she said. "I guess that is why I have a reputation for saying my piece. I believe in the rights of women, I don't believe it's OK for people to go to sleep hungry or to be living rough.
"I don't believe in wars or risking the environment just to make money. I talk about them and draw attention to the things that are simply wrong."
Yes, she is still feisty.
She is still fit, too.
Jane retired from acting some years ago, but could not resist coming back.
"I've always liked to keep fit," she said. "For quite a time, I attended ballet classes, but when I got a foot injury, I turned to aerobics and I got so into it that I tried to help others with fitness videos."
Those videos have sold in their millions and looking at Jane today, her fitness regime has certainly helped her keep young despite her setbacks.
"I've smoked pot, drunk more than I should and I had a knee replacement, but I am still here, looking to the future," she said.
Since her retirement, Jane has been back on Broadway, back making films, starring in TV shows and very active in her campaigns for various rights. Will she ever stop?
"Probably my favourite movie was On Golden Pond, in which I worked alongside my dad," she said.
"He was still coaching me then and I try to help coach others —although, having been out of the business for more than a decade, I still feel like a newbie myself.
"As long as there are nice people to work with and as long as there are wrongs to be put right, I will be there. Anyway, how could I think of retiring? I am much too young for that. I am only nearly 80 — that's not old, is it?"