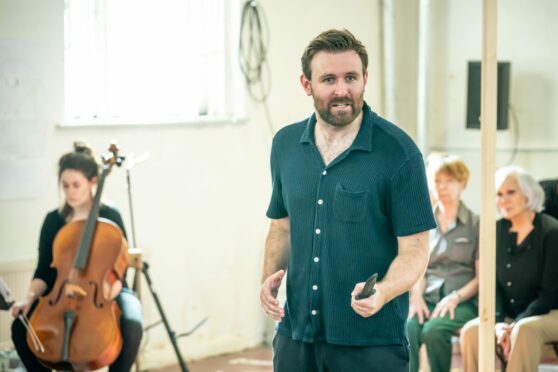 Every night James McArdle comes off stage at London's Almeida Theatre, he wonders which bruises are make-up and which are real.
The Glasgow-born actor is revelling in tangling with the tough role of Macbeth at one of London's best-known theatres as Shakespeare's ruthless but undone nobleman continues to fascinate modern audiences.
He is starring alongside four-time Oscar nominee Saoirse Ronan in The Tragedy of Macbeth – an intense, intimate version of Shakespeare's classic at the Almeida.
The dark tale of ambition, betrayal and madness has become one of the Bard's most-performed plays and inspired countless adaptations, from Bollywood to The Simpsons, and an already critically-acclaimed movie version starring Denzel Washington and Frances McDormand will be released later this year.
And, while McArdle understands the legacy, he remains determined to shape the role his own way.
"These roles are sort of gladiatorial, you have to wrestle them to the ground," he said. "I love it, but there's a lot of pressure when you're taking on something iconic like that.
"There are so many different interpretations and expectations of it. If you let it go and put your signature on it, I think that's all you can do as an actor. Do it the way you've had it in your head."
McArdle, 32, admits the role wasn't really on his radar this early in his career, but after speaking to the theatre's artistic director Rupert Goold, a vision started to unfold.
"I didn't want it to be a horror show, Halloween-y or thriller-esque the way it normally is," he explained. "I wanted it to feel like a tragedy. It's got a Greek quality to it that can sometimes be lost in a more gratuitous bloodbath."
The Olivier Award-nominee knew that the chemistry he already had with Ronan, who is making her UK stage debut, would be perfect to play a couple who truly believed nothing would come between them.
It's the third time McArdle has worked alongside the Irish star, having also appeared together in Mary Queen of Scots and Ammonite.
"It's not always the case that you meet someone that you feel an instant connection with, acting wise," he said.
"She's such a phenomenal actress. I was dying to see her in the role. When she was in Scotland I met up with her to ask her to be Lady Macbeth and it was quite like a marriage proposal!
"It was really important to me that the heart of the tragedy is a couple that become unmoored not only from the community but from each other.
"People think Romeo and Juliet are one of the great couples but they're a bit silly, the Macbeths are one of the most functional marriages, until they're not.
"They're not just star-crossed lovers, these are people who have worked at their relationship and believe that nothing can come between them. Then events obviously do.
"He calls her his 'partner of greatness' – as a friend, lover, political ally, there's a deep companionship as well as lust for each other."
In contrast to the Joel Coen film version coming later this year, the London play, directed by Yaël Farber, pitches the Macbeths as a young couple.
"Usually it's last chance saloon for the couple, now or never," McArdle said. "Whereas as a younger couple it's the idea of instant success, or success without the work being put in.
"If they played the long game they'd've been king and queen in their fifties, they were popular. But there was a need for instant gratification or appearance of success without the graft."
Ronan, 27, has compared the Macbeths to Kim Kardashian and Kanye West in the way that their highs and lows are played out for all to see.
"It's a useful comparison," McArdle said. "When that breakdown comes and it's public, it's painful.
"It's a tragic sign of our times that voyeuristic pleasure in watching people breakdown which I think is part of our culture now."
Also of relevance to the modern era, McArdle believes, is the way the play shows how easily tyrants can rise to power.
But it's a more timeless and universal reason that really interests him.
"There's a theme of ambition there which I think is always relevant," he said. "Also, if anyone's ever regretted anything they've done and let it eat them up inside, which I'm sure most people have, this is a play that I think most people will recognise.
"It's wanting to undo what you've done. Macbeth regrets his decision instantly as soon as he stabs Duncan. He knows 'I'll sleep no more' and then there's the descent into madness."
The role, which McArdle was preparing for long before the pandemic, is the latest in what's been a busy couple of years for the actor.
He recently played the sinister Deacon Mark Burton in hit drama Mare of Easttown, alongside Kate Winslet, but admits he's probably among the last people to have watched it.
"I was in the middle of filming so I didn't really get the chance to see it when it was on," he said. "I felt out of the loop. Kate and I did Ammolite together and I felt like I saw her more than anyone else over the past two years.
"I felt like I was the only person who hadn't seen it, apart from my parents, my mum kept saying 'James, everyone's talking about this 'Handmaids of Eastwick' you're in!"
McArdle is a patron of the PACE group in Paisley, and is the latest Macbeth to have emerged from it.
Fellow alumni James McAvoy and Mark Rowley have also played the role, and other stars to have started out at the community theatre project include Richard Madden, Shauna MacDonald and Paolo Nutini.
"It's an amazing place, I'm so glad to be able to give back to it," he said. "It honestly gave me everything, without sounding too dramatic, it really did.
"They're looking for funds to create a new theatre in the community. It's such a powerful and positive force.
"It's not just for people who want to become actors, it gives confidence. Back in the 90s, when it wasn't a buzzword, I'd never felt something so inclusive than at PACE. I remember thinking it was so radical in its welcoming of everyone.
"It's great for getting people offline and interacting, that sense of community is what we need to take on the division. It's amazing how quickly that can dissipate when you're actually with each other."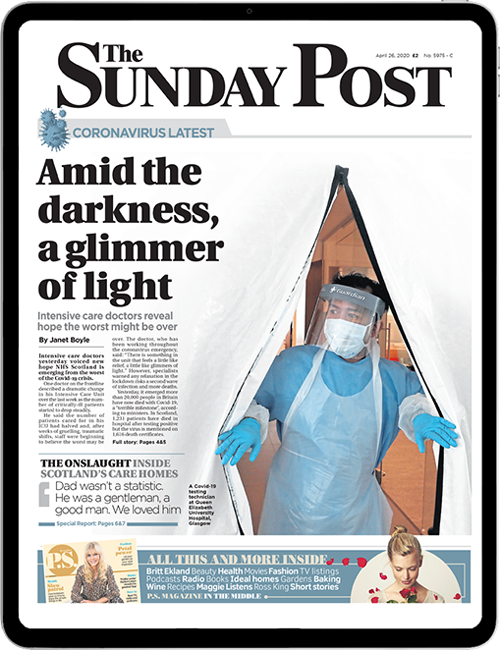 Enjoy the convenience of having The Sunday Post delivered as a digital ePaper straight to your smartphone, tablet or computer.
Subscribe for only £5.49 a month and enjoy all the benefits of the printed paper as a digital replica.
Subscribe