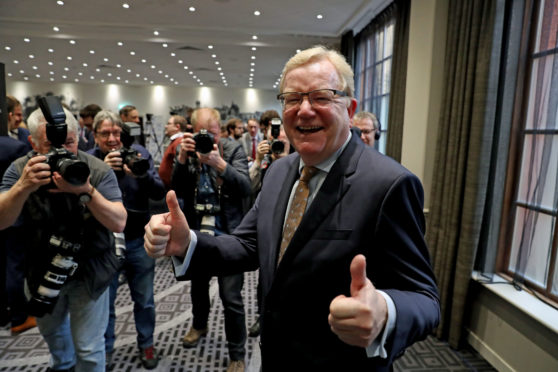 Jackson Carlaw has been elected as leader of the Scottish Conservatives.
The Eastwood MSP, who had been leading the party on an interim basis, won 75.7% of the votes against fellow candidate Michelle Ballantyne.
Jackson Carlaw has been elected as leader of the Scottish Conservative & Unionist Party. pic.twitter.com/E4iVHDj60i

— Scottish Conservatives (@ScotTories) February 14, 2020
The result of the leadership election was confirmed at a meeting in Edinburgh this morning.
Mr Carlaw took on the role of interim leader after Ruth Davidson stood down last year, and led the party through the general election campaign.
He was a firm favourite to win the race to take on the role permanently, and eventually received the backing of 4917 party members, easily beating Ms Ballantyne's tally of 1581.
He tweeted: "Thank you to members who have elected me leader of the Scottish Conservative and Unionist Party with over 75% of the vote.
"I'm ready to hit the ground running and win in 2021."
Congratulations to @Jackson_Carlaw on being elected leader of the @ScotTories

Thank you so much to all those who voted for me and a heartfelt thank you to my #BackingBallantyne team

Now our party must come together to show the real alternative to the SNP and beat them in 2021 pic.twitter.com/r0kpezB0dj

— Michelle Ballantyne (@MBallantyneMSP) February 14, 2020
Mr Carlaw's success in the leadership contest comes despite the Scottish Conservatives losing more than half their MPs north of the border in December's election.
Ms Davidson quit as party leader last August – citing her conflict over Brexit and changes to her personal life after becoming a mother – but the contest to find her successor was delayed because of the election.
Congratulations to @Jackson_Carlaw on his election as leader of @ScotTories. The best job in Scottish politics! https://t.co/IElsBL5LQJ

— Ruth Davidson (@RuthDavidsonMSP) February 14, 2020
Ms Davidson congratulated Mr Carlaw on being elected to "what I have always considered to be the best job in Scottish politics".
She said: "His time as both deputy leader and interim leader mean he is by far the most experienced person ever to have undertaken this role and I know he will have the whole party behind him as he leads us into next year's Holyrood elections.
"Jackson is his own man and has firm ideas on how the party needs to change in order to build on recent successes. This is as it should be. Any party which refuses to adapt and change will very quickly be left behind.
"Jackson will have my absolute and unwavering support in the decisions he takes in order to get us fighting fit for next May."
Ms Davidson also expressed her best wishes to Ms Ballantyne, adding: "I would also like to congratulate Michelle Ballantyne on running a thoroughly impressive campaign, conducted in the right manner.
"We have strength and depth in our Holyrood team and all MSPs are keen to get cracking to take our positive message to the people of Scotland ahead of next year's election."