We are seeing hospitals in Scotland moving to Code Black status, where they are at full capacity, due to a combination of factors.
Much of the activity is not actually Covid-related, in that we are seeing patients who perhaps stayed away from the NHS coming forward now with medical issues. A lot of this acute work is higher than we would expect for this time of year.
Hospitals are also very busy trying to work hard to reduce the backlog of elective care, both medical and surgical, which has built up and this is also a big component.
Then, added to all of this, there are certain areas, such as Tayside, Grampian and Highland, who are suffering significant staff shortages, probably related to the fact that these are among the areas where Covid cases are highest in the communities.
The absences are often staff who themselves are not ill with Covid, in particular if they have been double vaccinated, but who have been in contact with a case and, like everyone else, have to isolate.
It's this combination of acute work, both Covid and non-Covid related, the backlog, and staff shortages which, I believe, is the straw which is breaking the camel's back.
We are seeing the same pressures, perhaps not to quite such an extent, across Scotland and in other parts of the UK.
It is important that we look at everything else that we can do to reduce pressure on the system. This may mean, on a day-to-day basis, having to pause other activity, but we absolutely do not want to go back to a position where, in a wholesale fashion, we are having to cancel elective activity and operations.
I believe it is also not unreasonable to consider looking at a more proportionate policy, being mooted by the Scottish Government, for double-vaccinated health and social care staff. If they have a lab test which is negative, they could then potentially have daily lateral flow tests to continue to monitor them at work.
However, I would want to see clear evidence that this would be an effective strategy and one that is safe for both patients and staff. I believe there is merit in exploring this possible change of policy but, like all of these issues, there is no easy decision and it is a matter of balancing risks and benefits.
The reservoir of infection is high at the moment and it is wonderful that the vaccination programme has, without doubt, significantly reduced the link between Covid infection and serious illness.
However, if you have enough Covid circulating within your communities then, sadly, some younger people will become ill and will need to go into hospital, and some will require intensive care.
This is why it is so important that we respect the current restrictions we have on mask wearing and social distancing.
It is also incredibly important that we get the 20 to 40-year-old age group double vaccinated. While it may not impact on our hospitals over the next couple of weeks, it will do so over the next few months and that is what will hopefully help us all to return to a more normal lifestyle.
We must remain cautious.
The idea that July 19 is freedom day is just not the case. We must continue to care for ourselves and the people in our communities in the way that we have done so well during this pandemic.
---
Professor Jackie Taylor is president of the Royal College of Physicians and Surgeons of Glasgow.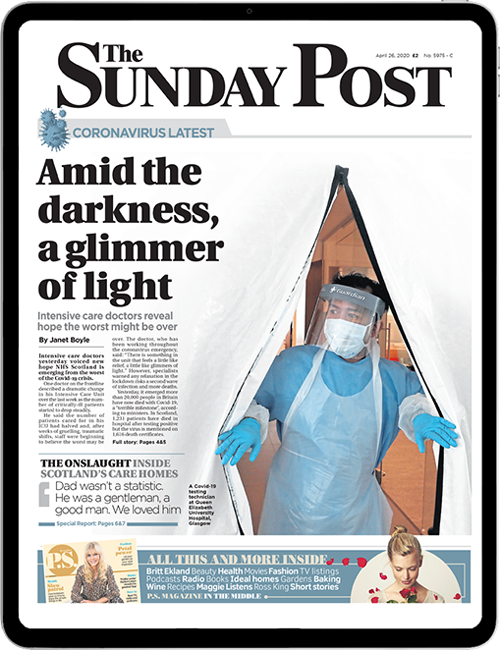 Enjoy the convenience of having The Sunday Post delivered as a digital ePaper straight to your smartphone, tablet or computer.
Subscribe for only £5.49 a month and enjoy all the benefits of the printed paper as a digital replica.
Subscribe