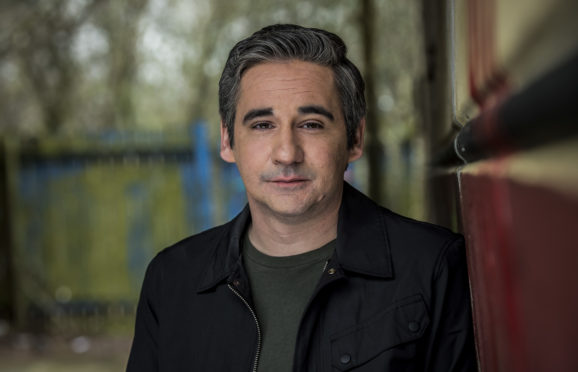 He's marking a 25-year milestone in a career that's seen him work with global giants from Tom Hanks to Billy Connolly.
But Iain Robertson says starring in River City is the number one job of his long and varied career. And coming back to his home city of Glasgow was just the tonic for quitting – and then staying off – the booze that was blighting his life.
Iain joined the BBC Scotland soap, which is set to be a cornerstone of the new BBC Scotland channel that launches tonight, back in 2016.
"I was back home looking more at directing and when the River City opportunity came up I thought it might fit in quite well," said Iain, 37, fittingly as he took a lunch break from filming the goings-on in Shieldinch at the Dumbarton studios.
"But the reality is that it's the best job I've ever had. I adore this job. I walked in on the first day and realised I'd known most of the cast and many of the crew on other jobs I've done in the past 25 years."
Iain rhymes off knowing Stephen Purdon since he was about 11, Sally Howitt since he was 14 in Rab C Nesbitt and touring in The Slab Boys with Una McLean, who plays his granny.
And, just like Shieldinch, there's a sense of community.
"There's a real family environment where people take care of each other," explains Iain, who made his breakthrough in acclaimed film Small Faces alongside Joe McFadden, Laura Fraser and Kevin McKidd.
"Everyone just comes in and gets the job done. We genuinely enjoy each other's company and there are no egos."
Returning from London, where he'd spent years on and off, was also important in restoring Iain's equilibrium and happiness.
"I came back to do a play, Taking Over The Asylum, and I remember thinking then that I just couldn't go back to London. Walking around Glasgow and bumping into people I knew reminded me of the community I get to enjoy here."
And having drank too much over the years, it was the ideal time to start afresh and clear his head by stopping drinking.
"I got sober coming home," says Iain frankly. "People in London were asking how I was going to do that with the huge drinking culture in Scotland.
"But without the community and support I have here I probably couldn't have turned my life around and maintained it. Some people, when they're sore, self-medicate. In some cases it might be a positive thing, but I chose something that was just taking away hurts in a not-so-positive fashion. So it had to stop."
Iain admits he's gotten attached to his character Stevie, keen to see what's going to happen with each new script. And downright desperate to know the latest trials and tribulations by the time he's nearing the end of each three-month break from filming.
There was plenty for him to get his teeth into in this week's episode, shown first on the new channel tomorrow, then repeated on BBC1 Scotland on Tuesday.
It's the day of Stevie's sentencing and, despite his best efforts to act calm, he breaks down in front of Scarlett, admitting he's terrified about going back to prison. Worse still, he knows the sentencing judge is unlikely to be lenient.
Later, Poppy and Stevie exchange insults until passion takes hold of them again. Realising how desperate Stevie is, Poppy reluctantly agrees to help, offering to represent him in court but Stevie soon discovers there's more to her change of heart than meets the eye.
While he's happily settled with his River City work, there are plenty of fine moments for Iain, who turns 38 in May, to look back on since Small Faces when he was just 13.
There was Steven Spielberg's war epic Band of Brothers, with Tom Hanks on directing duties.
Hanks, he says, lived up to his reputation as one of the entertainment world's nice guys. But when it comes to rubbing shoulders with icons, Iain says you just can't beat working with Billy Connolly, which he did as a teenager in The Debt Collector.
"They always say you should never meet your heroes and I think that's true…unless your hero is Billy Connolly," says Iain.
"The most amazing thing is that he's exactly how you'd imagine him.
"You sometimes hear that the person behind the mask is hugely different to the comic that's bringing you all that joy.
"But he was the Billy Connolly I'd seen on television and listened to on records and cassette tapes when I was growing up. He was everything and then some that I thought he would be. He's a man with a great big kind heart and the summer I got to spend with him was one of the greatest of my life."
Iain smiles as he says the relationship developed nicely in spite of his youthful self-confidence.
"I was 17 and maybe overly-cocksure would be one way to describe me. Or as my mother would say, a bit full of myself."
Films like Basic Instinct 2 with Sharon Stone and TV series like supernatural thriller Sea Of Souls and Holby City, alongside pal McFadden, are just a few of the other credits on his lengthy acting CV. It's so extensive Iain admits it took filling in an American visa form recently to jog his memory.
"It was weird to look back. I actually had to Google myself – which I do not recommend.
"I did Gunpowder, Treason & Plot with Michael Fassbender (X-Men: First Class, Prometheus). Somebody asked me what he was like and I said I'd no idea as I'd never worked with him, only to be reminded I definitely had."
With so much behind him, the fresh challenge of directing and more drama for Stevie in River City, Iain says he's taking the future very much as it comes.
"I have aspirations, but I think ambition is always associated with cold ambition," he adds.
"One of the things looking back over 25 years is how little control you have and how you just get offered what is out there.
"So instead of being coldly ambitious I just get really excited about what the next chapter might be. It's a bit like River City, just waiting to see what the next script brings."
River City, BBC Scotland, Monday, 10pm, and BBC1 Scotland, Tuesday, 8pm.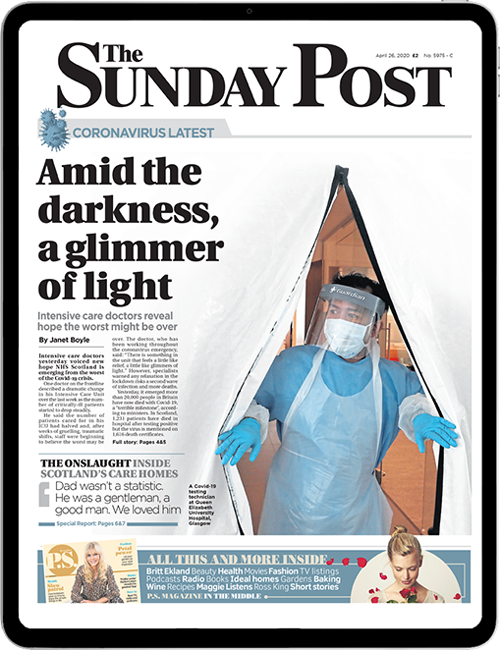 Enjoy the convenience of having The Sunday Post delivered as a digital ePaper straight to your smartphone, tablet or computer.
Subscribe for only £5.49 a month and enjoy all the benefits of the printed paper as a digital replica.
Subscribe