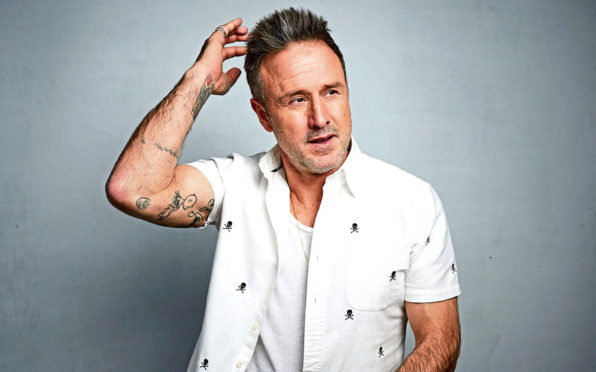 The 49-year-old actor chats about becoming a wrestler, serious injuries, lost friends, family legacy, and the new Scream movie.
Your grandfather, father and four sisters have all been in showbusiness. Did you always know you would become an actor?
By the time I was a teenager, I was running around town being a troublemaker and it was the last thing on my mind, even though my sisters had all started on their careers. I thought, 'forget that', but then some girls at high school said they were putting on a play and couldn't find the lead actor, so I tried out and the drama teacher really inspired me. I took part in an anonymous competition and I came second, so it proved to me I did have talent outwith the family name, and gave me confidence to pursue this.
Your new documentary, You Cannot Kill David Arquette, follows you training to become a professional wrestler. What made you want to get in the ring?
In 2000, when I was promoting a wrestling film called Ready to Rumble, I was made the champion in (former wrestling organisation) WCW as a promotional tool. The fans really hated it, so I wanted to come back, train properly and rewrite the end of the story, because I love wrestling.
Did you hurt yourself?
There's no real easy way to learn pro wrestling – part of the process is to toughen the body up for the impact, stress and trauma it will receive so you don't break something or throw your back out every time you get in the ring.
Didn't you almost cut your jugular?
I agreed to take part in a death match (where weapons are used), which is really a separate entity and a lot of people in traditional wrestling frown upon it. Wrestling is predetermined and choreographed, but I went off script and it caused my neck to be cut. I thought I had cut my jugular and I was terrified – I knew if I had, I would only have a couple of minutes before I bled out.
My dear friend, Luke Perry, was there, as his son is a wrestler and was also wrestling that night. He told me I wasn't bleeding out, so I finished the match. My neck had to be operated on – my neck muscle saved me, because I missed my jugular by a millimetre. When I walked into the match, the fans legitimately hated me, and when I walked out they were cheering, so that's the dream scenario for a wrestler, to win an audience over in the space of a match.
You dedicate the film to Luke Perry, who died from a stroke before the film was completed. Were you close?
He was renting a room at my mother's house when he was cast in Beverly Hills 90210. Even though he was on a rocket ship to stardom, he would always come and fix things around the house, because he was really handy. He was a wonderful guy. I'm grateful to wrestling for reconnecting me with Luke before he passed. The fact I got to spend that time with him is something I cherish.
What did you learn from your wrestling experience?
I've learned not to be so hard on myself. I tend to beat myself up over things, and in the acting business, which is one of constant rejection, it's easy to feed the voice in your head that says you're not this or that, so it taught me self-confidence. I've also learned to live in the moment more often.
Do you feel you gained the respect of the wrestling community?
I feel I'm one of the boys now – I have nothing but respect for the business and what the wrestlers put themselves through. It's such a dangerous, intense sport – every time you step in the ring you can die or be paralysed.
Your best known role is Dewey in the Scream movies. How does it feel to be making the fifth in the series?
Incredible. The fact it's been 25 years since the first one, and to have the opportunity to work with Neve Campbell and (ex-wife) Courteney (Cox) again, and to have a 16-year-old daughter as a result of this whole experience, is really powerful, moving and profound. But there was also a sadness because Wes (Craven, the original director) is no longer with us. But I felt him on the set, his energy, and I feel he was with us.
---
You Cannot Kill David Arquette is available to buy on digital download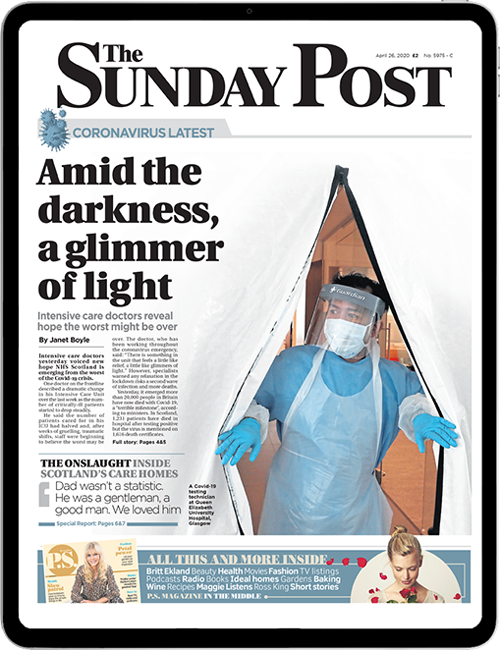 Enjoy the convenience of having The Sunday Post delivered as a digital ePaper straight to your smartphone, tablet or computer.
Subscribe for only £5.49 a month and enjoy all the benefits of the printed paper as a digital replica.
Subscribe