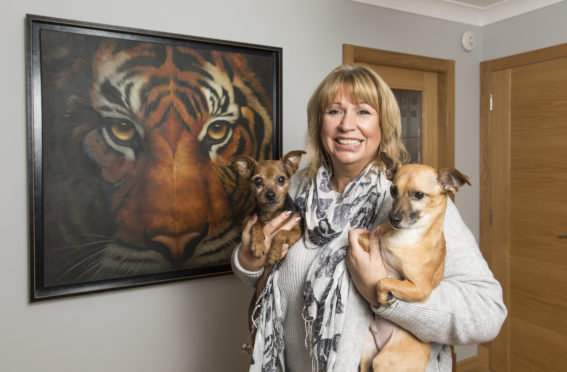 Just before he died, Libby Elliott's dad told her to go out and really live her life.
And, thanks to a lottery ticket he paid for, the 57-year-old from Ellon, Aberdeenshire, did just that after she scooped a £2.2 million jackpot.
Libby – who on Tuesday is among the 5,500 millionaires who will celebrate the 25th anniversary of the National Lottery – is just back from a whirlwind year of travel that saw her dance the tango in Buenos Aires, ride out on horseback with the Gauchos of Uruguay, jet off to Las Vegas for a weekend flutter and fly high over the Grand Canyon in a helicopter.
And, to top it all off, she has just bought a luxury bungalow in the rolling fields of Fife and a brand-new Mini car.
But the mum-of-four, who claimed the lottery jackpot with her ex-husband Alisdair McRae in 2012, reveals that she owes it all to the dad she lost at Christmas, retired Indian Army captain and businessman Tony Elliot.
Settling into a leather sofa in her new home – her Chihuahua-Jack Russell dogs Lilly, 13, Bruiser, nine, and Petal, eight, bounding onto her lap – Libby said: "My dad paid for the winning ticket. He wanted me to go out and live my life. Before he died he said it was time for me to do my own thing.
"And this year has been my year for going everywhere and for saying yes to everybody. The lottery and my dad made that possible."
She smiles as she remembers him treating his grandkids to a £2 coin each in pocket money and including her. "I used it to buy two lucky dips in Tesco in Ellon, Aberdeenshire, where I was ­living," she recalls.
"The next day we were in Asda in Peterhead and I handed over the ticket to be checked.
"It pinged, so I thought I had won more than £500, but when the assistant checked it she turned a bit grey. I asked how much it was and she said it was £4.4m but there were two winners – so I shared a £4.4m jackpot.
"The first thing I did was phone my dad. He was thrilled but he wasn't surprised. He always wanted me to do the lottery because he said he knew I would win and so did my four brothers.
Fighting emotion, she adds: "I lost my dad at Christmas. He was 92. We lost our wonderful mum Elizabeth 22 years ago and we found it so hard to lose our last parent. He was such a character and he had a wonderful life."
Libby says her dad would be thrilled to see her fulfilling his wish as she embarks on her adventures.
"I have so many friends and know people all over the world who have invited me to their homes. I was in Dubai, where we had a layover on the way to Bangkok.
"I have a friend there who took us everywhere possible in the 19 hours I had. I went to Tel Aviv to visit a friend and ended up in Jerusalem and I was invited to go and dance the tango with a friend in Buenos Aires, Argentina."
She breaks into laughter: "He needed a partner so I went, why wouldn't you? I was in Uruguay and was out in the pampas on a Gaucho farm … on horseback. Another friend asked me if I wanted to go to Las Vegas for the weekend. I had a little gamble and I came away with money. I usually do. I am lucky.
"Before I would have said I can't manage, I have this to do or that to do, and would have had everyone to look after, but this time I thought, yes, that sounds so cool.
"When I discovered I could get a day trip to the Grand Canyon I thought, 'Let's go!'. I don't like heights but it was amazing.
"It has been a discovery this year that I can actually go and do things myself. I'll travel all over the place myself.
"I don't particularly do ­luxury or package holidays. I love going to 'real' places and meeting 'real' people." She giggles: "I always say to people,'don't invite me, because I'll come.
"One of the first things I did when I won the lottery was to assess what I wanted out of life and I wanted to be healthy. So I lost 11 stone in nine months and went from 132 kilos, down to 65 with Dr Sam Robson and The Temple Clinic in Aberdeen."
The jolt she needed came during a flight to Disneyland in America.
"I had to get an extension for my seat belt and I didn't like that. But on the way across I had seen in an in-flight magazine a diet that was natural, medically supervised, guaranteed to keep weight off for at least two years with no loose skin. So I did it."
A brush with Lyme's disease during a break in Thailand more recently has also made her take stock.
"I knew I had been bitten by a tick but I was only back in the UK for 24 hours before flying out to Argentina so I didn't do anything about it.
"Then I got the bull's eye rash and felt like I had flu. When I got home I just about fell off the aeroplane. I was so poorly.
"Everything swelled up and I couldn't walk at one point. I have now had six weeks of strong antibiotics and am much better. I still feel tired and probably will continue to feel that way, perhaps for up to two years.
"Health and happiness and being surrounded by people who love you are the most important things in life. Money can't buy that, but it can help.
"My dad's and my own ­philosophy about the lottery is that it should be seen as a donation to charity and if you win something you win something.
"The lottery supports so many good causes. I love being part of that. At Christmas we winners normally take part in good causes, like raising awareness for hospices, or helping Guide Dogs for the Blind or the Royal Arboretum – we are so privileged to be able to help."
Libby's home is ­continually filled with family and friends.
She won't be drawn on her love-life; her family's privacy and well-being are her constant concern.
But she does ­confess: "I am like the Harry Potter actress Emma Watson. I am self-partnering nowadays and I love it. As a woman you can always have a partner if you want. But I don't mind doing things myself.
"I have nothing against marriage but you don't have to validate yourself by being with someone else.
"You can do that by just being you. I was 22 when I got married. It was an expectation that you get married and have kids young, but nowadays we live so much longer.
"Now it's a case of I have 30 years of me, wow, brilliant, I can go and do this and try that. Women should enjoy their lives and do what is right for themselves. If you are relying on someone else to make you happy, that's a recipe for disaster.
"And you don't always need to have a fortune to be happy," she says, adding with a chuckle: "But you have to have a dog, or three…"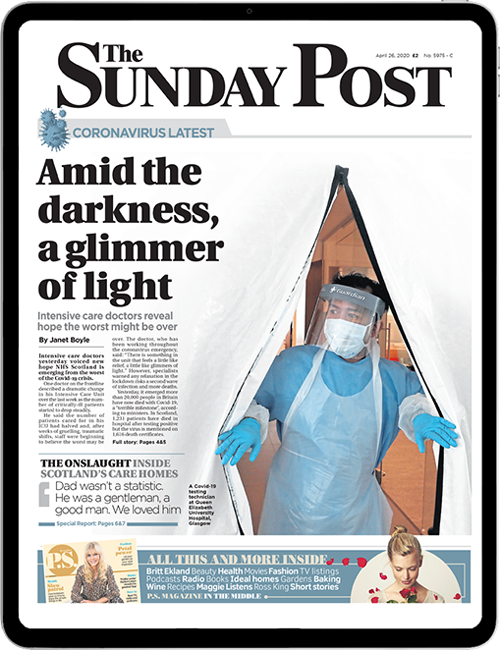 Enjoy the convenience of having The Sunday Post delivered as a digital ePaper straight to your smartphone, tablet or computer.
Subscribe for only £5.49 a month and enjoy all the benefits of the printed paper as a digital replica.
Subscribe