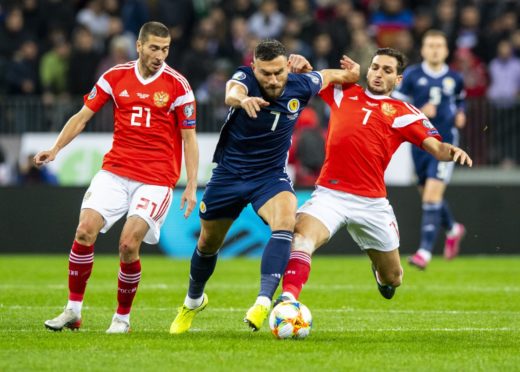 Robert Snodgrass retired from international football last year.
At the age of 32, and after winning 28 Scotland caps, he felt it was time to let go and move on.
The West Ham midfielder has no regrets.
Just over 12 months later, last Thursday night he was like the rest of us – a Scotland supporter, and back home in Glasgow, watching the game in Serbia at his uncle's house.
As the images of his former national team-mates, Darren Fletcher and James McFadden, dancing around the Sky Sports studios flashed around the country, Snodgrass was doing the exact same thing, only without the cameras on him.
Having been a part of the campaign that led to the midweek success, Snodgrass knows what has gone on behind the scenes to get to the level required to become successful.
Some frank talking between players, staff and the hierarchy have taken place, and it was all geared towards getting better and reaching the Euro 2020 Finals – a year later than planned, due to the Covid-19 pandemic.
Small tweaks and adjustments were made by manager Steve Clarke and his staff, geared to improving the overall standards in key areas of the squad set-up, facilities and equipment.
The little gains all add up to huge success.
Snodgrass is delighted it has paid off and in the wake of the Belgrade bonanza, he told The Sunday Post: "Thursday night brought a sense of relief.
"It was like years of pain and anguish disappeared with that flick of David Marshall's left wrist.
"To see big Marsh's face for that two seconds after he saved the penalty? It was brilliant.
"Oh, the relief. It's now an iconic moment for our whole country.
"The people of Scotland have been through a lot, with Covid and all that has entailed.
"So this one is for everybody. We've gone from the usual 'glorious failure' to 'glorious success'. It feels good.
"What we all witnessed the other night has been two or three years in the making. It wasn't down to chance.
"This is down to the correct planning and preparation behind the scenes. The players, and others, asked the SFA to make improvements here and there.
"The SFA listened and put the wheels in motion to create a better all-round environment for the players.
"A lot of people put their necks on the line for change, and it did change. It's brilliant.
"So, hats off to the SFA hierarchy. Hats off to Steve Clarke.
"What a brilliant job he's done. It's been 10 out of 10."
With all the Scotland players now getting the benefit of greater sports science, improved training facilities and even better food, they are reaping the rewards.
And through it all, skipper Andy Robertson has been leading the way.
"Andy has been a driving force on and off the park," Snodgrass continued. "He has worked hard to make sure the standards have risen to a level to give us the best possible chance of qualifying.
"So, again, credit to guys such as Andy, and those behind the scenes, like Graeme Jones (head of high performance), Frank Reilly (player liaison officer), Doc MacLean, Malky Mackay, Ian Maxwell and others.
"When everybody is together, from top to bottom, anything is achievable."
Snodgrass was particularly pleased for Robertson. He is close to the Scotland skipper, having been team-mates at Hull City.
He said: "I was with most of that group for a number of years, and to see them so emotional really got me going.
"Andy, for one, has great character. I know he absolutely idolises Sir Kenny Dalglish, and the relationship they have has really rubbed off on him.
"Thursday night now puts Andy right up there with some of the great Scottish players.
"He's already won the Champions League, the Premier League and the World Club Championship.
"He is now on his way to captaining at a major tournament. And he is just approaching the prime of his career, so he is only going to get better and better.
"He has challenged himself every week. He deserves every bit of credit that comes his way.
"And we all saw how he spoke in his interview after the game.
"It was all about his team-mates, and how delighted he was for them and the privilege he felt leading the boys out of the tunnel.
"That's the measure of what a captain is all about. He is a proper leader, and a good man, a good father, son, brother, team-mate, friend – and husband-to-be!
"He comes from a really patriotic family, and his parents will be thrilled. I couldn't be happier for him.
"His mum, dad, brother and uncles are some of the nicest people I've ever met.
"Andy and the lads will feel a weight off their shoulders, for sure. It's been 22 years of heartache and pain.
"You think back to Italia '90 and the emotion Paul Gascoigne showed with his tears.
"We had that emotion on Thursday night.
"The lads love playing for their country, and they loved the success and happiness they've been able to bring to the nation.
"Every two years I'd sit and watch a major tournament, and wonder what it would be like to be there and to have the Tartan Army there.
"Now let's hope the fans can get into Hampden next summer and get into Wembley, and that Thursday night was a real turning point."
Snodgrass came close to being part of the 2018 World Cup Finals in Russia. Three years ago, Scotland needed to defeat Slovenia away from home to get a play-off place.
Snodgrass scored that night for Gordon Strachan's team, but they drew 2-2 and the chance was gone.
But Snodgrass doesn't want to reflect too much. It's about the here and now.
He said: "I tasted disappointment in Slovenia. It was huge. It hurt.
"I kind of felt it again when Serbia scored that late goal. I thought: 'Oh no, the boys are in for heartache!'.
"But credit them for fighting back, and showing great mentality, togetherness and belief in the manager's methods.
"The next challenge is to make an impact at the Euros against Croatia, England and the Czech Republic – not to just be satisfied by being there, and making up the numbers.
"We are a nation of grafters, we have a work ethic. We'll put our heart and soul into it.
"It's going to be so exciting. Everybody is right up for it already, and will be for the next seven months.
"I don't have regrets about retiring. I was proud to play for my country and gave it my all.
"Now it's moved on and it's about us all getting behind the nation next summer. I'll be a supporter – and a very proud supporter.
"I just need to try to get tickets!"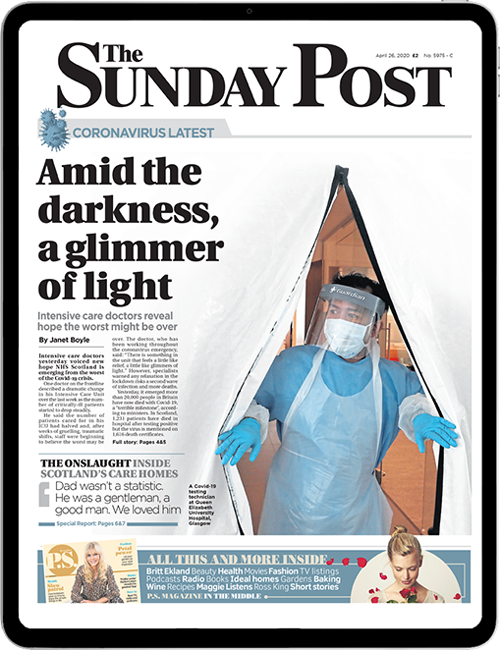 Enjoy the convenience of having The Sunday Post delivered as a digital ePaper straight to your smartphone, tablet or computer.
Subscribe for only £5.49 a month and enjoy all the benefits of the printed paper as a digital replica.
Subscribe