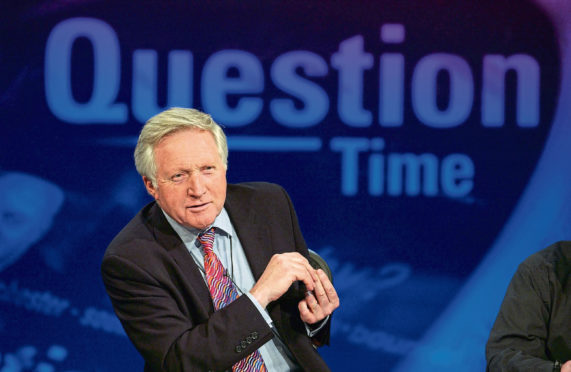 If your neighbours tend to have shouting matches on a Thursday evening, chances are they are not arguing with each other.
They are probably shouting in exasperation at that night's Question Time panel.
Since Twitter was invented, enjoying Question Time on a Thursday is even more fun, as you can watch the show while also observing all the emotions it stirs on social media.
Twitter hasn't always been there, of course, but Question Time itself has been around far longer than its creators probably thought it would last.
September 25 1979, in fact, was its first episode, so it has been with us for 40 years this week.
Fiona Bruce, the current presenter, was just 15 when it first aired, an age when keeping order among passionate politicians and partisan audiences was possibly the last career she'd have fancied.
Just as the show has created history, Fiona did likewise when she became its first female host at the start of this year.
Before Fiona, there was Sir Robin Day for a full decade, Peter Sissons for four years to 1993, and David Dimbleby, who became synonymous with the show during his 24-year reign.
That very first panel included Michael Foot, deputy Labour leader under Jim Callaghan and the man who had written a 1940 classic short book Guilty Men, which was against the appeasement of Hitler.
He was in good company on that first show, with author Edna O'Brien also on the panel. Many reckon she is one of the most gifted female writers of all time.
They don't get just any old Tom, Dick or Harry on Question Time.
Teddy Taylor, charismatic Conservative Glaswegian famed for wanting to bring back the birch, was also there, alongside Derek Warlock, Archbishop of Liverpool who worked tirelessly to help after the tragedies of Heysel and Hillsborough.
Much has changed – in Sir Robin's day most episodes were filmed in London, whereas it constantly tours the UK these days.
And we have five panellists now, rather than four and more variety in the type of non-politician guest, including comedians.
We definitely have more engaged, forthright audiences, too and the modern-day Question Time often gets decidedly heated.
If anyone thought only guys who had been round the block like Dimbleby could shout them down and restore order, well, Fiona Bruce has demonstrated she can control them just as well.
And she does it with a charming smile and just a hint of menace, unlike Sir Robin, whose sarcasm could cut the strongest people to the core.
Many can recall (fondly) moments in which our MPs were made to look a bit daft.
Such as the one where Eric Pickles went on in the middle of a huge row over their expenses. When he complained about having to turn up at a certain time, Dimbleby hit back with "Like a job, in other words."
Ouch.
Then there's the characters who go on and just say what they think, without considering whether it will make them look good or not.
Like John Lydon, also known as Rotten, who moaned about how "I don't want my drugs taxed."
The Sex Pistols legend had enjoyed a hero's welcome when that show began, but his asides and demeanour soon seemed to get wearing and his remarks later on were greeted with dismayed silence.
Still, you could say dismayed silence, or dismayed fury, is the typical reaction to most things someone says on Question Time.
Part of the reason it is so watchable is that it helps the nation release its rage about the people who run the country.
Even our MPs don't stir the same vitriol as some of our bankers and one memorable episode that featured current PM Boris Johnson, Mayor of London at the time, proved that.
Comic Russell Brand was also on that panel and quipped, "An orgy of any kind would be great, but one that focuses on banker-bashing would be the best."
Many viewers will still recall an episode with Denis Healey, in which he was being told he knew nothing about fighting or war and this was why he was against conflict.
He put his questioner firmly in their place by describing how he had been a beachmaster during assaults at Anzio during the Second World War and seen the savagery of it first hand.
Nothing winds up a true Scot like seeing historian David Starkey belittle our history, so there was applause rather than screaming when Scottish acting star Brian Cox methodically put him in his place on another memorable show.
Sir Robin Day, immaculate as ever in polka-dot bow-tie on that very first show, was proud to have an audience, he said, of "real people, as opposed to people who work in television".
And it is undeniably the audiences who have made Question Time so watchable.
Without the benefit of any previous episodes to study, one lady got a bit confused over which question she should ask.
"You had one about the team?" Sir Robin prompted her. "About the beer?" she asked, puzzled. "Oh, I'm doing the wrong thing, aren't I?" she lamented.
It was a priceless moment from the very first show.
"Nobody expected the show to last," David Dimbleby revealed during the show's 25th year celebrations.
"It was designed to fill a gap in the schedules, but now Question Time is almost a national institution."
Even Dimbleby probably didn't expect he might have to become a doorman or bouncer as well as keeping order round the famous table.
However, he showed himself quite able to chuck someone out when they just would not shut up and let anyone else get a word in.
"Listen, I think you really ought to leave," he told them, to much applause from the audience.
Even he, however, managed to cause trouble. In one of his later shows, David's stopwatch went off in the middle of a question, to great mirth among the panel and the audience.
"This is my stopwatch saying it's bedtime," he laughed.
True professional that he is, David even managed to laugh when the tables were turned and the joke was on him.
It's not that long ago that he had the terribly posh Jacob Rees-Mogg on Question Time and David was quizzing the panel about noisy planes over Slough.
Rees-Mogg mentioned that he had lived not far from there and hadn't really found the planes a nuisance, to which Dimbleby gave a sly, "That was at Eton, was it?"
"Yes," replied Rees-Mogg acidly. "I was at school there with your son."
It's not known just when Dimbleby knew he would be landing the plum job that he made his own, but what is certain is that his predecessor had no idea who was set to replace him.
Peter Sissons would not receive the huge fanfare Dimbleby would get on his last show, but he did say as he moved aside, "It only remains for me to wish my successor well.
"And if you want to know who'll be the next occupant of this chair, I can tell you that at this moment your guess is as good as mine."
It's fair to say the lady now running it has started rather well.
And, with politics as fascinating and sometimes downright scary, as it is these days, you can only imagine Question Time will remain one of our favourite shows for many years to come.