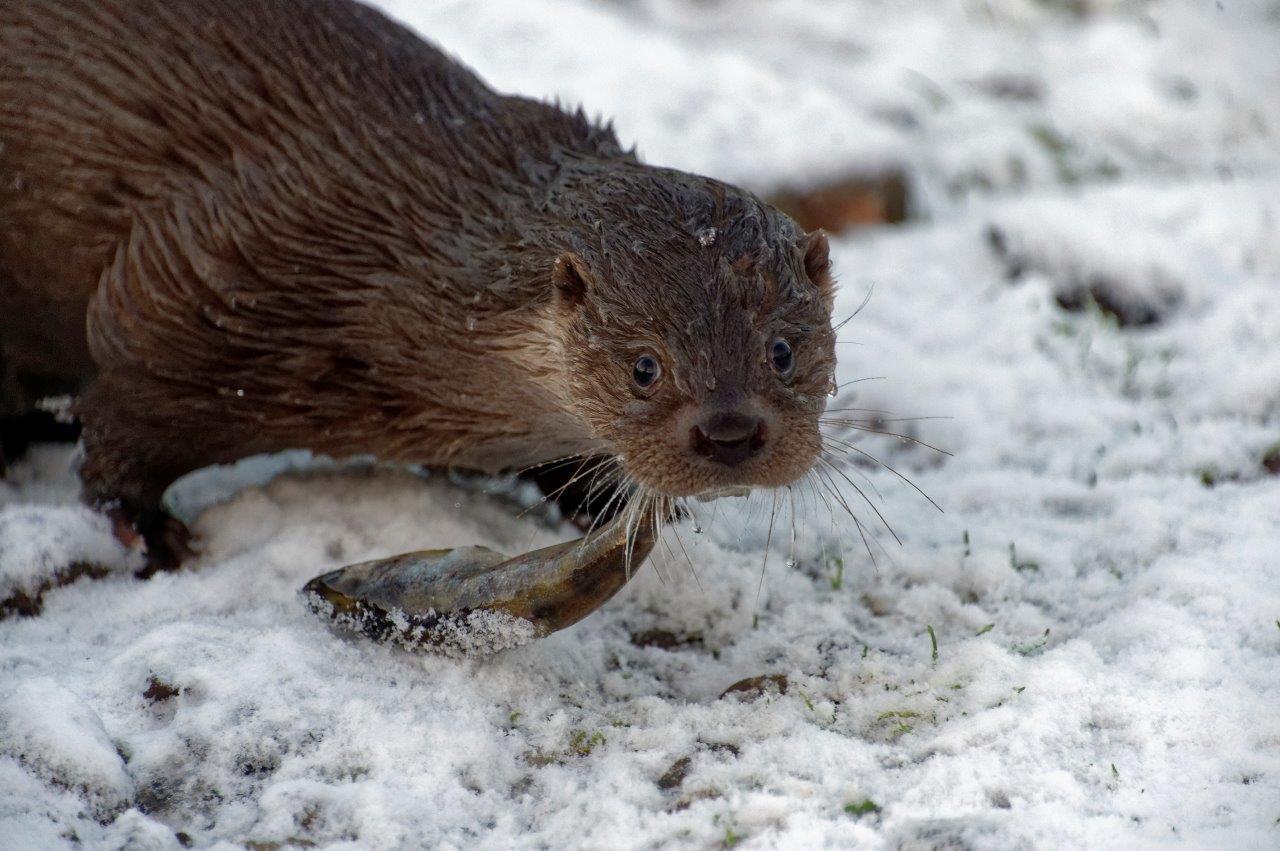 Sandy beaches on the River Earn are both rare and tiny, a few yards long and even fewer yards wide. But as the rise and fall and rush of the river is forever covering then exposing them again, they are always worth a look.
Nature always has a story to tell, and either prints it out carefully or scrawls it messily across a few square yards of sand.
One sliver of sand lay a few yards downstream from some bankside trees that had just been substantially rearranged. Some had been felled so that skinny, pointed stumps were all that remained attached to the roots, the trunk and branches half-in and half-out of the water, more or less stripped of bark.
Some had been cut through to the point at which the trunk was felled but remained attached to the bottom of the tree – just. All had been deliberately cut so that they fell towards the water.
By beavers.
That suggested to me that the nearby sandy beach might have a story to tell. It did, but it wasn't quite the story I had expected to read.
In one corner was the carefully printed bit, where a small, neat footprint had been overprinted by a much larger one.
That means a small beaver forefoot was followed at once by the corresponding hind foot, which is twice the size. So that part of the beach's story told how the beaver slithered down the bank, took one stride with its right feet on the sand – left feet in the shallows – and slipped splashlessly into the water.
The rest of the beach had hosted a bout of mayhem. The hieroglyphics were chaotic – large and small five-toed feet with clear claw marks and strange snake-like grooves. That meant otters, and my best guess was one adult female and one or two cubs.
A tree on the top of the bank offered a tolerably comfortable back rest for me.
Wait. Watch. Listen. Time stalled.
Then there was a head in the river.
Another glimpse, a low, wide head with blunt muzzle and wide-apart eyes. It dived, resurfaced. A porpoise-curve of its back lifted its tail out of the water, and that identified it clearly as an otter.
It came ashore on the tip of a scrappy little island near the far bank, shook its river-slicked fur so that the whole animal stood for a moment in a bubble-shaped apparition of teeming water droplets that rose in a spray and fell in a cloud.
When all that subsided my binoculars were full of a hefty dog otter, not 20 yards away. Facing downstream, he stared back along his spine in the direction he had come. Then with tail thrust straight out behind, he deposited a spraint among the roots of one of beaver-sculpted stumps. The relationship between otters and beavers is as new to us as beavers are. We still know very little about it. Otter territories are being constantly redefined as beavers extend their reach. So all of us – people, beavers and otters – must adjust constantly to what evolves here.
Our beavers stem from a core of animals sourced from either Norway or Bavaria, so even offspring bred here must have at least an inherited genetic awareness of otters from those countries.
But Scottish otters have occupied a beaverless country for centuries and may not know what to expect of beavers.
Although I have watched many otters in Scotland in many different landscapes, I had very little idea what might unfold if it encountered a beaver.
Meanwhile, beavers on this stretch of the Earn have had to make whatever accommodation has been necessary with their otter neighbours.
The pose of this particular otter, staring back upstream towards a large mound on the bank much favoured by beavers, suggested that some accommodation had just been attempted.
Whatever may have just taken place, it was clear that the otter was unrelaxed about it… the fixed stare, the frozen posture, one forepaw raised.
After two unmoving minutes, the otter stepped into the quiet bankside waters, dived and reappeared in the middle of a pool at the end of a canal dug out by beavers. He dived and resurfaced clutching a smallish brown trout by the head. He took the fish to the island, devoured it and slipped into the water again.
I turned the glasses away from him for a few seconds. There was a second swimming head, this time the head of a beaver. This, I told myself, is getting ridiculous. It is one o'clock in the afternoon and there is a beaver apparently patrolling near where I think there is an entrance to a lodge burrowed into the mound, swimming backwards and forwards like a sentry.
Perhaps it was just that the otter had been nosing around in the floodwaters below the burrowed-out hill, and that was justification enough to make a pointed declaration of occupancy.
I turned back to the otter in time to see it emerge from pool to river, and disappear downstream. Within minutes the beaver was gone too, and I was as mystified as ever. It turns out I am not the only one.
The word is commensalism – an association of two species where one obtains benefits from the association without the other being harmed.
A paper published by the International Union for the Conservation of Nature, IUCN, in 2004 begins: "A commensal relationship between otters and beavers has been documented, and use of beaver ponds for foraging and beaver lodges for denning is regarded as characteristic behaviour of otters."
But then: "Reports of beaver hair in otter scats suggests possible otter predation on beavers." Uh-huh.
Four years later, another IUCN paper suggested: "The relationship may not be the commensal one suggested by some researchers". This followed "a rare observation of reciprocal aggression between two river otters and a beaver" in which bites were exchanged.
The paper urged that "future research should aim to determine the frequency of these agonistic events and their cost to beaver survival and reproductive success, to determine if this relationship is really a commensal one or some integration of strong positive and negative effects".
Observations by John Lister-Kaye at his home near Beauly suggest the aggression might stem from otter attempts to kill beaver kits. Other studies of beavers and otters have not dwelt on the relationship between the two. The beaver's natural predators are generally wolverines, bears, and occasionally wolves.
In a specifically Tayside context we should also mention the unnatural one – ourselves, especially farmers with guns, and to a lesser extent our vehicles, dogs and agricultural chemicals. But otters as predators have managed to stay under the radar most of the time. A guide to UK mammals, published in 2017, does not mention otters in its beaver entry.
The story in the sand on the banks of the River Earn, and all that followed, was characteristically inconclusive, characteristically as there is still much we don't know about the whole process of trying to resettle beavers back into Scotland. The one certainty is that we all have to make adjustments, and that includes the beavers and the otters as well as ourselves.
The legal protection granted to the Tayside beavers by the Scottish Government in May will at least remove farmers with guns from the equation. That kind of heavy-handedness was solving nothing.
Our best move now is to take a step back and give the adventure in nature conservation some time; and to watch and learn. And keep reading the stories in the sand.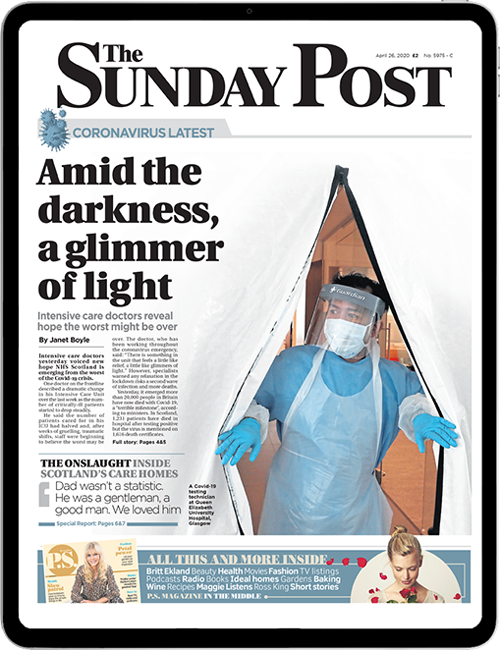 Enjoy the convenience of having The Sunday Post delivered as a digital ePaper straight to your smartphone, tablet or computer.
Subscribe for only £5.49 a month and enjoy all the benefits of the printed paper as a digital replica.
Subscribe