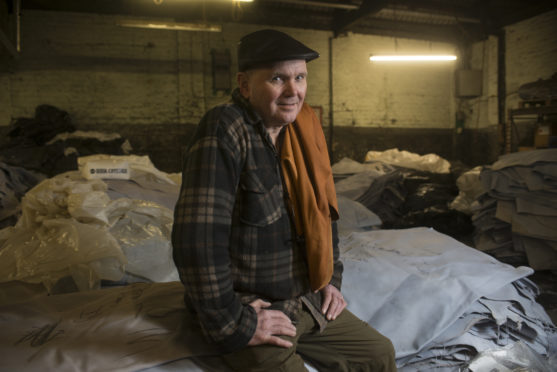 As Anthony Wright surveys the stacks of deer hide leather, he can trace every piece back to the animal it came from.
The father of three is the last of seven generations of tanners and operates out of Uplawmoor, in East Renfrewshire.
Just a mile down the road is the tannery his grandfather set up in the late 1930s, crossing the border to take a centuries-old craft to Scotland.
Fast-forward 80 years and Anthony has defied the odds, survived the High Street crash and is now using traditional methods to make bespoke handbags through his business, Barrhead Leather.
But he admits he will be the last in a long line of tanners because his children will not be following in his footsteps.
Anthony, 61, said: "When the children were growing up, the writing really was on the wall. It's only really in the last six years that there seems to be a future again for this traditional craft.
"I spent around 15 years ducking and diving just trying to keep the show on the road. It's been a bumpy ride and an accountant once described me as a survivor. I've got my head in the clouds and my feet on the ground."
A combination of determination, business acumen and quick-thinking has helped to turn Anthony's fortunes around. Now, his clients include the likes of House of Bruar, the National Trust for Scotland and Jenners.
He takes deer hides from Waitrose, among others. They are hides that would otherwise be dumped.
In total, he takes around 4,5000 skins a year from clients and around half of those are purely for handbags. He even runs workshops to share his skills with members of the public.
It has been a long road to success with several diversions along the way. Major clients including Marks & Spencer came and went as Chinese producers beckoned and traditional smaller enterprises saw their business disappear.
Anthony said: "For a long time we made the blackest suede, blacker than anyone else. We were a huge supplier for Marks & Spencer who used our suede for their shoes. But we were dependent on a few big customers and it was hard to escape that.
"I think the High Street shops deserve everything they get. They took our products, made them worse just to try to maximise profit. They put us out of jobs and destroyed industry but sold it as offering choice to customers. If China decided to stop making shoes, we'd be barefoot in three months."
The Wright family's tanneries were all originally based in Worcester. Anthony's great-grandfather handed the business to his son, Percy, but it folded at the turn of the 19th Century.
He ended up in Derby and finally Percy decided to head north.
Anthony said: "He was 32 and came to Scotland and started a goat-skin tannery. They were skins imported from east Africa. He processed them and they were turned into ladies footwear and exported around the world.
"He was looking for a cheap place to start up. In the 1930s up to 50% of funding was forthcoming. He built a very successful business. My father John took over in 1970."
When Anthony took the reins from his father two decades later, there were 50 people still working at the tannery and the skins were being imported from North Africa. But, by this time, most of the production had already moved to China. He said: "It was a complete mess, but we survived and I managed to keep going. But it was clear that it wasn't viable for the long-term.
"I opted to start up on my own with a business that was only about 20% the size of what we had."
Anthony had been told where he could source some deer skins and paid just £4 each for them. He treated them, turned them into deer-skin rugs and on the way in to a shop was spotted by a customer.
He said: "I walked into the shop with a customer in tow. She asked how much the rug was. I looked at the owner and said £40.
"So I took the money, bought some more deer skins and that was the beginning of my success. I had to try to find bigger clients, so I acquired a business that was already making handbags and took that with me to where I'm now based."
Like any business, Anthony has had to diversify. He's recently introduced a chrome-free leather. Most tanning uses a solution that contains metals to turn the hide into leather. By using a chrome-free version, it makes his products more environmentally friendly and sustainable.
Anthony is also anxious to share his skills and during the summer months runs workshops at Highland Games around the country.
He said: "I like the idea of standing making leather and showing the hands-on basic stuff.
"At this stage of my career I just have a desire to get back to the real things in life."
Anthony adds that, rather than feeling any sadness as the last tanner standing, his main emotion is relief.
"I'm just grateful that I'm still here," he said. "It really has been about survival.
"I virtually lost everything. I'm too relieved that I'm still doing what I'm doing to be sad that I'm the last in line."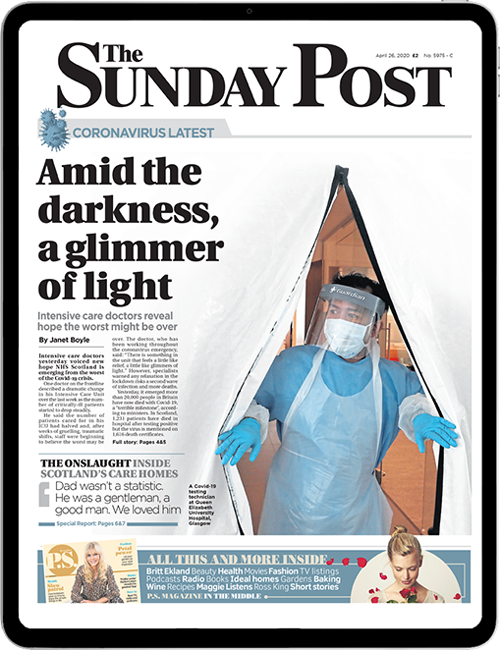 Enjoy the convenience of having The Sunday Post delivered as a digital ePaper straight to your smartphone, tablet or computer.
Subscribe for only £5.49 a month and enjoy all the benefits of the printed paper as a digital replica.
Subscribe