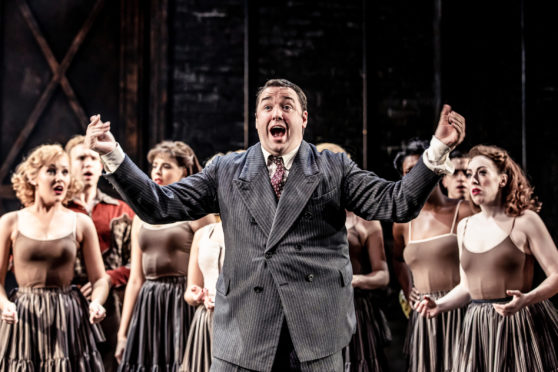 The Masked Singer runner-up, Jason Manford, even managed to fool his daughter while performing in the hit Saturday night ITV show.
The entertainer and dad of five was Hedgehog in the programme, coming second to Nicola Roberts from Girls Aloud.
Secrecy was key to the success of the show, which was recorded in September, and Jason did a better job than most in hiding his identity.
"We all had to sign contracts and none of us knew who was under the other masks," smiled Jason, who is in Glasgow next week with the musical comedy whodunit, Curtains.
"I didn't even tell my children. My nine-year-old daughter was at a sleepover the night of the final and all her friends were saying, 'That's your dad', recognising the clues that were put out, but she was adamant it wasn't.
"She said, 'I think he would tell me. I think I'd know if it was my dad'. So when it was revealed, she was very surprised and also a bit livid!
"The show was a lot of fun. I ended up picking songs I wouldn't normally do, singing in another style and moving in a different way than I would have had my face been showing. I found it quite liberating.
"I was in two minds about doing it when asked. I thought it sounded bonkers and in the wrong hands it could have been terrible, but they assured me it wouldn't be full of people from Towie and it turned out to be such a strong line-up.
"I was given the choice of three costumes – hedgehog, duck or tree, but it had to be hedgehog."
In Curtains, Jason stars as Detective Frank Cioffi, the character he also played in the show's West End run.
Frank is an am-dram aficionado and a huge musicals fan, so he's in his element when called to a theatre to investigate the murder of a show's leading lady.
Starring alongside him is Strictly winner Ore Odube and Hollyoaks' Carley Stenson.
"It has a bit of everything and that's what sold it to me," Jason continued. "I love comedy, whodunits, musicals, and it's all in Curtains.
"I've modelled Frank on Columbo and Jimmy Stewart, they were my go-to guys for the role."
Jason has just announced a new stand-up tour for next year and he's looking forward to being in Glasgow with Curtains while the city's comedy festival is taking place.
"It's a real treat, because I have lots of pals who are performing there," he said. "It's going to be a big one, so I'm getting my rest in now, because there will be a lot of late nights and packed days."
This year also marks 20 years since Jason first performed at the Edinburgh Fringe.
"I loved it, and still do. I go up most years, whether it's as a performer or a punter – we've taken family holidays up there.
"Stand-up is my favourite job out of everything I do.
"It's hard when you become involved in showbiz so early. I was 16 when I started stand-up.
"When you become known, you make your mistakes – whether those are professional or personal – in front of people, so it's a steep learning curve.
"But I feel like I came along at the right time, as far as stand-up is concerned."
---
Curtains, King's Theatre, Glasgow, Tue-Sat