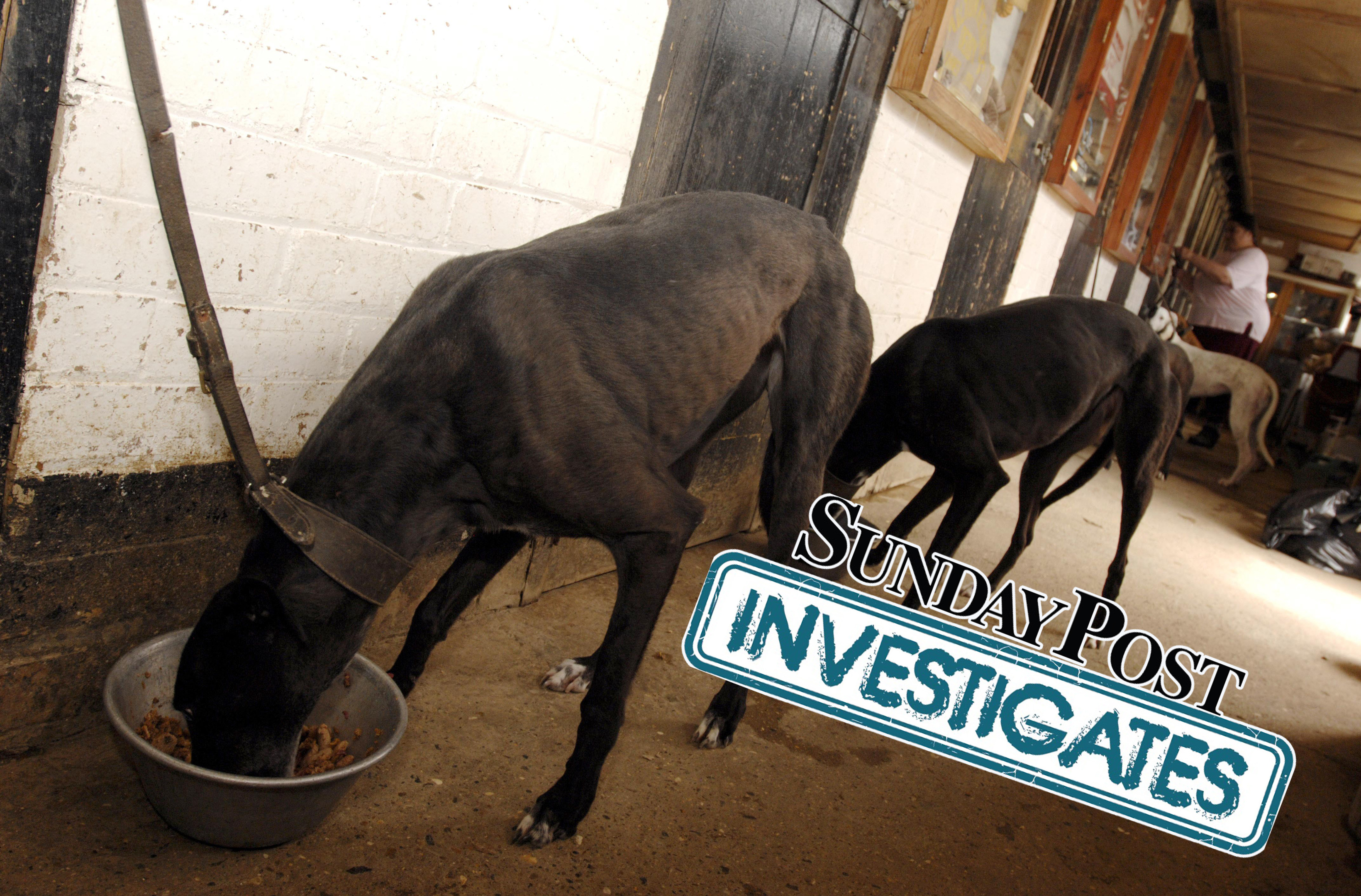 A LONG-SERVING greyhound trainer has been secretly filmed saying he deliberately overfeeds dogs to rig races.
John "Jock" Balmain, 70, has been training greyhounds for all of his adult life and is a well-known figure in the sport in the UK.
We met with him after being tipped off he was heavily involved in dubious practices at unlicensed greyhound tracks across Scotland.
He trains dogs from all over the UK, including syndicates based in Manchester and Essex, which pay up to £10,000 per dog for his expert tutelage.
Yet despite his training pedigree, he's banned from Scotland's only officially-licensed track – Shawfield near Glasgow.
He told our undercover reporter that he'd been barred from that stadium after a row about a dodgy bet in 1989, which saw him walk away with thousands of pounds.
But we can reveal Balmain is actually a practitioner of overfeeding, the name given to the dangerous habit of fattening a greyhound up, in an unfair bid to lengthen its odds.
According to the sport's regulatory body, the Greyhound Board of Great Britain (GBGB), deliberately making a dog overweight is a contravention of a trainer's charge and could see disciplinary action taken against culprits. The organisation has previously banned trainers for life for breaking the rule.
Sanctions at its disposal include fines of thousands of pounds as well as bans.
But at Scotland's unlicensed tracks there isn't the same level of scrutiny over the welfare of dogs – or testing to ensure the rules are followed.
Balmain boasted to our reporter that, just weeks previously, he'd had one of his racing dogs "stopped", greyhound racing slang for sneakily slowing a dog down.
"If it's done right it will win," he told our reporter, who was posing as a potential dog owner.
"I try to get them so they are near certainties."
Pointing to a greyhound he'd previously "stopped", he said: "That one won last Saturday."
He explained that his black bitch raced past the odds-on favourite, while the rest of the racing dogs just followed "like sheep".
Offering to train a dog for us, Balmain said he'd make sure it wouldn't win – until the price was right.
He said: "I get them and you hold them at first and you get a better mark [odds]. You need to run them at least three times."
Saying he overfeeds them to boost their odds, he added: "I got him (one of his dogs) up to 77lb – he was running heavy.
"It's like you running fat.
"Then you get them down gradually and they do the business.
"The first two or three times at Thornton you are only able to get (gamble) a few hundred pounds on it."
While overfeeding dogs doesn't necessarily sound life-threatening, it can be catastrophic for a dog's well-being and welfare.
It can lead to a deadly condition called gastric dilatation-volvulus, which sees the stomach of the animal twisted.
The condition can kill within an hour.
Overfeeding is also a contravention of the Animal Welfare Act of 2006.
Penalties for breaking that law include fines and jail.
Other trainers who have admitted overfeeding animals in the past to rig races include former well-respected trainer Lennie Knell.
In 2001, London-based Knell was banned from racing for life for admitting the same offence in a BBC expose.
Balmain insisted to us he wouldn't use drugs on his racing animals.
He said: "I don't pill them but a lot of them pill them."
However, that flies in the face of what authorities believe.
Earlier this year, organisations including Police Scotland raided the farm and kennels Balmain calls home near Kirkcaldy, Fife.
They found a host of unlicensed veterinary medication there and banned substances in his kennels.
Following the raid, Balmain was slapped with a welfare notice ordering him to clean up the kennels, which he and wife Martha also sell puppies from.
Their puppy-breeding business comes despite Martha serving a lifetime ban for keeping animals, imposed at Kirkcaldy Sheriff Court.
In 2012 she was taken to court after her mistreatment of a 10-year-old pony called Smudge was discovered to be so severe it had to be put down.
Despite the nature of the offence, the sheriff allowed the couple to keep dogs.
That allows Balmain to keep training racing dogs from his kennels.
Balmain – who isn't registered with the GBGB – also told our reporter greyhound racing at Scotland's flapping tracks was heavily linked to organised crime.
"It's corrupt but it's only as corrupt as how you make it," he told our undercover reporter.
He admitted the cash-rich business allows gangsters to easily launder the proceeds of illegal drug sales.
Balmain also admitted that previous champion dogs unable to race were discarded like rubbish.
Talking about a pedigree dog worth £4000 that broke its leg at a race in Fife last month, Balmain said: "That was £4000 down the drain."
Because of the injury, the dog "had to be put down".
Last night, campaigners said it was time to pull the plug on the sport.
Jordi Casamitjana, of the League Against Cruel Sports, said: "We welcome The Sunday Post's investigation, which casts more light into the murkiness of the greyhound racing industry.
"As repeated attempts to reform it have all failed, the League Against Cruel Sports has reluctantly come to the view that the industry should be actively phased out leading to a complete ban on greyhound racing across the UK.
"We have called for an independent regulator, the mandatory publication of track-level injury data, a central database for tracking dogs from birth, to retirement, to death as well as making it a requirement to rehome racing greyhounds.
"But over the many years that we have held this position, the industry has failed to reform itself and failed to be reformed by government.
"Meanwhile, greyhound racing worldwide has faced strong criticism, leading to a ban on the sport in much of the United States, in Argentina, in South Africa, and in Jamaica. The reality is that the UK has fallen behind international standards for greyhound racing."
Balmain was unavailable for comment last week.
We spoke on the phone to wife Martha, who said: "We don't overfeed dogs and we don't dope them."
History
GREYHOUND racing in the UK began in the Victorian era with dogs being raced on a straight track.
But it was in the 1920s with the development of the oval track and mechanical hare that the sport really took off.
The first dedicated track was opened in Manchester in 1926. By the following year, the sport had boomed, with 40 tracks across the UK.
In the aftermath of the Second World War it became the sport of working-class Britain, boasting 34 million spectators annually.
Its popularity was boosted by the stadiums' location in the community, evening meets that suited a working man and the ability to enjoy a flutter.
At the start of the millennium, the sport was hit by scandals which led to major reform. In 2007, the two main bodies in the sport – the British Greyhound Racing Board and National Greyhound Racing Club – commissioned Lord Bernard Donoughue to carry out an independent review.
The Labour peer recommended the sport remain self-regulated but should create a new single entity to administer the sport – the Greyhound Board of Great Britain.
But Scotland's flapping tracks remain outside the organisation's powers.
There are now only three racing tracks in Scotland, with just hundreds attending. Only Shawfield in Glasgow is affiliated to the GBGB.
Thornton and Gretna are independent tracks that do not require vets to be present or dope testing to be done.
Proving it's still popular with a hard core of fans, Thornton in Fife has raised the number of meets it holds from weekly to twice-weekly this year to cope with demand.
In my view: Marc Abraham, Vet
These findings are worrying but sadly not at all surprising.
Greyhound racing is an exploitative sport advertised as light entertainment.
In a sport so heavily linked to profit and betting it's not a shock to see the worst in humans come out.
In recent years, the sport has suffered repeated blows to its reputation.
There is a rise in recognition as to what is and is not viewed as ethically acceptable by the British public .
I would argue greyhound racing is a sport – like bull fighting – that is no longer socially or morally appropriate
It is vital that newspapers like the Sunday Post expose issues like this and I congratulate them for it.
The drugs and activities you have discovered point to serious and dangerous practices in the sport.
Drugs like Primolut can be prescribed for racing dogs but must only be done by a vet.
Buying them off the man in the street is anything but safe – or legal.
Vets are medically trained and know when and how to prescribe them – if at all.
These are pharmaceutical medicines and should not be handed out like sweeties by greyhound trainers.
The same applies to drugs like Intravit.
There could be a host of reasons that the shots are not suitable and even dangerous.
Other practices that have been exposed also pose a high risk to dog welfare.
Greyhound racing is a largely self-regulated sport whose shortcomings are in my opinion still not being tackled effectively by both its governing body or Government.
Do you have information on dubious practices in dog racing? Email mail@sundaypost.com or call 0141 567 2812
---

Do you have an issue or a story which you think our investigations team should be looking into? Send your tip offs, in full confidence, to the following:
By email: investigations@sundaypost.com
By mail: Investigations team, The Sunday Post, Room PM.04, Scottish Parliament, Edinburgh EH99 1SP,
By secure messaging: @Apicken on Telegram
By telephone: 01382 223131 (9-5, Mon to Fri)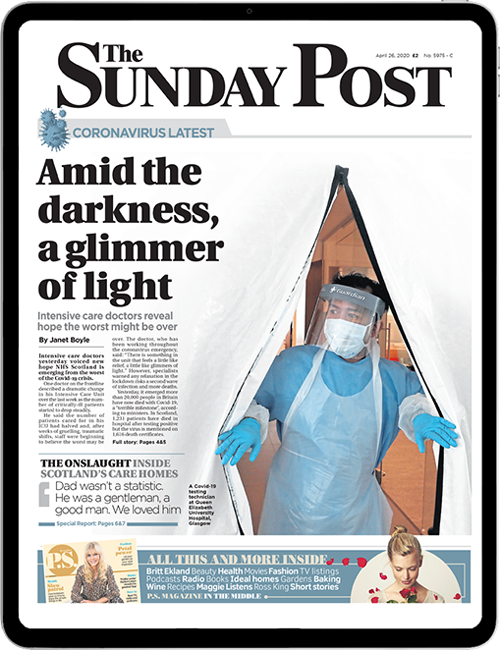 Enjoy the convenience of having The Sunday Post delivered as a digital ePaper straight to your smartphone, tablet or computer.
Subscribe for only £5.49 a month and enjoy all the benefits of the printed paper as a digital replica.
Subscribe