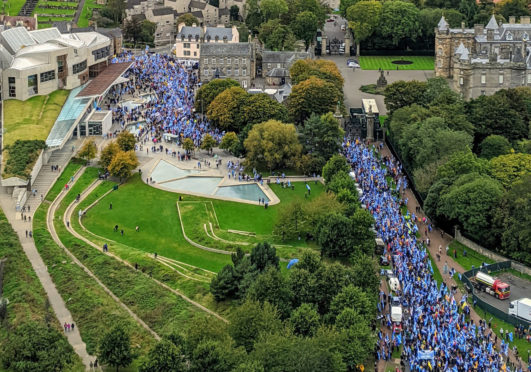 Thousands of independence supporters marched in Edinburgh yesterday.
Organisers All Under One Banner (AUOB) claimed more than 200,000 marched from Holyrood Park to the Meadows but Police Scotland declined to estimate the number, saying it was "a matter for organisers or the local authority".
This was the last of a series of marches this summer organised by AUOB, who have held events in Glasgow, Aberdeen, the Borders, Oban, Ayr and Perth.
First Minister Nicola Sturgeon was not there but tweeted her support.
She said: "Good luck to everyone marching for independence later. I'm not able to be there in person today, but I will be with you in spirit.
"Have a great day. And be in no doubt – independence is coming."
Many who took part had been to several events in the past, but there were also a few first-timers.
Donald Anderson, 36, said: "It would be more beneficial if we are independent because we can decide our own future."
Teacher Harriet Henderson, 25, said the big turnout was due to people being "angrier" about Brexit.
MP Joanna Cherry, who led the legal battle against Boris Johnson's suspension of parliament, spoke at the event along with MP Tommy Sheppard, comic Janey Godley and disgraced ex-MSP Tommy Sheridan.
Cherry told the crowd: "Independence is coming soon. In the current fog of British politics, it is hard to see when and where the opportunity will arise, but it will arise and we have to be ready for it."