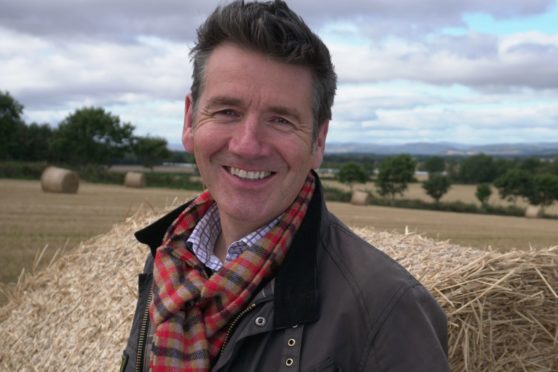 Presenter and musician Dougie Vipond was riding the crest of a wave before lockdown.
At the start of March, the Deacon Blue drummer was celebrating his band's biggest success since 1994, after their new album, City Of Love, landed at No 4 in the charts.
Yet within weeks, he was in bed, sick and missing his children. He said: "Lockdown has been tricky. I had something that put me in my bed for two weeks, and made me feel terrible for a week after that. I didn't have all the symptoms of the coronavirus, but it knocked me out for three weeks.
"A doctor said I'd likely had it, but with no testing it's hard to know. And even then it was pretty mild. It was knackering, debilitating, but I didn't have a cough, and no temperature. Whatever it was, I wasn't well.
"I'm desperately missing two of my three boys, who are away. My youngest, Hamish, is 16 and living with us. It's hard for him, too – it's his birthday soon and he's missing his brothers. But we're all getting on with it."
Getting set to film lockdown kitchen for #bbclandward with @NickNairn He's going to cook in his kitchen and I'll try to follow his lead here. What's the worst that can happen? @BBCScotland #landward #kitchencalamity #greatfoodguys pic.twitter.com/bMnvyp2WUj

— Dougie Vipond (@DougieVipond) May 21, 2020
Dougie and the rest of the Landward presenting team have been given broadcast clearance to keep reporting from around Scotland's rural communities during the pandemic.
He said: "We have to be very careful where we go and who we speak to.
"But it has been a privilege to document how rural life in Scotland is coping. I'm always taken aback by the fortitude and positivity of people who live and work in the countryside, as they have it hard at the best of times."
As well as marking the release of Deacon Blue's ninth album, Dougie's other band Swiss Family Orbison re-released their eponymously-titled debut album on vinyl last week, 23 years after its release.
He said: "It's lovely to see a record we recorded such a long time ago released again.
"This has been a great year musically for me and the songs on the Deacon Blue record really seem to have resonated.
"I got a message at the start of lockdown from a woman who works in the NHS. She'd gone for a run and listened to City Of Love then sent me this lovely message about being moved to tears by some of the songs, and the importance of music in times like these.
"That was really lovely to hear, because these aren't songs people have known for long, they're brand new."
Landward, Thursday, BBC Scotland, 8pm. Deacon Blue's City Of Love and Swiss Family Orbison's self-titled vinyl re-release are both out now
---
---
Sound & Vision: Dougie's favourite things
Comedian who makes me laugh endlessly
This is so difficult but Eric Morecambe was a genius. I still laugh my head off at him.
My box set binge
I've just watched Ozark. I was intrigued, I watched it all, not liking any of the characters. But I think The Wire is the best box set. I was up until 3 o'clock in the morning watching it.
The band I'll always love
Little Feat. There was something about that southern boogie, Lowell George's guitar, the coolness. I still absolutely adore them. Graeme Kelling (Deacon Blue's original guitar player, who died in 2004) introduced me to them and I got right into it. Richie Heyward, their drummer, was so cool. He looked really odd when he played, but what a groover.
The album I play to death
Rickie Lee Jones' Girl at Her Volcano. There's a great version of My Funny Valentine on it, the best version ever. It makes me greet! And there's a beautiful version of Rainbow Sleeves, which was written by Tom Waits.
The greatest film scene ever
Paris, Texas – the scene between Harry Dean Stanton and Nastassja Kinski. It's where she ends up becoming a prostitute, sitting behind a one-way mirror, and he's at the other side, telling a story and she eventually realises it's her husband at the other side of the glass. The camera is on her face the whole time, all filmed in one shot, she goes from being the ex-wife to the broken hearted. It's an extraordinary scene. It was done before Sinead O'connor's Nothing Compares 2U video, it's like that times 100. So intense. Totally brilliant.
The poem that changed me
Edwin Morgan's In The Snack Bar was a big moment for me, but On The Ning Nang Nong by Spike Milligan is the truth of it. I read Milligan's Silly Verse For Kids when I was young, and I read it to my kids who loved them. It was a way into poetry, words, books.
What I watch when I want to switch off
Brooklyn Nine-Nine. Andy Samberg is a very funny man. It works for me on many levels.
The play that moved me
I used to go to the opera with my ex-wife, who's an opera singer. But I went to see Matthew Bourne'e Swan Lake last year. It's ballet, not theatre, but I was howling, in tears. It was incredible, a theatre experience rather than a play, but I was broken in the end.
The first single I ever bought
Mum and dad bought me Little Willy by The Sweet but Walking On The Moon by The Police was the first I bought. The video was filmed at the Kennedy Space Centre and Stewart Copeland "played" a Saturn V rocket. I thought if I ever was in a band I'd play something inanimate as I loved how daft it looked. So in one video I played drums on a car.
The museum that most inspires me
I've spent a lot of time in Paris, and the Musee d'Orsay is an amazing place, like being in an ornate film set except all the paintings and figures are real. But ultimately, it's Kelvingrove in Glasgow. I'd go because it was raining and then wondered what I'd ever been doing outside. It's full of treasures and wonders. I used to do orchestral concerts in the room under the organ pipes years ago. Classical music reverberates beautifully there.
My guilty pop pleasure…
There should be no guilt about a pop pleasure. Pop is great. With no guilt whatsoever, I'll say Beyonce.
My musical hero
That changes for me every half-hour. I revel in the genius of people all the time, but it's David Bowie at this moment in time. An amazing singer, an incredible musician and always raised an eyebrow, he wasn't prepared to do normal. Not everything he did was brilliant, but it was edgy and had balls. When that last record came out, nobody knew he was dying, and I remember watching the video to Black Star, being completely blown away by it. I was so impressed by the risk he was taking, pushing boundaries, even at that stage in his career.
The book I read again and again
The Catcher In The Rye, JD Salinger. It's the book that made me adore reading. I read it at school, it wasn't an assigned text, I chose it myself. I left it on the bus on the way home and was broken-hearted. I was determined to get to the end, so went in early next day and asked for another copy. The teacher was just delighted I was reading. It's about teenage angst and alienation and was the first book that the main character swears in that I'd read. I go back to it now and again. It's different as an adult but it's good to remind yourself of why you liked it.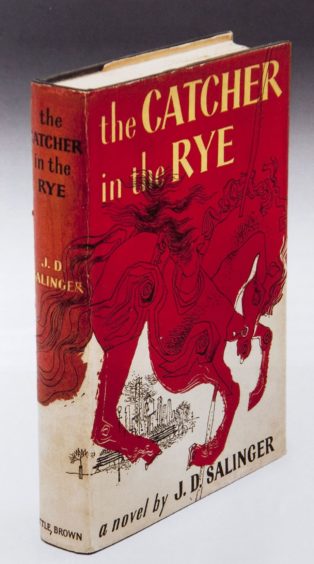 The song lyric which speaks most to me.
It's a Gary Clark lyric, from a King Earl album, off the record A Great Day For Gravity. It's the song Two Cars Collide, in the second verse: "Waiting for an hour under Samuels' clock, frozen to the bone in a summer frock, it's the first time that he'd let her down, it's the last time he can." I fill up every time. And the way Gary sings it breaks your heart.
The artist I'd most like to bring back to life
Billie Holliday. An extraordinarily brilliant talent.
My greatest gig
Between Danny Wilson at the London School of Economics and Bruce Springsteen's Tunnel Of Love tour at Sheffield's Bramall Lane, both in the 1980s. As a performer, it was either playing The Bottom Line, a tiny venue in New York with Rod Stewart watching, or The Big Day in Glasgow in 1990 when we headlined, ending with Dignity under fireworks in front of a huge audience.
The best living actor
Jack Nicholson, who has made a career of playing parts of himself in every movie.
My ultimate dinner party guests
Richard Harris, Madonna, Dave Grohl from Nirvana and Foo Fighters and Sheena Easton. They'd all really annoy each other before long and I'd love to watch it happen.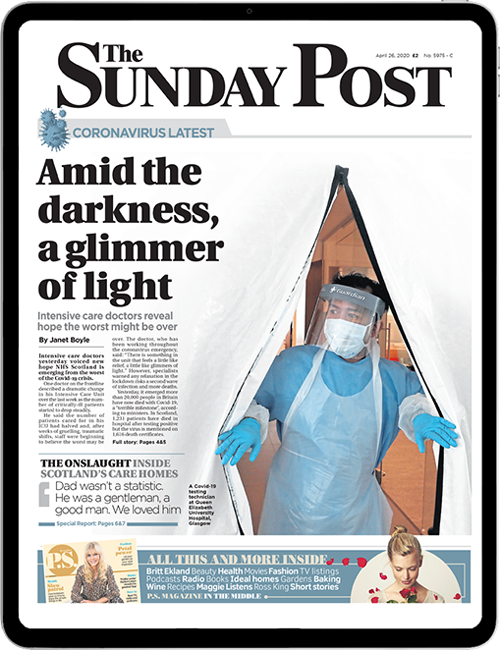 Enjoy the convenience of having The Sunday Post delivered as a digital ePaper straight to your smartphone, tablet or computer.
Subscribe for only £5.49 a month and enjoy all the benefits of the printed paper as a digital replica.
Subscribe