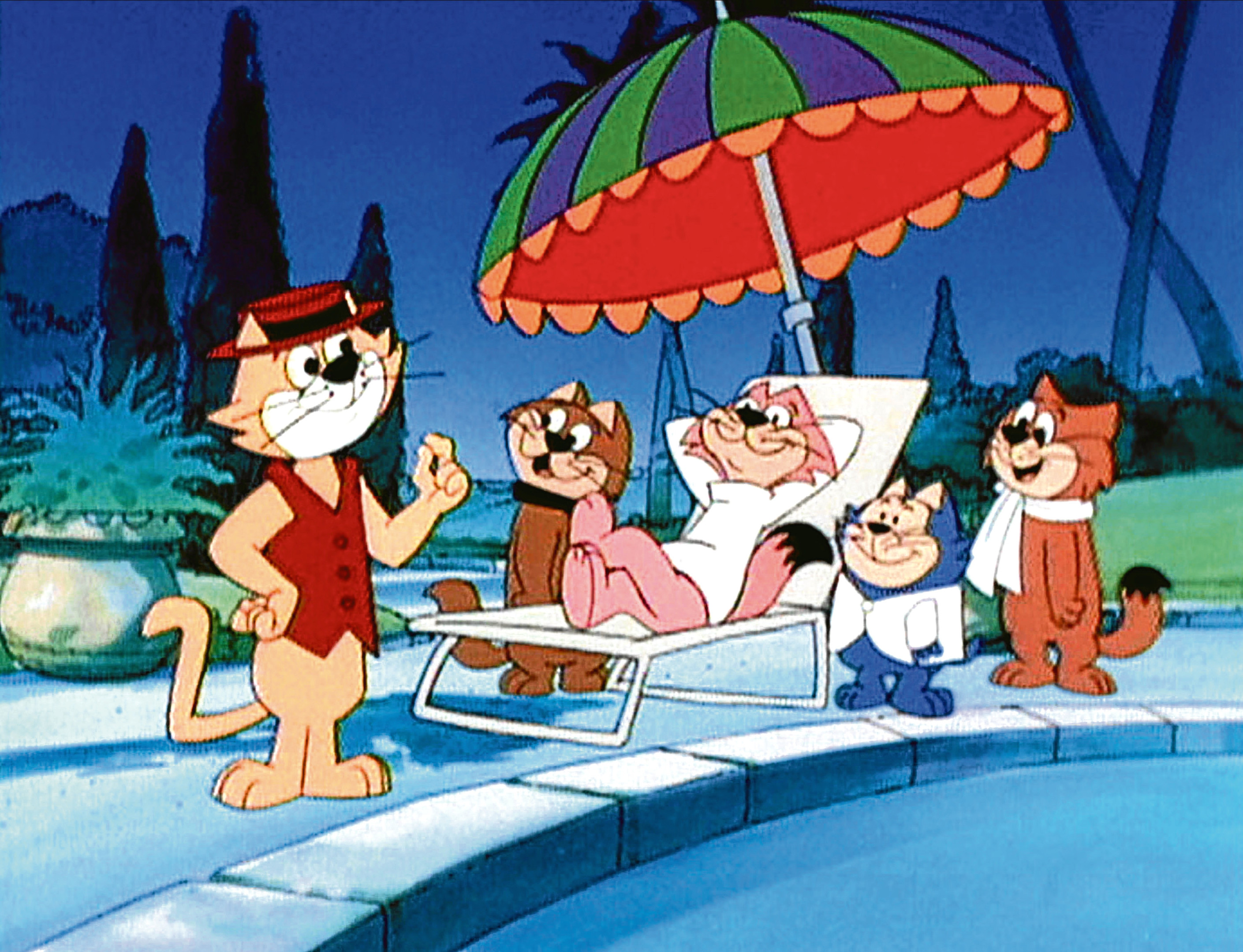 YOU may not know it, but today is a notable day, and the "feline" in our office was that we should join in the celebrations for World Cat Day.
This fine Monday, in fact, is the day the whole world comes together to pay homage to cats, so we thought it would be the ideal week to give you our Top 10 famous felines.
There are around 60 breeds in the world, of every imaginable size and description, and for every happy dog owner, there's someone who far prefers a cat or kitten.
Even the boffins admit that cats have a very real place in our hearts — having a cat has been shown to slow the heart rate, lower blood pressure and leave us feeling chilled out, so cats can literally save our lives and prolong them.
That's why this week we present on these pages the very cream of the crop from the cat world!
PUSS IN BOOTS (1500s)
NOW, this is one seriously-old moggie, with evidence he was being written about in the 1500s!
Italy and France featured the so-called Master Cat, or Booted Cat, 'way back then, and Puss In Boots is the English name he got over the years.
Animals as human helpers is an idea that goes back to folklore from centuries gone by, and this cat's tales often involve doing just that.
A 2011 film, Puss In Boots 3D, cost $130m to make and brought in $555m, which suggests the charm of Puss In Boots ain't about to wear off any time soon.
FELIX (1919)
FIRST showing up in 1919's Feline Follies, this little black-and-white guy certainly didn't talk much as he grew up in the Silent era.
An Australian and an American have both claimed to have created him, and only the arrival of a famous Mickey Mouse stopped him being kids' favourite cartoon character forever.
The year 1923 saw Felix star alongside Charlie Chaplin in Felix In Hollywood, and even today, there occasional rumours rumble that he is set to make a comeback in a much more modern setting.
We reckon today's kids of all ages would love him, too.
TOM (1940)
NEEDLESS to say, this guy isn't Jerry the mouse's favourite, but for the rest of us, millions grew up adoring his shenanigans in the classic cartoon series.
Thomas "Tom" Cat made his first appearance in Puss Gets The Boot on February 10, 1940, though he was known as Jasper back then.
Created by William Hanna and Joseph Barbera, he has gone on to become as much a true American and global icon as John Wayne, JFK or Marilyn Monroe.
They say that he even speaks, in a few rare episodes, but we're still trying to find one. Let us know if you do!
SYLVESTER (1941)
MAKING his debut appearance in 1941, this cat's most-famous catchphrase was voiced by the great Mel Blanc and, of course, was "Sufferin' succotash!".
Voice actor extraordinaire, Blanc would admit that Sylvester's lisping voice was exactly the same as his voice for Daffy Duck, just slower.
Of all the Looney Tunes cartoon characters, we are shocked to say, Sylvester has "died" more than any other. He copped it, in fact, in a total of nine episodes.
If what they say about cats and nine lives is accurate, we may have seen the last of him, but we hope not.
TOP CAT (1961)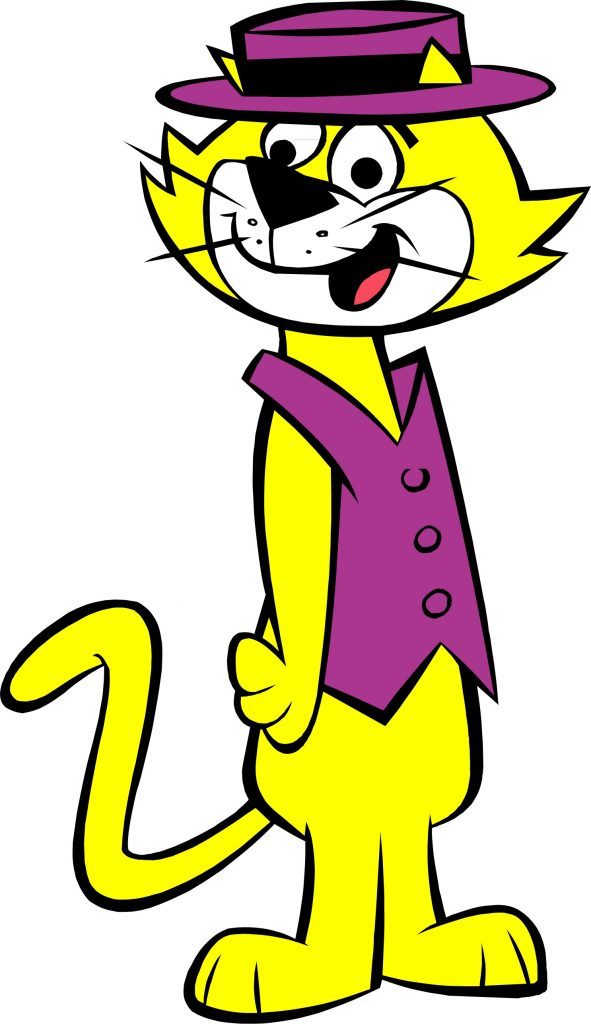 SURELY the coolest cat of them all, Top Cat first appeared in 1961, courtesy of Willliam Hanna and Joseph Barbera.
Known simply as "TC" to his mates, he leads a gang of Manhattan alley cats, notably Benny the Ball, Spook and Choo Choo.
Local wisecracking cop Charlie Dibble wants them out of the alley and gone, but never gets his way.
Some boffins have even suggested that the regular get-rich-quick schemes from TC and chums, which always fail, was a "commentary" on social injustice.
And here's us, thinking it was just a brilliant cat cartoon!
BLOFELD'S CAT (1963)
JAMES BOND came up against a whole host of evil villains, not least Ernst Stavro Blofeld — but his Persian cat often looked more sinister than he did.
You often didn't get to see Blofeld's face, but that staring feline was pretty scary by itself.
When the Austin Powers movies did their own take on this pair of baddies, the cat got a name, Mr Bigglesworth.
In the 007 extravaganzas, the cat is barely mentioned, never mind named, although we know it was played by a real cat called Tiddes!
BAGPUSS (1974)
A SAGGY old cloth cat, a bit loose at the seams, was how they described this pink-and-white feline.
Bagpuss's tales usually revolved around a girl called Emily, and her shop that placed broken or lost items in the window for owners to come and collect.
From mermaids to butterbean chocolate biscuits, there was always something fabulous for kids to learn about, and though Bagpuss only lasted the one series, it remains much-loved today.
In 1999, a full quarter-of-a-century after the initial series ended, it was voted tops in a British poll of children's favourite TV shows!
CUSTARD (1974)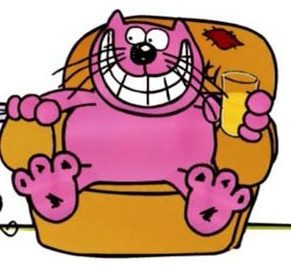 FIRST shown just months after the final episode of Bagpuss, Roobarb's star was a green dog, but another pink cat, Custard, often stole the show.
Narrated by Richard Briers, and featuring a bonkers theme tune, Roobarb often eats such items as coal and carpets, while Custard gets his food by going fishing.
Sometimes, they're arch-enemies like Tom and Jerry, but at other times Custard can be quite protective of his ever-present canine chum.
But, being a sneaky cat, he still likes to get the biggest laugh and find plenty time to laze around on the fence, sleeping.
Ah, it's a cat's life, as all these moggies prove!
GARFIELD (1978)
THIS cat is much more modern, first being seen in the summer of 1978, and he's still the world's most-syndicated cartoon strip, according to the Guinness World Records.
Garfield is known for hating diets, despising hard work and loathing Mondays.
He also never dabbles in politics, which might explain his universal appeal!
LARRY THE DOWNING STREET CAT (2007)
AS Chief Mouser to the Cabinet Office, Larry has welcomed a new face recently to his address at 10 Downing Street.
Born in 2007, the brown-and-white tabby has shown himself a worthy leader of cats.
When former Chancellor George Osborne moved his female feline Freya in next door, they say Larry was round chatting her up in minutes, so he's clearly a smooth operator.
On the day Theresa May moved in, he was sent flowers from an admirer, which caused a serious security alert.
Thankfully, though, everyone is now happy as Larry.
GRUMPY CAT (2012)
GRUMPY Cat, real name Tardar Sauce, became famous online after a picture was posted on the website Reddit back in 2012.
Since then, she's become one of the most well known animals in the world, with almost 9 million likes on her official Facebook page.
She's even appeared on the front of The Wall Street Journal and been on TV all across the US.
It turns out Grumpy Cat isn't actually grumpy all the time – but loves cuddles!
Don't worry dog lovers, National Dog Day is on Friday 26th August!
---
READ MORE
Pet cat lives with airgun pellet in its leg after being shot in Lanarkshire
Pets at Home name list of the most influential animals over the past 25 years