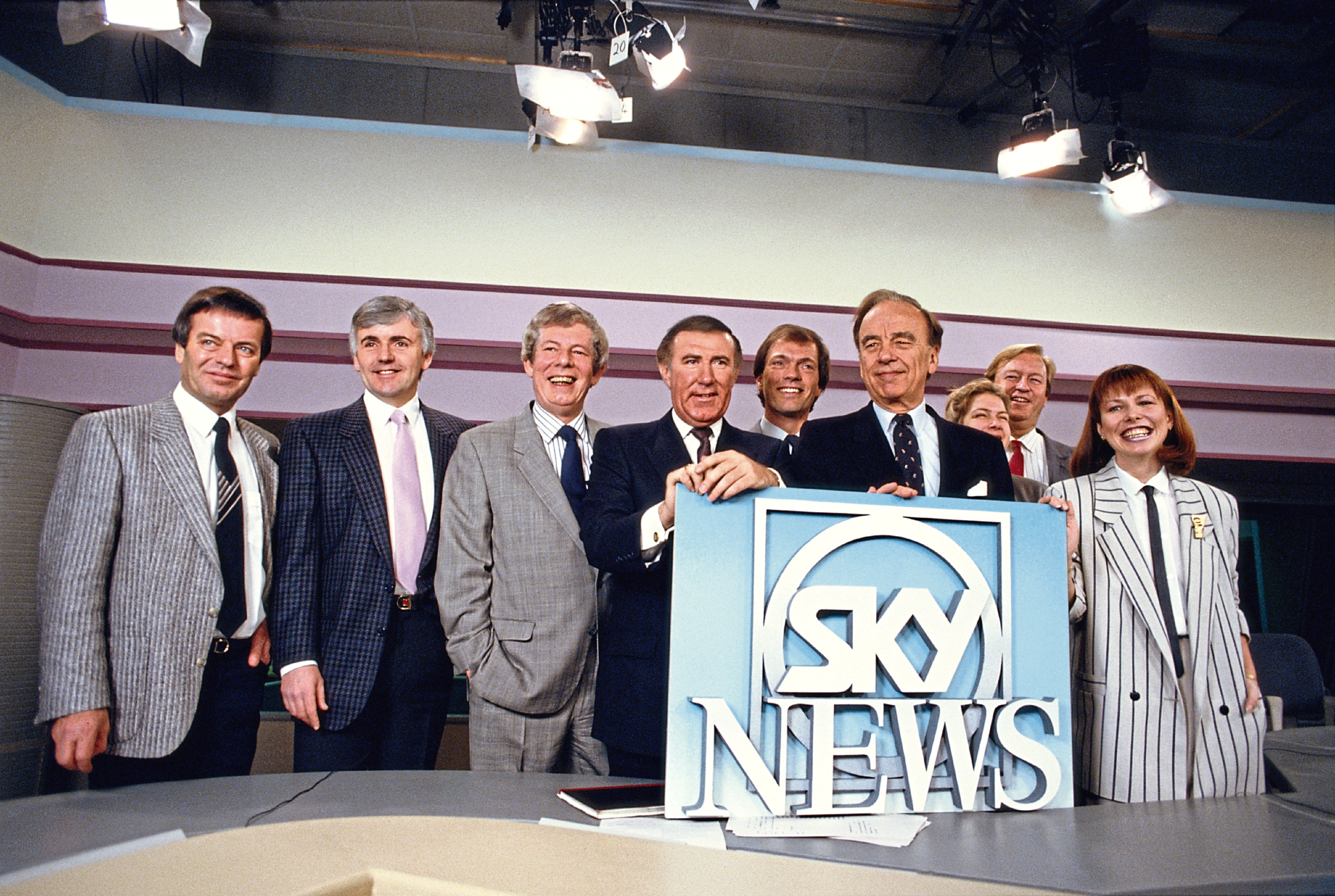 THERE was a time when the only dishes we had were meant for serving food and sky was just the big blue thing over our heads.
That all changed 30 years ago this week when Rupert Murdoch launched a new concept in broadcasting that was to transform the way we watch television.
Back on February 5 1989, when the Australian media mogul stood on what was still pretty much a building site in Isleworth, west London, and flicked the switch to turn on the four new channels, he literally doubled British viewers' TV choice overnight.
Until that moment, all that was on offer were two channels from the BBC, one from ITV and one more from Channel 4.
Sky was a rebellious new kid on the block in those days, but it is definitely no longer an upstart.
It is now Britain's biggest media company and last year was sold to the American telecom and cable giant Comcast – owners of NBC and Universal – for £30 billion.
In 2019 a full subscription to Sky will get you a choice of around 700 TV and radio channels, many of which are operated by the company itself.
Back in 1989 Sky's channels were initially free to anyone who would pay for a dish and a set-top box.
The new players in the market were offering two entertainment channels – the Sky channel (which later became Sky 1) and Sky Movies – plus Eurosport.
The revolutionary concept as far as British viewers were concerned, though, was the 24-hour Sky News channel.
It would be another eight years before the BBC launched News 24 so when the Berlin Wall fell, the only UK news channel able to offer rolling coverage of the historic event was Sky.
It took Sky a year to develop the encryption technology that would allow it to charge people to watch its channels.
Back in February 1989 Andrew Neil, who currently presents This Week on the BBC, was the company's executive chairman.
At launch around 600,000 homes in the UK and Ireland could receive at least one Sky channel, mainly via cable because only about 10,000 satellite dishes had been installed.
Sky headquarters was and still is based on an industrial estate in Isleworth, well away from the central London HQs of the BBC, ITV and Channel 4.
It launched with about 400 staff, with the company's first customer management centre opening in the same year in Livingston, Scotland.
The single surviving member of the Sky News team from those early days is Kay Burley, who will celebrate her own 30 years in rolling news this week.
Now one of the channel's main anchors, it was Burley who was on duty during the hours after the nation learned of the death of Princess Diana back in 1997.
Sky By Day was the company's answer to ITV's popular This Morning, hosted by ex-Radio One DJ Tony Blackburn and ex-Magpie presenter Jenny Hanley, though the show was short-lived.
For the new company, it wasn't an easy start financially.
Murdoch has admitted that in 1990 he remortgaged his New York penthouse to save Sky from bankruptcy.
That year there was a merger between Sky and their rivals British Satellite Broadcasting – remember the "squarial", their distinctive on-the-wall receiver? – to form BSkyB.
But the game-changer for Sky's fortunes was football.
In 1992, when the Premier League was formed, Sky saw off rivals ITV with an unprecedented £304 million bid for exclusive live coverage.
The driving force behind Sky's relationship with the new league was Vic Wakeling.
He helped to mastermind the deal that decisively turned the company around and ensured its lasting success – the first Premier League live TV rights contract.
BSkyB landed the deal on May 18 1992, stunning chairman Greg Dyke and the ITV companies who had made a joint bid for the rights with the BBC.
The football contract set the young BSkyB on the road to changing the TV landscape forever – not to mention the landscape of sport.
Football clubs became mega-rich virtually overnight.
They were able to attract the best players from all over the world simply by using the new income stream to fund hugely inflated wages.
There had been just a smattering of foreign players in England's top flight in 1992. Now, due almost entirely to Sky's cash, almost 70% of players currently operating in the Premier League were born outside the UK.
Today, rather than rely on gate receipts as they used to do, for most clubs well over half their income comes from broadcast deals.
On August 16 1992, Sky's first live Premier League match saw Nottingham Forest beat Liverpool 1-0 with Teddy Sheringham scoring the first goal to be described by Martin Tyler, who's still the channel's main commentator.
In anticipation of that particular football season, Sky dishes were bolted to the walls of 3.3 million homes.
There were 1.6 million subscribers to its flagship sport and movie channels and the company showed an operating profit for the first time.
Showing 60 live football matches a year, Sky went onto revolutionise every area of UK sports broadcasting.
By the time football was added to the menu, cricket was already on board, with England's victory over West Indies in Jamaica in February 1990 marking Sky's first live coverage of an overseas Test.
Golf had also featured from the outset but in 1995 Sky covered the Ryder Cup live for the first time – one of several sports rights contracts it won from the BBC.
By that point, subscriptions had topped the five million mark.
On March 16 1996, 660,000 viewers signed up for the UK's first pay-per-view TV event – the Frank Bruno vs Mike Tyson world heavyweight title fight in Las Vegas.
BSkyB's annual revenue hit £1bn for the first time that year, enabling them to show top American imports like ER and Friends before the terrestrial channels.
Sky was the only UK channel to take a punt on a new American cartoon series called The Simpsons.
It first aired on Sky in 1990, and Sky One is still showing new episodes 29 years later.
Sky Digital, with its revolutionary Electronic Programme Guide, went live on October 1 1998, offering viewers hundreds of channels and more interactivity.
The guide allowed for the recording of programmes on the hard drive of the set-top box itself, thus removing the need for stand-alone video recorders.
Along with EPG came the rolling sports news service – Sky Sports News – making the company the dominant player in the sports broadcast market, though in recent years it has had to stave off strong competition from BT, who have carved away chunks of Sky's portfolio.
Sky became the first pay-TV platform in Europe to achieve 10 million subscribers in 2010 and since then has added around three million more customers.
Integral to that success has been the acquisition of top-ranking American shows such as Game of Thrones, Lost, Broadwalk Empire, Prison Break, The Walking Dead, True Detective and Billions.
In addition, movie fans can feast on big screen releases just a few months after their cinema premieres and around two years before they could ever see them on ITV or BBC.
Currently viewers are able to watch 365 film premieres per year as a new one is added to Sky's schedules every day.
The ability to watch thousands of films with the click of a remote control effectively killed off the video rental business.
Sky has also been involved in the direct production of movies which have simultaneous releases on the big screen and their own Premiere channel.
Since 2007 Sky has also provided its own Arts channel, which covers everything from opera and painting to movies and rock music.
Other channels it either owns or co-owns include Challenge, Pick, Real Lives, Comedy Central, Sky Betting and Gaming, History and the Nickelodeon channels aimed at children.
But it's not only television that Sky is focussed on these days.
The company has also become a major player in the home broadband business since 2013, with a customer base of over six million homes.
And in 2016 it set up its own mobile phone network, employing top British stars like Tom Hardy and Lily James to plug their unique selling point of rolling over data month to month.
The sky might be the limit, but 30 years on from its inception, that limit is quite clearly still some way off.