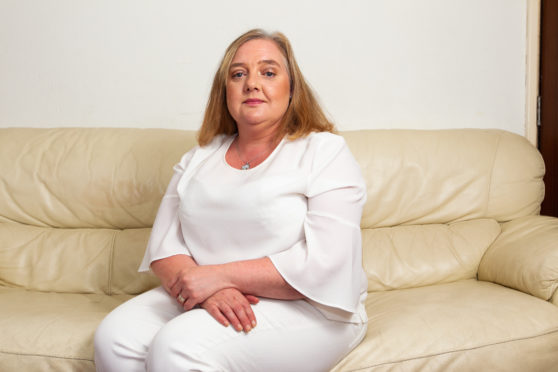 It was, after all, only one glass, a splash or two of reward after another long day.
That small glass of wine, however, almost cost Michelle Fleming her health, her family and her life, because it was the first of many, many glasses.
That drink would quickly be followed by another, that bottle pursued by another and with every one she stumbled further into a spiral of depression and addiction that almost tore her life to the ground.
A relaxing sip or two when the children had gone to bed turned into a dependency which ended with Michelle drinking three bottles a night at her worst.
Still managing to hold down a job, have a relationship with husband, Brian, and look after her two children, Jessica, now 18, and Jack, 16, Michelle did not realise her drinking had become an issue until it was far too late.
"I think it simply started with the thought, 'Oh the kids have had a bad day and they're in their bed at last, so I'll have a glass of wine'," explained Michelle, 45.
"I would make dinner and have a glass of wine while I cooked, another glass while we ate and then, oops, I had finished the bottle.
"Then I started to look for recipes that needed wine, so I could put a glass in the pot and the rest would be for me.
"It sneaked up over the years, first with two bottles and then, at my worst, three bottles a night.
"I started at dinner and continued all the way through the night until I was sozzled."
She added: "I wasn't putting vodka on my cornflakes, I didn't wake up craving alcohol, and I didn't think I was an alcoholic. I ran a house, had two kids, a husband, and I worked.
"To the outside world, everything looked normal, which I suppose is the story for a lot of working mums."
Trying to cope with poor mental health and loneliness after moving away from her social circle when the family relocated to Edinburgh, Michelle believes reaching for wine each night was her way of self-medicating, and over the years, her routine began to take its toll.
Around six years ago, when her drinking was at its worst, Michelle even tried to take her life, believing Brian and the kids would be better off without her. She explained: "I suffer from depression and anxiety so, at the time, I didn't know whether I was drinking to cope with the depression or the depression was being caused by the drinking.
"My last suicide attempt was six or seven years ago when my drinking was at its worst. I had thought about it while I was sober but I think the drink gave me the Dutch courage to do it.
"I just wanted everything to stop. I thought I wasn't good enough for anyone and they would all be better off without me. I didn't understand how other people could drink and it didn't affect them, but it was affecting me so much."
Despite persistent pleas from Brian, it was only a visit to the nurse when Jack was nine that made Michelle realise she needed professional help.
She said: "I went for my annual asthma check-up and Jack came with me. The nurse turned to him and said, 'Now is mummy still smoking? We need to get her to stop the cigarettes.' He said to her, so matter of factly, without flinching, 'I would rather she stopped the red wine.'
"I was absolutely mortified. For him to say that to a stranger, and an authority figure, broke my heart.
"Until that point, I didn't think my drinking had any effect on the kids – but that was the moment I realised it was a problem. Looking back, I don't know how I didn't realise sooner."
The very next day Michelle visited her GP and began her journey towards sobriety, seeking help from a community psychiatric nurse and support worker, who helped her understand her unhealthy relationship with alcohol.
Although it hasn't been easy, and there have been relapses, Michelle celebrated five years without alcohol on January 19 this year.
As part of her rehabilitation, Michelle was referred to The Sorted Project, a charity which provides support to people in Edinburgh and Lothian recovering from substance dependency and mental health problems. The project offers a range of sessions and workshops, but their key activity is a weekly journey on the Union Canal aboard a custom-built 35-seat boat, purchased thanks to £496,543 of cash from the National Lottery Community Fund.
Working with the charity, Michelle now has her life back on track and says she couldn't have done it without her family's support.
"For a long time I blamed alcohol and I blamed myself. I thought I had damaged my children, and I still carry some guilt. But now we have a great relationship and they are so supportive and loving.
"My relationship with Brian is completely different, too. I know how hard it was for him. Living with someone who has depression and anxiety can be hard, never mind adding alcohol into the mix – he didn't know who he was coming home to.
"I look at them now, knowing what we've been through, and just think, 'Wow'."
---
sortedproject.co.uk